Head coach Dave Rice to remain at UNLV with two-year extension
The Dave Rice-to-South Florida reports have been confusing, but they're irrelevant now: Rice is staying at UNLV.
• 1 min read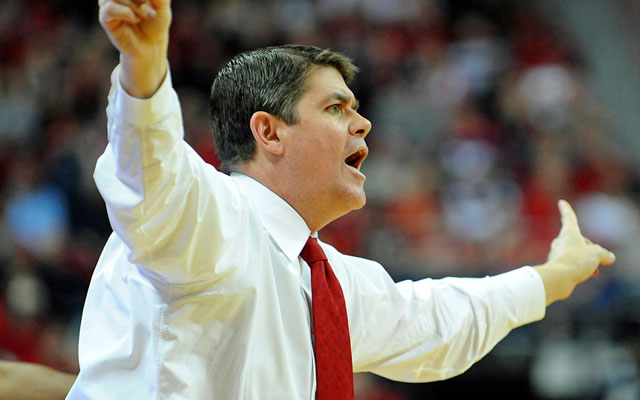 Latest in hoops: NCAA Tournament | Expert Brackets | Coaching Changes
Most of the college basketball world was caught off-guard when reports surfaced on Friday night that South Florida had offered its head coaching vacancy to UNLV head coach Dave Rice. Then there were conflicting reports on whether USF ever really offered the job to Rice. 
Either way, Rice isn't going to the Bulls. He is set to sign an extension to stay at UNLV.
"I am excited about the future of our men's basketball program at UNLV and appreciate the confidence that the administration has in the direction we are headed," Rice said in a statement. "Our staff has done a good job of assembling next season's team. We are looking forward to coaching the returning players as well as the newcomers."
Rice's contract with the Runnin' Rebels will now run through the 2018-19 season, an extension of two years. Rice met with UNLV president Donald Snyder and athletic director Tina Kunzer-Murphy after being contacted by South Florida. 
"We are thrilled that Coach Rice will lead our men's basketball program into the future," Kunzer-Murphy said. "We have had a great deal of success in his first three years and are looking forward to even greater success in the future. No one is more dedicated, more passionate and works harder toward the goal of making the Runnin' Rebels into an elite program than Dave. It is a process and takes time, but we are 100 percent committed to success. Dave cares deeply about our student-athletes, the university, our alums and the Las Vegas community, and we are proud to have him as our head coach."
Rice is 71-32 in his three seasons in Las Vegas, going 20-13 this season. Next season, the Runnin' Rebels bring in one of the best recruiting classes in the country, led by five-star prospects Rashad Vaughn and Dwayne Morgan, along with shot-blocking extraordinaire Goodluck Okonoboh and San Francisco transfer Cody Doolin.
Our advanced computer model simulated Tuesday's UNLV vs. Fresno State game 10,000 times

Our advanced computer model simulated Tuesday's Kansas-Oklahoma game 10,000 times

Our advanced computer model simulated Tuesday's Virginia vs. Clemson game 10,000 times
The Sooners and freshman Trae Young try to snap a two-game skid when they face the Jayhawk...

Howard scoring sensation R.J. Cole is our Freshman of the Week

How the late Andrew Smith inspired change and helped save a child