Here's a chance for Marcus Smart to rejoin national conversation
Freshmen Andrew Wiggins, Julius Randle and Jabari Parker have dominated the headlines so far this season. Sophomore Marcus Smart can rejoin the national conversation Tuesday night.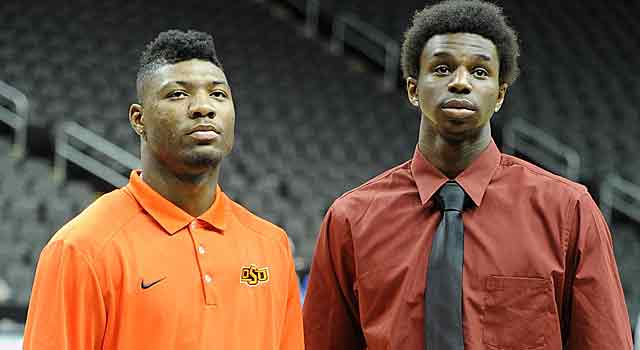 The world of college basketball, as it is, spent last Tuesday focused on the United Center, specifically on three heralded freshmen who somehow exceeded the hype. Kansas' Andrew Wiggins, Kentucky's Julius Randle and Duke's Jabari Parker were tremendous on the biggest of big stages, and somebody has asked me about them every day since.
In most cases, I get asked about all three.
I'm asked to compare them.
I'm asked to rank them.
Folks can't get enough of Wiggins, Randle and Parker.
Meantime, I don't think Marcus Smart's name has come up once.
"These new guys ... are so fun to watch and impressive," Smart's coach, Oklahoma State's Travis Ford, said Monday afternoon. "And it's always more fun to talk about the new guys than it is some guys who have maybe been around a year or so."
Yeah, I suppose that's true.
But Smart now has a nice opportunity to shift the national conversation back in his direction, because the big stage is all his on this Tuesday night. Granted, there won't be 68 NBA scouts and hundreds of media members in attendance like there were for last Tuesday's Champions Classic in Chicago. But the spotlight will still be shining solely on historic Gallagher-Iba Arena when Smart's seventh-ranked Cowboys host the 11th-ranked Memphis Tigers in a non-conference showdown scheduled for national television.
"Like I've been telling everybody, as a competitor, this is what you live for, these types of moments right here," Smart told reporters on Monday. "Two good teams going at it. Two highly ranked teams. So it will be a really good game."
Let the record show that this is also a massive opportunity for Memphis, the Memphis coach and his four senior guards. It's well-documented that though Josh Pastner has done a remarkable job replacing John Calipari in terms of recruiting and keeping season-ticket sales at a number near FedExForum's capacity, the fifth-year coach is 0-12 all-time against teams ranked in the Top 25 of the Associated Press poll. That statistic hounds Pastner. And while a win Tuesday night won't change the narrative drastically, it would at least keep people in Memphis from referencing it first thing Wednesday morning.
And Pastner's guards?
Like Ford, Pastner also has accomplished guards chasing attention. None of them will be selected in the lottery of June's NBA Draft like Smart almost certainly will be. But Chris Crawford, Michael Dixon, Joe Jackson and Geron Johnson each have averaged double-figures in points at the Division I level, and they all have pro aspirations that could be enhanced with a nice showing on this stage.
"We're ready," Johnson said last week after the Tigers opened the season at FedExForum with an easy win over Austin Peay. "I want you all to tune-in."
Rest assured, Geron, we will.
Presumably, lots of people will because there is no football game to compete with nor is there anything that would qualify as a must-see NBA game on television. Memphis-Oklahoma State is basically it. And, honestly, it's mostly it for the entire week in terms of college basketball because two ranked teams aren't guaranteed to play each other again.
"It's a big stage on a big night," Ford said.
Now what will happen when Marcus Smart walks onto it?
He's averaging 13.7 points, 4.3 rebounds, 3.3 assists and 4.0 steals in 24.0 minutes per game so far this season, but you likely didn't know that because OSU's three wins have come against Mississippi Valley State, Utah Valley and Arkansas-Pine Bluff. While Wiggins, Randle and Parker have been highlighted and celebrated, Smart has been operating mostly in anonymity, the forgotten sophomore overshadowed by the fantastic freshmen.
Perhaps it'll be that way all season.
We'll see.
But Tuesday night is Smart's first chance to actually do something about it.
Matt Norlander is on a 11-7 run in college basketball picks and shares his best bets for W...

Kentucky losing this game probably cost it a shot at earning a high NCAA Tournament seed

Freshman had 12 turnovers and 20 points; the Wildcats rattled him and kept OU on its heels
Kentucky and UNC are just behind the Blue Devils and Jayhawks

Cal's form wasn't pretty, but when it works, it works

Josh Nagel has his finger on the pulse of Purdue basketball and locked in a play for Tuesd...