Here's hoping Florida's Chris Walker doesn't become academic casualty
Florida signee Chris Walker is battling this summer to become academically eligible as a freshman for the 2013-14 season. Given what Walker has faced early in his young life, Gary Parrish is among those rooting for him to make it.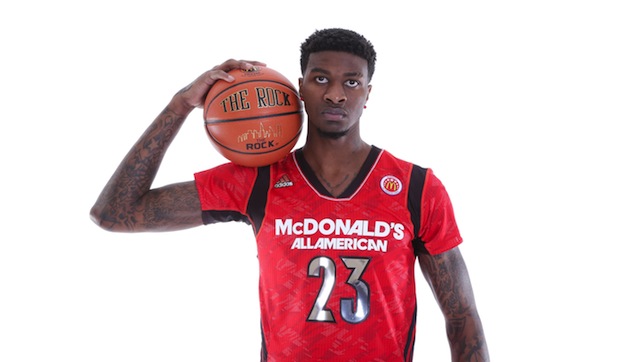 Andrew Wiggins is already at Kansas, wowing coaches in workouts, dunking on Cole Aldrich in pickup games and generally meeting the hype that preceded his arrival. Meantime, Jabari Parker will enroll at Duke next week. And almost every other high-profile prospect also seems good to go.
Except Florida's Chris Walker.
His status remains very much uncertain.
"I think he'll make it, but we just don't know for sure," a source close to Walker told CBSSports.com on Monday morning. "It's like [Florida coach] Billy [Donovan] said [earlier this month], everybody's fingers are crossed."
Walker is a 6-foot-9 forward and consensus top-10 prospect in the Class of 2013 who is so talented that he got 39 points and 26 rebounds in a single high school game this season. But he has performed less impressively in the classroom over the years and is now reduced to taking three online courses in an attempt to meet the NCAA's minimum requirement for freshman eligibility at the Division I level. Based on the NCAA's sliding scale that combines a recruit's grade point average and standardized test score, Walker must finish with a 2.6 GPA in his core courses to be eligible next season at Florida, according to Florida beat writer Kevin Brockway of the Gainesville (Fla.) Sun.
So will Walker make it?
Again, that remains undetermined.
But it should be noted that Florida will be fine either way. Yes, the Gators would obviously be deeper, more athletic and talented in general with Walker in uniform; he's a super prospect and equipped to contribute immediately. But Florida will still have frontcourt veterans Patric Young and Will Yeguete and transfers Dorian Finney-Smith and Damontre Harris eligible no matter what. When combined with Scottie Wilbekin, Casey Prather, Michael Frazier and incoming point guard Kasey Hill, that should be enough to keep the Gators in the top 10 of every relevant preseason poll.
So don't worry about Florida too much.
But you should worry about Chris Walker a little.
Because his academic issues say more about his environment than his ability.
****
I'm not going to pretend to know Chris Walker well. I've watched him play in person a few times, talked to him a couple of times, and that's about it. But here's what I do know well: The odds have long been stacked against him, and he's had to overcome a lot to even put himself in a position to accept a Division I basketball scholarship.
Walker's father has forever been non-existent.
His mother essentially abandoned him years ago.
He has spent his high school years living with a guardian named Jeneen Campbell and attending one of the state of Florida's smallest public schools, mostly because he wanted to be loyal to the woman who was loyal to him. Walker could've transferred to any of the fancy basketball academies at any time over the past few years, and he would've probably benefited academically from it. But when you've been left by the adults whose top responsibility is to never leave you, it must be difficult to then turn around and leave the one adult who didn't. So Walker stayed with Campbell and at Holmes County High.
The result of that is this.
With all due respect to Holmes County High, the school doesn't have much experience in dealing with prospective student-athletes like Walker. Consequently, he wasn't enrolled early in all of the classes that a sure-bet future Division I recruit should be enrolled in, which has forced Walker to play catchup for the past 18 months. There was some speculation that he might be able to complete his core courses online by the end of this month. But a source told CBSSports.com it's unlikely that will happen and this academic situation will probably linger well into July and perhaps into August, meaning it would be unwise to expect a resolution, one way or another, anytime soon.
So Billy Donovan will keep his fingers crossed.
I'm sure Florida fans will, too.
And so will I, long as I'm being honest, because I'd hate to see a young man fail to reach his potential and possibly break a cycle of poverty based on little more than the idea that he was born into a situation that isn't conducive to success. Sure, Walker could've probably been better in the classroom over the years; there's no denying he's played a role in his academic shortcomings. But I genuinely believe his situation is more about him being a product of his environment than anything else, and the most decent outcome would be for Walker to somehow get enrolled at Florida, become part of a structured and positive environment and be given, perhaps for the first time in his life, a chance to flourish or fail on a level playing field that so many of us enjoy and actually take for granted.
CBS Sports HQ Daily Newsletter
Get the best highlights and stories - yeah, just the good stuff handpicked by our team to start your day.
Please check the opt-in box to acknowledge that you would like to subscribe.
Thanks for signing up!
Keep an eye on your inbox for the latest sports news.
Sorry!
There was an error processing your subscription.
Class of 2019 standout picked the Mountaineers over a slew of other high-major offers

Williamson scored 14 points in a Duke scrimmage that resulted in a 44-39 win for his team

Gary Parrish and Matt Norlander spend 80 minutes discussing every big headline from the we...
Sister Jean's Loyola-Chicago Ramblers may very well be back in the mix for a spot in this year's...

Commissioner Bernadette McGlade's message to her coaches: Take chances and schedule aggres...

Wade said he's never done business of any kind with Christian Dawkins