Here's hoping Mitch McGary's story leads to additional NCAA change
Does anybody really think penalties should be this severe for a single positive marijuana test?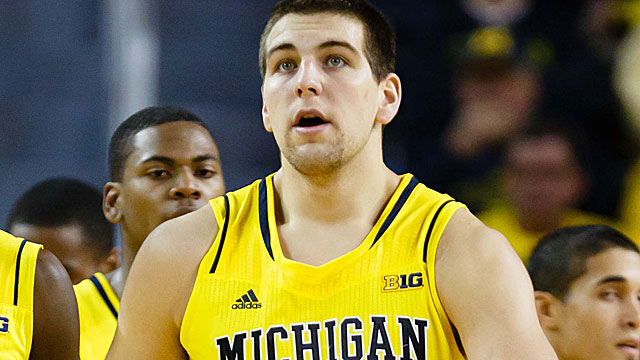 I don't know if Mitch McGary is a good guy or a bad guy, nor do I have any idea whether last month was the first or 45th time he's smoked weed -- because I'm a 37-year-old who lives in the south, and he's a 21-year-old who lives up north, and how is a 37-year-old writer who lives in the south supposed to pretend he knows anything about the personal life of a 21-year-old basketball player who lives up north?
I would sound foolish vouching for him.
So I won't even try that.
But whether McGary is a good guy who smoked one night or a bad guy who smokes every night -- or a good guy who always smokes or a bad guy who rarely smokes -- is completely beside the point because I don't need to know those things to know the only three things that are relevant to the events that contributed to his early departure from Michigan.
He's taken multiple drug tests while at Michigan and tested positive just once.
The positive test was for marijuana.
The positive test automatically triggered an NCAA-administered one-year suspension.
That, in a word, is ridiculous.
And, just so we're clear, no, I'm not defending McGary. There are rules in place, and he understood the consequences of testing positive. Beyond that, marijuana remains illegal in Michigan. So McGary also broke the law. Which means he knowingly broke NCAA rules and Michigan laws, and I can't bring myself to cry tears for a 6-foot-10 athlete who is being punished for knowingly breaking rules and laws when folks in this country are punished daily for breaking rules and laws regardless of whether the rules and laws are ridiculous.
That said, this NCAA rule is pretty ridiculous.
Or, at least, the punishment attached to the rule is ridiculous.
The idea that a student-athlete could be automatically suspended for an entire year after testing positive for marijuana for the first time -- or that the punishment for a positive marijuana test is identical to the punishment for a positive heroin test -- flies in the face of common sense, especially for an organization that claims to put student-athletes first. I mean, how can a punishment of a one-year suspension for a first positive marijuana test be labeled as an example of putting student-athletes first when that type of severe punishment will more than likely encourage student-athletes to dropout of college, as is the case with McGary? Isn't the punishment way too harsh -- particularly when realizing recent studies show that more than half of adults have at least tried marijuana?
(Don't bother answering. That's a rhetorical question.)
The good news is that going forward the punishment will amount to a six-month suspension, which is the result of the NCAA Division I Board of Directors earlier this week approving a reduction in the penalty for first-time positives for marijuana and heroin tests. The bad news, though, is that, inexplicably, marijuana and heroin remain the same in the NCAA's eyes, and that a six-month suspension is still just as unreasonable as a normal person getting a $5,000 fine for rolling through a stop sign in a neighborhood.
Simply put, the punishment doesn't fit the so-called crime.
So here's hoping Mitch McGary's story leads to additional change.
Again, I'm uninterested in fighting his fight because he knew the cost of getting caught under the rules that were in place at the time that he smoked, and I genuinely believe he would've entered the NBA Draft this year anyway. Relatively speaking, he'll be fine. But what about the next guy or next girl, you know, the student-athletes who might not have legitimate professional aspirations and/or good alternative options? Does anybody really think it's right to suspend them for half of a season over a single positive marijuana test? If not, then the NCAA's Division I Board of Directors should revisit the issue as soon as possible and further reduce the penalty to something more reasonable in the minds of most.
The selection committee will again reveal what it is thinking ahead of Selection Sunday

Teams not in major conferences with a shot at an at-large NCAA Tournament bids

The nation's No. 3 player will commit Saturday and here's his impact on each of his finali...
Gary Parrish and Matt Norlander also preview the weekend and Zion Williamson's announcemen...

The Sun Devils started 12-0, but since then are 2-4 after Wednesday's loss to Stanford

Andrew Jones is Texas' second leading scorer