High Point's Allan Chaney shakes off mid-game heart health scare
When Allan Chaney went to the floor Sunday night, some feared for the worst.
• 1 min read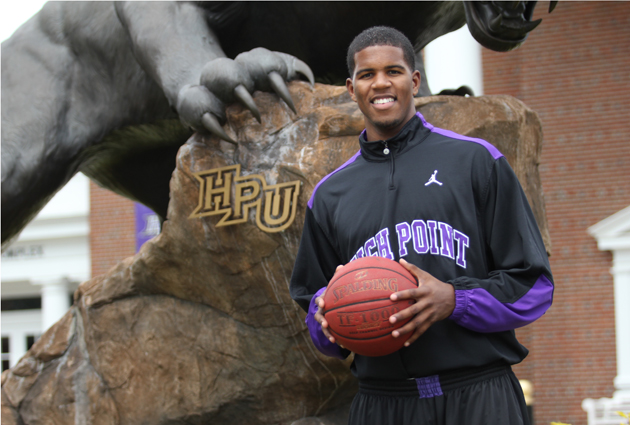 A heart-inflamation issue nearly ended Allan Chaney's basketball career, gave him two "brushes with death" and caused him to start his basketball life over, going from Florida to High Point. Really, Chaney's story was one of the more inspiring ones in college basketball in the past few years.
But a scary moment occurred Sunday, when Chaney went to the floor while lined up on the block during an opponent's free throw. There were 10 minutes left in the first half of High Point's home game against Wofford when Chaney gave way to what he called a "shock" in his chest.
Sporting News' Ryan Fagan happened to be at the game, which High Point won 66-56.
He was looking to the bench for the next play call when, for the first time since he had his internal defibrillator installed in November 2011, it went off without warning. The shock rocked him forward a bit, and the surprise of the shock kept him going to the ground. There was no pain, though, a fact that Chaney recognized immediately. Lying on the court, he pointed to High Point basketball athletic trainer Geoffrey Staton, who came rushing out.
"I wasn't scared or anything, because I was alive," Chaney said. "I was looking when I went down. I knew what was happening. I didn't blank out or anything."
That's a good sign, but of course mostly everyone attending the game knew of Chaney's health history, so upon seeing him go to the floor, Fagan reported "the gym went absolutely silent." Chaney never passed out, though from afar it might've seemed like that was happening.
Chaney got up soon after the scare, but did not return to the game. The irony is this: The defibrillator essentially did its job. When it detects a possible problem with Chaney's heart, it goes into action. That happened Sunday, though test results that are expected to come Monday should hopefully provide a reason why it happened.
Chaney is averaging 18.3 points and 9.8 rebounds so far this season. The Panthers have some time to rest now, as their next game doesn't come until Dec. 1 against Stephen F. Austin.
The deal is part of long-awaited $2.64 billion contract; CBS' hoops-only commitment runs through...

If Wichita State guard Landry Shamet has a breakout season, he could leave early for the N...

Athletic big man finished 3-day trip to Durham, N.C., with trips to USC, Arizona coming up
Calipari's latest viral social media bit comes just three weeks after the Wildcats head coach...

Buddy Boeheim was so impressive at Peach Jam that Gonzaga offered; others showing interest

The truths and myths about the push for 2018's No. 1 recruit to play college hoops a year...