One of the first rules in filling out an NCAA Tournament bracket is to never bet on the home team. In fact, at BracketVoodoo, one of our top March Madness tips is to "know your opponent," meaning that you should anticipate what everybody else in your pool is going to do, and then do something else. And generally speaking, everybody else, or at least enough of the people in your pool, will bet on the home team.
This rule is harder to follow than it should be. We get it. Sometimes you feel a little sentimental, and you just know this is your team's year. You start to think--maybe it wouldn't be such a bad idea to bet on my guys to make a run…
DON'T DO IT. The homer bias exists. And it is huge.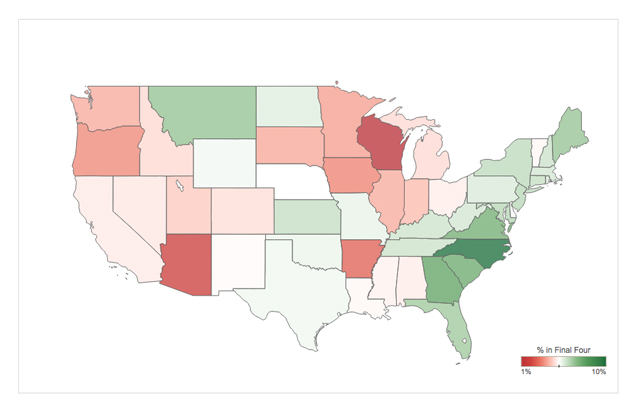 The graph above compares the percentage of people by state that picked North Carolina to advance to the Final Four in the CBS Bracket Manager pool in 2015. Even if you are geographically challenged, you can probably tell which state is North Carolina. People in North Carolina picked UNC to make it to the Final Four twice as often as the rest of the country and picked them to win it all six times as often! You can also see that the home team bias spills outside North Carolina's borders. People in South Carolina, Georgia and Virginia were also over 35 percent more likely to punch UNC through to the Final Four.
This isn't just a Tar Heel thing. This phenomenon exists for all teams. Analyzing data from CBS Bracket Manager users over the last three years, NCAA Tournament teams have been picked to make the Final Four over three times as often by home state fans, and they've been picked to win the whole tournament over eight times as often. There is evidence of a home state bias for every team we looked at, but the home team bias isn't uniform across all teams and states, and there are a number of factors that impact it.
The graph below compares the average home state bias for "favorites" (teams more than 5 percent of the country picked to win it all), "long-shots" (teams less than 1 in 1,000 people picked to win it all), and everyone else ("middle of the pack").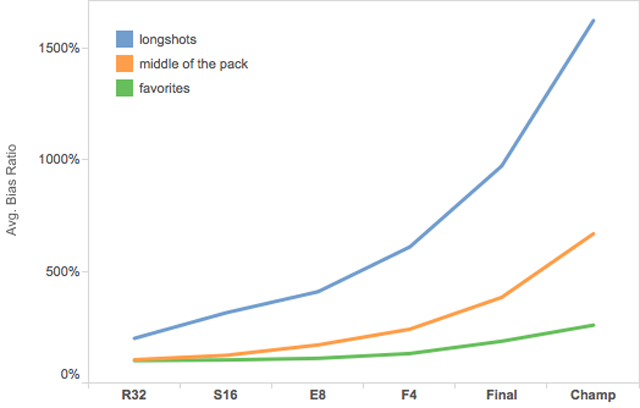 A couple of things stand out here. First, the home team bias gets stronger by round. In their home state, favorites are 32 percent more likely to get picked to advance to the Final Four than in the rest of the country. But they are 159 percent more likely to get picked to win it all by the locals. Looking at it another way, there is actually a round-by-round home state bias. In other words, those home state fans that picked their team to make the Final Four were 42 percent more likely to pick the local team to get to the Finals than the rest of the country, and another 39 percent more likely to pick their team to win that game. These factors compound round over round, ending up with an aggregate effect of home state fans being 2.5 times more likely to win it all.
We can also see that, in percentage terms, the home state bias is bigger for long-shots. As we mentioned above, home state fans of the favorites are just 159 percent more likely to pick their team to win it all, as opposed to over 1500 percent more likely for the long-shots. But that 159 percent is huge, and it's generally a bigger factor when you are thinking about your bracket. If 10 percent of the rest of the country thinks the local team is going to win it all, that would mean that about 26 percent of the people in your state are on the bandwagon. If you are going to jump on that bandwagon too you better know something the rest of the country doesn't know.
The overarching takeaway here is clear-steer clear of local favorites. But how do you draw the borders of what is local? Above we noted that UNC seems to engender not just a home state bias, but a regional bias as well. In light of that, we took a look at aggregated state-by-state bias over the last three years for the other top ranked teams in Jerry Palm's most recent projected bracket to try to better understand the boundaries of the local bias for each of these schools.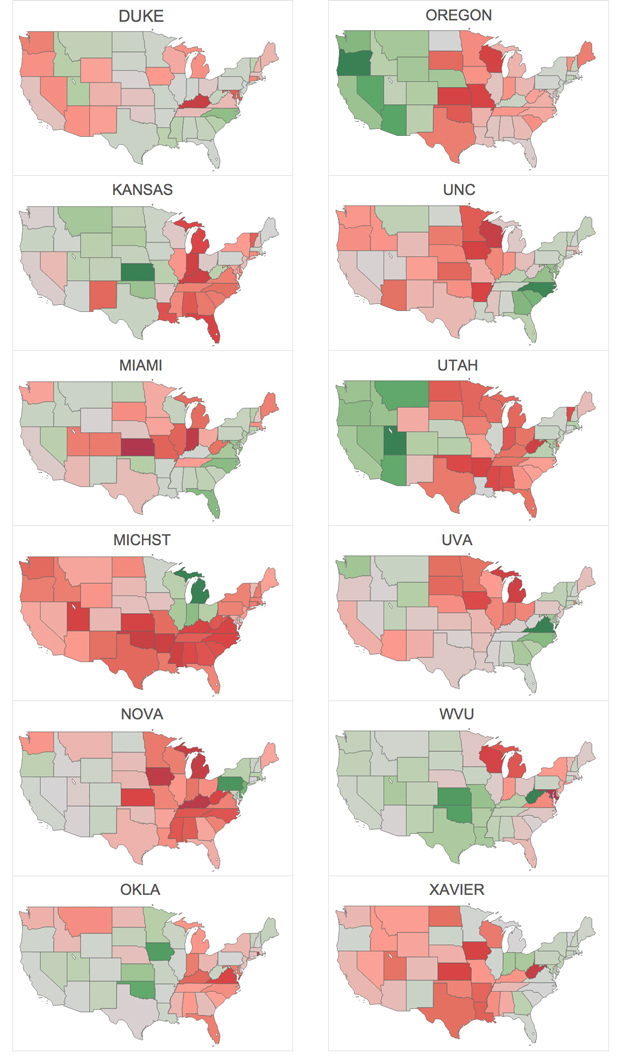 There is a lot of information packed into these graphs, but a couple of things really jump out. For one thing, most of these teams do inspire a significant regional bias, and in many cases (e.g. UNC and Michigan State) that bias maps well with conference lines. For some schools (Oregon and Utah) it extends even further, encompassing almost the entire western half of the country.
Secondly, the schools with smaller undergraduate enrollment (Duke, Xavier, Villanova) tend to have a smaller regional footprint than the larger state schools, leading to less than half the average regional bias of the larger schools. For Duke and Xavier in particular, the home state effect is muted, likely because there are much larger schools (in terms of undergraduate enrollment) with avid college basketball fan bases in those states. This effect presumably impacts Miami as well. For these schools the bias is likely both more localized within the state and/or among their network of fans and alumni spread throughout the country.
The final question we should address is whether or not teams experience any true negative regional bias. While the graphs above may make it seem that way, the analysis so far has been inconclusive (although we are still looking). In fact, generally the most negative states on these graphs tend to be the home states of prominent early round foes. For instance, UNC was the No. 4 seed in the West region last year, and Wisconsin, Arizona, and Arkansas were the No. 1, No. 2, and No. 5 seeds in that same region. Thus, it's not surprising to see, in the original UNC graphic above, that people in those three states were more than 50 percent less likely to punch UNC through to the Final Four than the national average.
So how do you leverage this information to optimize your bracket? To maximize your advantage, first and foremost resist the urge to pencil your alma mater or the hometown team to make an unexpected run toward the championship game. Second, consider taking it a step further and calling for an early upset of the local fave. That way, you don't just avoid watering down your bracket with the same fad pick as everyone else in your pool, but you also have a chance to pick up a key bracket diversifier.
---
Brad Null (@bradnull) is the founder of bracketvoodoo.com, the world's most advanced NCAA Tournament bracket analysis and optimization engine. Check it out at www.bracketvoodoo.com