Hoosiers AD: 'We're Indiana. We don't play in the CBI'
Indiana athletic director Fred Glass told the Indianapolis Star the Hoosiers won't play in the postseason, because, well, they're too good for the CBI.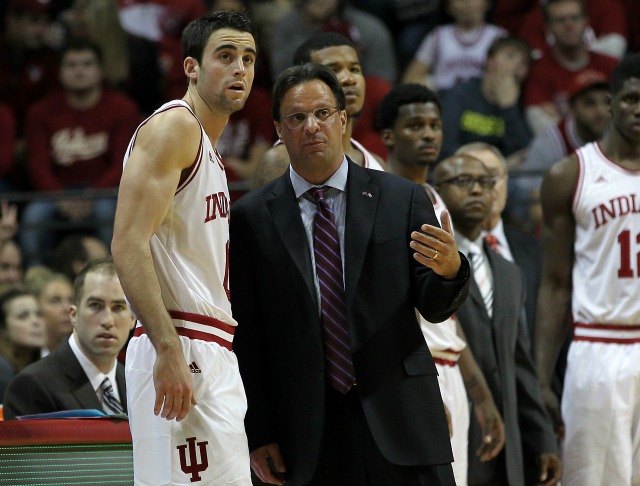 Among the four tournament fields announced Sunday night was that of the College Basketball Invitational (CBI), also considered by some to be the NIT for schools that don't make the NIT.
The 16-team CBI field includes Texas A&M of the SEC, Oregon State of the Pac-12 and Penn State of the Big Ten, among others.
But Indiana -- which was snubbed for the NIT -- will not be playing in the CBI along with those major conference schools, because in the words of Hoosiers AD Fred Glass, per the Indianapolis Star, "We're Indiana. We don't play in the CBI."
Well then.
To recap 2013-14 for the Hoosiers, Indiana followed up a Sweet 16 season by going 17-15, 7-11 in the Big Ten, and was bounced in the opening round of the Big Ten tournament by Illinois (which accepted an NIT bid). The Hoosiers lost seven of their final 10 games, including one to CBI entry PSU.
This marks the fourth year in the six-season Tom Crean era that Indiana has missed the postseason, although apparently it didn't have to be that way. 
But to reiterate, they're Indiana. They don't play in the CBI.
The Wildcats are no longer undefeated after losing to NC State

Brey's team overcame a 16-point deficit to top Wichita State in the Maui finale

No. 13 Irish led for only 22 seconds, but a pair of clutch free throws lifted them to a Maui...
Freshman overcomes plenty before he even puts on a jersey and then sparks signature win for...

Officials didn't buy the flop, but the Mastadons player gets an A-plus for his acting effo...

It's early, but the Vols appear to finally be heading in the right direction