Hot Seat Index: ACC
Wake Forest's Jeff Bzdelik has the hottest seat in the ACC.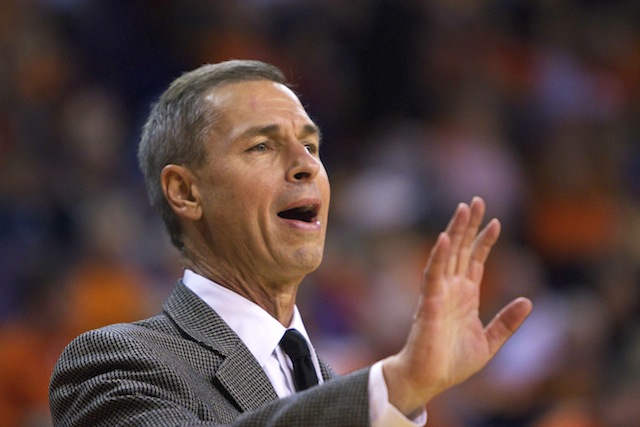 The coaching carousel will kick into high gear soon and, in advance of that event, Eye on College Basketball will prepare you with a league-by-league Hot Seat Index, corresponding with conference tourney play. With assistance and input from Jeff Borzello, I'll talk to coaches in the league and then rate each head coach from 1 to 10.
If you get a 1, you are as safe as it gets. If you're a 10, you might want to start looking for a new gig.
Next up is the ACC, which is in the midst of its conference tournament. Remember, 10 is the hottest of the hot seats, and 1 is the coolest:
(For all of our Hot Seat Index posts, click here.)
Boston College: Steve Donahue -- Made the NIT his first season after a 21-win campaign but struggled a year ago and won just nine total games and was 4-12 in league play. This season was an improvement at 16-17 and 7-11 in conference action, and Donahue might need to take another step next year especially with a new athletic director. HOT SEAT INDEX: 5
Clemson: Brad Brownell -- Took over three years ago and made the NCAA tourney in his first season. Went 16-15 a year ago and finished seventh in the league and was 13-18 and 5-13 this season. He's heading in the wrong direction and needs to get it done on the recruiting trail. There's no question that he can coach. Has a deal that runs through 2016-17. HOT SEAT INDEX: 4
Duke: Mike Krzyzewski -- He's an institution in Durham. He has won four national titles and is as safe as any coach in the entire country. Oh, yeah -- he also just happens to be the all-time winningest coach in men's D-I college hoops. HOT SEAT INDEX: 1
Florida State: Leonard Hamilton -- Has been in Tallahassee since 2002 and didn't make the NCAA tournament in any of his first six years with the Noles. However, has gone dancing the last four seasons before this year's disappointing 18-15 record and sixth-place league finish. HOT SEAT INDEX: 3
Georgia Tech: Brian Gregory -- Came over from Dayton and has made progress from his first year. The Yellow Jackets were 11-20 and 4-12 in his rookie campaign in Atlanta and went 16-15 and 6-12 this season. Georgia Tech also moved up in the standings from 11th to eighth. Gregory still needs to continue to make strides. HOT SEAT INDEX: 3
Maryland: Mark Turgeon -- He's on the bubble this season with a 22-12 mark and a 8-10 ACC record. It's year two of the Turgeon regime, and the Terps are headed in the right direction. He didn't inherit enough from Gary Williams, and he was a point guard away from being a lock NCAA tourney team. HOT SEAT INDEX: 2
Miami: Jim Larranga -- In his second season, the former George Mason coach has done something in the program that have never been accomplished before. The Canes won the ACC regular season and are 26-6 (after Saturday's win over NC State) and were 15-3 in the league. My guess is he'll get a new extension in the offseason, but the question will be whether the program can sustain it after losing four starters off this year's group. HOT SEAT INDEX: 2
North Carolina: Roy Williams -- The Tar Heels took a dip this season, but that was expected after losing four first-rounders from last year's team. The Tar Heels have won two national titles in his tenure, and Roy is about as safe as it gets as long as this academic stuff doesn't come back with any link to him. HOT SEAT INDEX: 1
North Carolina State: Mark Gottfried -- Has given the program a jolt, especially after last season's Sweet 16 run in the NCAA tournament. This year, the team has underachieved but is still a lock to go dancing after a 24-10 mark and an 11-7 record in ACC play. Athletic director Debbie Yow hired him and loves him, so Gottfried will have no shortage of job security. HOT SEAT INDEX: 2
Virginia: Tony Bennett -- Is on the bubble in his fourth season in Charlottesville after the Cavs made the NCAA tourney a year ago. Has finished ninth, seventh and tied for fourth in the ACC each of the past three seasons. Had his contract extended after last year through 2018-19. HOT SEAT INDEX: 3
Virginia Tech: James Johnson -- Got off to a 7-0 start after an upset against Oklahoma State, but then the bottom fell out on the rookie head coach. The Hokies finished 13-19 and 4-14 in league play, which was last in the league. Johnson didn't have enough bullets to go with Erick Green, and he'll need to bring in some quality players -- and soon. HOT SEAT INDEX: 3
Wake Forest: Jeff Bzdelik -- It's never a good sign when there's an ad in the school newspaper calling for your head. The Demon Deacons' coach has some serious heat on him and might not make it until next season. The good news? Wake has made progress in his three seasons. The Deacons won just one ACC game in his first season, got four victories a year ago and won a half dozen this year. However, the program is just 34-60 overall in his three years. The one way that he survives is because he was hired by AD Ron Wellman -- who will try his best to stand by Bzdelik. HOT SEAT INDEX: 8
Kentucky and UNC are just behind the Blue Devils and Jayhawks

Cal's form wasn't pretty, but when it works, it works

Josh Nagel has his finger on the pulse of Purdue basketball and locked in a play for Tuesd...
Gary Parrish and Matt Norlander discuss the latest in college basketball

The Mountaineers' coach surprised Self with a pullover -- and Self actually wore it during...

After beating West Virginia, the Jayhawks are on a four-game winning streak and jumped to No....