Hot Seat Index: America East
A couple of coaches from New England could be in trouble after this season.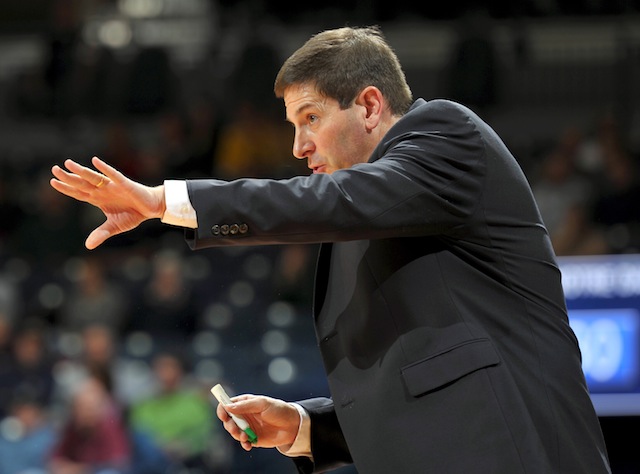 The coaching carousel will kick into high gear soon and, in advance of that event, Eye on College Basketball will prepare you with a league-by-league Hot Seat Index, corresponding with conference tourney play. With assistance and input from Jeff Borzello, I'll talk to coaches in the league and then rate each head coach from 1 to 10.
If you get a 1, you are as safe as it gets. If you're a 10, you might want to start looking for a new gig.
Next up is the America East, which tips off its conference tournament on Friday. Remember, 10 is the hottest of the hot seats, and 1 is the coolest:
Albany: Will Brown -- Went through a rough stretch a few years back, but has the Great Danes competitive these days. Have won 56 games over the past three seasons and went to the CIT last season. The biggest issue for him is that he led the program to the NCAA tournament in 2006 and 2007, raising the bar. HOT SEAT INDEX: 4
Binghamton: Tommy Dempsey -- Came over from Rider before this season and inherited a mess. Was 3-26 and 1-15 this season, nearly identical to the previous year. He's safe because everyone knows this was a major rebuilding task. HOT SEAT INDEX: 2
Boston University: Joe Jones -- It's arguably the best job in the league, but it's never easy when the program is banned from competing in its league tourney after announcing it was heading to another conference. That's been the case for Jones, who won 17 games in his second season with the Terriers. He tied for second in the league this season and was third with a 12-4 conference mark a year ago. HOT SEAT INDEX: 3
Hartford: John Gallagher -- Struggled out of the gates with a 9-22 mark his rookie season, but won 17 games this year and was 10-6 in the league -- which was good for fourth place. Probably should be Coach of the Year in the league this season. HOT SEAT INDEX: 3 
Maine: Ted Woodward -- Won 34 total games and finished in third place in 2010 and 2011, but the Black Bears have won just 23 games the last two seasons -- including a 11-18 overall record and a 6-10 league mark this season. It's a very difficult job, but Woodward & Co. have fallen off after showing they could have success. HOT SEAT INDEX: 6
UMBC: Aki Thomas -- Took over as the acting coach just prior to the start of the season when he replaced Randy Monroe and had the "acting tag" removed at the end of the season. Went 7-22 and had five league wins -- both improvements over last year's 4-26 and 3-13 marks. HOT SEAT INDEX: 4
New Hampshire: Bill Herrion -- The question honestly becomes how much the administration cares about winning. It's arguably the toughest job in the league, and it has major academic restrictions. The Wildcats have never finished in the top four in the league in his eight seasons, but they have been to three conference semifinals. UNH was 9-19 this season and 5-11 in conference play. HOT SEAT INDEX: 5
Stony Brook: Steve Pikiell -- Struggled in his first three seasons at the school, but has won the regular-season league crown in three of the past four seasons. The Seawolves have finished 14-2 in league play each of the past two seasons and Pikiell has as much job security as anyone in the league. HOT SEAT INDEX: 2
Vermont: John Becker -- Was a shocking choice to replace Mike Lonergan two years ago when he left for GW, but Becker has won 43 games in two seasons and has finished second in the league both years. The Catamounts were 19-10 overall and 11-5 this season and Becker is deserving of a long-term extension. HOT SEAT INDEX: 2
The selection committee will again reveal what it is thinking ahead of Selection Sunday

Teams not in major conferences with a shot at an at-large NCAA Tournament bids

The nation's No. 3 player will commit Saturday and here's his impact on each of his finali...
Gary Parrish and Matt Norlander also preview the weekend and Zion Williamson's announcemen...

The Sun Devils started 12-0, but since then are 2-4 after Wednesday's loss to Stanford

Andrew Jones is Texas' second leading scorer