Hot Seat Index: Big 12
Travis Ford probably saved his job with his performance this season, but is anyone on the hot seat?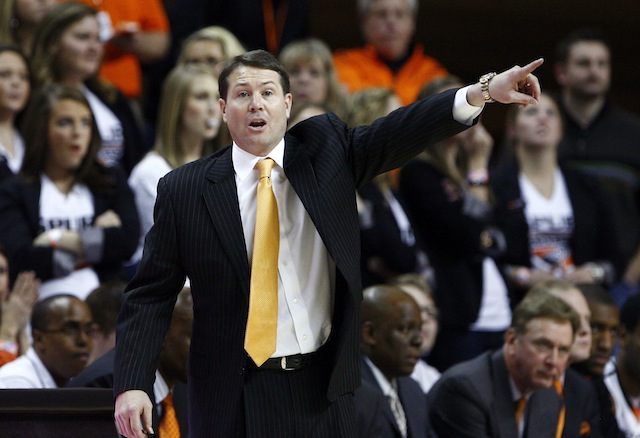 The coaching carousel will kick into high gear soon and, in advance of that event, Eye on College Basketball will prepare you with a league-by-league Hot Seat Index, corresponding with conference tourney play. With assistance and input from Jeff Borzello, I'll talk to coaches in the league and then rate each head coach from 1 to 10.
If you get a 1, you are as safe as it gets. If you're a 10, you might want to start looking for a new gig.
Next up is the Big 12, which starts its conference tournament on Wednesday. Remember, 10 is the hottest of the hot seats, and 1 is the coolest:
Baylor: Scott Drew -- Took this program from the absolute abyss and has made it relevant on a national level. The Bears are struggling this season and finished the regular season 18-13 and 9-9 in league play, but a pair of Elite Eight appearances in the last three years has Drew pretty damn safe. His only issues have come off the court. HOT SEAT INDEX: 2
Iowa State: Fred Hoiberg -- He's the Mayor -- and he should get the Cyclones in the NCAA tourney for the second straight season after a 21-10 campaign and a 11-7 mark in league play. He's well-liked and has found a way to keep Iowa State competitive despite losing first-round pick Royce White after last season. HOT SEAT INDEX: 1
Kansas: Bill Self -- It's insane to think Self's seat was warm about five years ago. Now he's about as stable as anyone in the country. He won a national title in 2008, got to the title game last season and has won at least a share of nine consecutive Big 12 regular-season titles. HOT SEAT INDEX: 1
Kansas State: Bruce Weber -- Was hired to replace Frank Martin after being let go at Illinois. Weber inherited a solid group, but no one figured the Wildcats would earn a share of the Big 12 regular-season title. That's exactly what happened after a 25-6 campaign and a 14-4 mark in conference action. The fan base was sad to see Martin go, but it has embraced Weber. HOT SEAT INDEX: 2
Oklahoma: Lon Kruger -- Inked a seven-year deal worth about $16 million when he came to Norman from UNLV two years ago and finished eighth in the league last season. However, the program didn't possess enough talent. Kruger can coach, has brought in some quality freshmen and finished 20-10 overall and 11-7 in league -- tied for fourth in the Big 12. HOT SEAT INDEX: 2
Oklahoma State: Travis Ford -- Was clearly on the hot seat entering the season, but Marcus Smart has made certain his seat has cooled off. Went to the NCAA tourney in his first two seasons in Stillwater, but went to the NIT a couple years ago and finished 15-18 last season. The Cowboys are 23-7 and 13-5, and inked an extension through 2019 a few years back. Ford isn't completely out of the woods, but he's certainly not in danger after this season. HOT SEAT INDEX: 4
TCU: Trent Johnson -- Came over from LSU in a shocking move prior to the season and didn't inherit enough talent. The Horned Frogs finished 11-20 overall and 2-16 in league play. That was expected, though, and it'll take Johnson some time to see if he can make this program competitive for an NCAA tourney bid. HOT SEAT INDEX: 2
Texas: Rick Barnes -- Has gone to the NCAA tournament in all 14 of his seasons in Austin, but that streak will end this year. The Longhorns finished the regular-season slate 15-16 and 7-11 in the league. Barnes isn't in danger of losing his job, but fans (those that care about basketball) are upset with the team's recent lack of success, especially in March. HOT SEAT INDEX: 3
Texas Tech: Chris Walker -- Interim coach who took over when Billy Gillispie got run out of Lubbock. This is a very difficult job and Walker went 10-19 and 3-15 in conference play. It'll be interesting to see if he get the full-time gig. HOT SEAT INDEX: N/A
West Virginia: Bob Huggins -- Huggy Bear finished below the .500 mark for the first time in his career, but he's from the area, had gone to the NCAA tourney in each of his first five seasons and took the Mountaineers to the Final Four in 2010. Huggins can do no wrong in Morgantown. HOT SEAT INDEX: 2
The Blue Devils improved to 4-0 in an easy win vs. Southern.

If LiAngelo Ball didn't come from a famous family, we might think differently of him

Ball significantly downplayed President Trump's role in helping get his son back to the U....
Discussing the one-and-done rule -- plus Michael Porter Jr.'s injury and Billy Preston's c...

Even though he's scheduled to graduate in December, the NCAA still won't let Hayes play

The Wisconsin resident wasn't happy with how the Musketeers handled their win in Madison