Hot Seat Index: Big East
Rutgers's Mike Rice and DePaul's Oliver Purnell have the hottest seats in the Big East.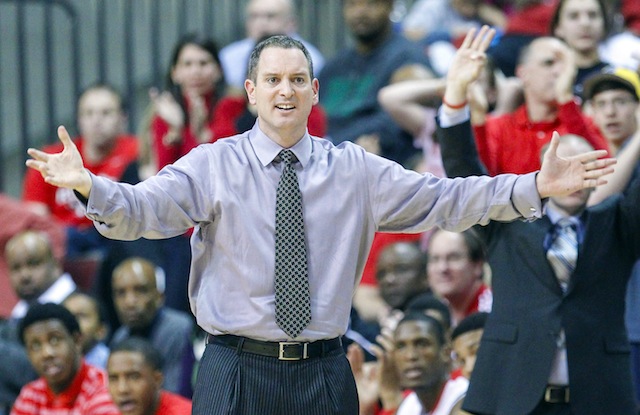 The coaching carousel will kick into high gear soon and, in advance of that event, Eye on College Basketball will prepare you with a league-by-league Hot Seat Index, corresponding with conference tourney play. With assistance and input from Jeff Borzello, I'll talk to coaches in the league and then rate each head coach from 1 to 10.
If you get a 1, you are as safe as it gets. If you're a 10, you might want to start looking for a new gig.
Next up is the Big East, which tips off its conference tournament on Tuesday. Remember, 10 is the hottest of the hot seats, and 1 is the coolest:
Cincinnati Bearcats : Mick Cronin -- Inherited a mess and has done a terrific job turning it around the last few years. Will almost certainly make his third consecutive NCAA tourney appearance this season. The Bearcats won 26 games each of the last two seasons and won 20 this season. It was rough at first, but Cronin has it going -- and inked a three-year extension following the 2011 campaign that will take him through 2016-17. HOT SEAT INDEX: 3
Connecticut Huskies : Kevin Ollie -- Was on a one-year deal entering the season after Jim Calhoun retired before the start of the year, but he did enough to warrant the full-time gig and was given a five-year deal worth about $7 million by athletic director Warde Manuel just after Christmas. The undermanned Huskies won 20 games and finished 10-8 in league play. The key going forward will be to see if Ollie can recruit at an elite level. HOT SEAT INDEX: 2
DePaul Blue Demons : Oliver Purnell -- Took a hefty paycheck when he arrived from Clemson a few years ago, and Purnell hasn't made much progress in his first three seasons. Won seven games his first season, a dozen last season and finished 11-29 and 2-16 this season. Purnell took over a tough situation, but hasn't made strides thus far. He signed a seven-year deal when he took over, so it's difficult to imagine the school eating four more years in the vicinity of $2 million per season. HOT SEAT INDEX: 5
Georgetown Hoyas : John Thompson III -- Went to the Final Four back in 2007 and has won more than 200 games since taking over in 2004, but this year might have been his best coaching job. Hoyas have won 24 games, 14-4 in league play and gained a share of the Big East regular-season title despite being picked in the middle of the league. This will be the seventh time in nine seasons Georgetown has gone dancing under JT3. He's about as safe as it gets -- especially while Big John is around. HOT SEAT INDEX: 2
Louisville Cardinals : Rick Pitino -- Won 30 games and went to the Final Four last season and earned a share of the Big East crown this year. He's racked up more than 300 wins in his 11 years at the school and will ultimately decide when he's ready to leave. Recently inked an extension through 2022 that pays about $4 million annually. HOT SEAT INDEX: 1
Marquette Golden Eagles : Buzz Williams -- This will be his fifth season at the helm -- and the Golden Eagles will make their fifth consecutive NCAA tournament appearance. This has been his best job, though, earning a share of the league title despite not boasting a single future NBA player on the roster. He's won 119 games thus far and lost 52 games in his tenure, and has a lucrative rollover contract that pays more than $2 million per year. HOT SEAT INDEX: 2
Notre Dame Fighting Irish : Mike Brey -- The folks in South Bend were ready to run him out of town back in the mid 2000s, but the Irish will go to their sixth NCAA tourney in the past seven seasons and Brey inked a new 10-year deal this past summer. Brey has won at least 20 games in each of the past seven seasons -- which isn't easy to do at a football school like Notre Dame. HOT SEAT INDEX: 2
Pittsburgh Panthers : Jamie Dixon -- Has done a terrific job since taking over for Ben Howland a little more than a decade ago. Went to the NCAA tourney in his first nine seasons at the helm before a down year in 2011-12, but the Panthers will return to the Big Dance this season after a 24-7 regular-season and a 12-6 league mark. Dixon inked an extension a couple years ago that takes him through 2017-18. HOT SEAT INDEX: 2
Providence Friars : Ed Cooley -- The native Rhode Islander was hired two years ago, has done well in recruiting circles and also on the court this season. The Friars finished the regular season with 17 wins and a 9-9 mark in the league. Cooley has quickly changed the culture in the program and should receive a significant extension this offseason. HOT SEAT INDEX: 2
Rutgers Scarlet Knights : Mike Rice -- It's never a good thing when the school suspends you for three games, fines you $50K and doesn't let you around the team for two weeks for poor behavior and language. It's also not good when you finish 14-15 and go 5-13 in league play and sit 12th out of 15 teams in the league standings. In three seasons, Rice's league record is 16-38. Athletic Director Tim Pernetti said that Rice would be back next season, but Rice's seat still remains warm. HOT SEAT INDEX: 6
Seton Hall Pirates : Kevin Willard -- Nearly made the NCAA tourney a year ago with a 21-13 overall record and an 8-10 league mark, but this season was a disaster. There were injuries, but still an embracing 14-17 record and just three league wins -- which put them ahead of only DePaul in the league standings. Still, he's set to receive a long-term extension. It helps that he has the support of athletic director Pat Lyons, who also happened to hire him at Iona. The question becomes how much of the extension is guaranteed money. HOT SEAT INDEX: 5
St. John's Red Storm Steve Lavin -- Made the NCAA tournament in his first season with the program, but it was with Norm Roberts' players. A year ago, the Red Storm were 13-19 overall and 6-12 in league play -- but Lavin was on the sidelines for most of the year battling cancer. This season they also finished 11th in the league with 16-14 and 8-10 marks. Lavin has recruited well, but he'll need to show progress next season. HOT SEAT INDEX: 4
Syracuse Orange : Jim Boeheim -- There's plenty of drama in the program, but the bottom line is that he's an institution at Syracuse. He's won more than 900 career games, all with the Orange, and will almost certainly decide when he wants to hang it up. No one quite knows when that will be, though. Remember, the Orange are heading to the ACC next season. HOT SEAT INDEX: 1
South Florida Bulls : Stan Heath -- Might have saved his job a year ago when the Bulls shocked everyone by going to the NCAA tourney after a 22-13 record and a fourth-place league finish. This year, however, has been a major step backwards. South Florida finished 12-18 and 3-15 in league play. Heath did receive a six-year extension after last season, which gives him some stability. HOT SEAT INDEX: 4
Villanova Wildcats : Jay Wright -- The Wildcats had a down season a year ago, but are back in the mix -- and will likely go back to the NCAA tourney. Remember, Wright had it rolling not too long ago. There was the Final Four appearance in 2009, a Sweet 16 in 2008 and seven consecutive NCAA tourney appearances prior to last season. Wright is well-liked on the Main Line and his good looks don't hurt, either. HOT SEAT INDEX: 3
After a close game against Michigan, Air Force is playing San Diego State with some moment...

Quickley played for John Calipari this summer with USA Basketball

A revamped Erwin Center is part of a $4.25 million upgrade to the Longhorns' hoops facilit...
Nov. 10 will be here before you know it so here's what you need to know

The league would be wise to treat that series like the ACC treats Duke-North Carolina

Pacific is penalized after the NCAA found academic rules were broken