Hot Seat Index: Big South coaches Laing, Layer have most to fear
Campbell's Robbie Laing and Liberty's Dale Layer are the Big South coaches with the most to fear.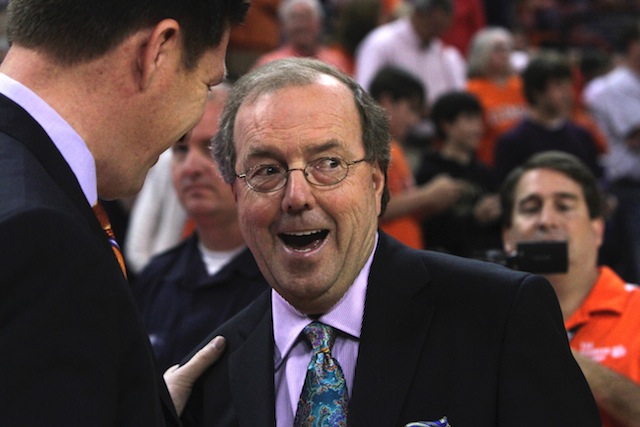 BIG SOUTH TOURNAMENT BRACKET | BIG SOUTH PREVIEW

The coaching carousel will kick into high gear soon and, in advance of that event, Eye on College Basketball will prepare you with a league-by-league Hot Seat Index, corresponding with conference tourney play. With assistance and input from Jeff Borzello, I'll talk to coaches in the league and then rate each head coach from 1 to 10.
If you get a 1, you are as safe as it gets. If you're a 10, you might want to start looking for a new gig.
We'll get it started with the Big South, which opened its tournament on Tuesday. Remember, 10 is the hottest of the hot seats, and 1 is the coolest: 
Campbell: Robbie Laing -- Was 101-165 in nine seasons before this year. The Camels are 12-19 this season, 7-9 in league play and third in the North Division. Has never been to the NCAA tournament and has had two seasons above the .500 mark. HOT SEAT INDEX: 6 (UPDATE: Laing was fired on March 11.)
Charleston Southern: Barclay Radebaugh -- Was 109-131 entering his eighth season at the helm. The Buccaneers are 17-11 this season and won the South Division -- their first league title in 26 years -- so Radebaugh is in good shape. HOT SEAT INDEX: 3
Coastal Carolina: Cliff Ellis -- Has won more than 700 career games, including a 99-61 mark in the first five years at Coastal. Ellis won 28 games in 2010 and 2011 but failed to get to the NCAA tourney. Now the program is trending in the wrong direction and finished the season at 14-15 (including a blowout loss to Liberty in the first round of the Big South tourney) and 9-7 in league play. Ellis is also 67 years old. HOT SEAT INDEX: 5
Gardner-Webb: Chris Holtmann -- Won a total of 23 games over his first two seasons and has the Bulldogs at 20-11 this season, 11-5 in league play and second in their division. The former Ohio University assistant has the program heading in the right direction. HOT SEAT INDEX: 2
High Point: Scott Cherry -- Hadn't finished above the .500 mark in any of his first three seasons, but the former South Carolina assistant has the Panthers at 17-12, 12-4 in league play and first in the North Division. HOT SEAT INDEX: 4
Liberty: Dale Layer -- Had a 48-47 mark in three seasons entering the year but has struggled this season and the team is 11-20 and 6-10 in league play -- which is fifth in the North Division. HOT SEAT INDEX: 6
Longwood: Mike Gillian -- Has been at the school since 2003, and the program was an independent until this season -- when they joined the league. He has won 34 games over the past three seasons and was 7-24 overall, 4-12 in league play and in last place in the North Division. HOT SEAT INDEX: 4
Presbyterian: Gregg Nibert -- He's been at the school since, well, what seems like forever. It has been 24 years, and he had a 376-307 career mark entering the season. The Blue Hose's first year of D-I transition was in 2007, and the program posted an 8-24 mark in its first full-fledged season as a D-I team. HOT SEAT INDEX: 4
Radford: Mike Jones -- The former Georgia and VCU assistant is in his second season with the Highlanders and, despite a first-round loss in the Big South tourney, the program went from six wins to 13 this season and a third-place finish in the North Division. HOT SEAT INDEX: 2
UNC Asheville: Eddie Biedenbach -- Longest-tenured and all-time winningest coach in the league, Biedenbach just completed his 17th season with the Bulldogs. Asheville was 16-16 this season, including a one-and-done in the Big South tournament but went to the NCAA tourney each of the last two years. Biedenbach will likely leave on his own terms. HOT SEAT INDEX: 2
VMI: Duggar Baucom -- His fast-paced system has gotten them on the national radar, and VMI has won 18 and 17 games the last two years. Baucom, who is under contract until 2017, has been there for eight years. And while the Keydets have won just 13 games this season, they were still 8-8 in league play and finished second in the North Division. HOT SEAT INDEX: 4
Winthrop: Pat Kelsey -- Once a dominant program, the Eagles have fallen on hard times lately. Kelsey just finished his first season and went 13-16 and 6-10 in league play, but he's a rising star in the business and should get these guys back on track. HOT SEAT INDEX: 1
After a close game against Michigan, Air Force is playing San Diego State with some moment...

Quickley played for John Calipari this summer with USA Basketball

A revamped Erwin Center is part of a $4.25 million upgrade to the Longhorns' hoops facilit...
Nov. 10 will be here before you know it so here's what you need to know

The league would be wise to treat that series like the ACC treats Duke-North Carolina

Pacific is penalized after the NCAA found academic rules were broken