Hot Seat Index: CAA coaches feeling heat include Peterson, Cassara
Buzz Peterson leads several coaches who are feeling some pressure in the CAA.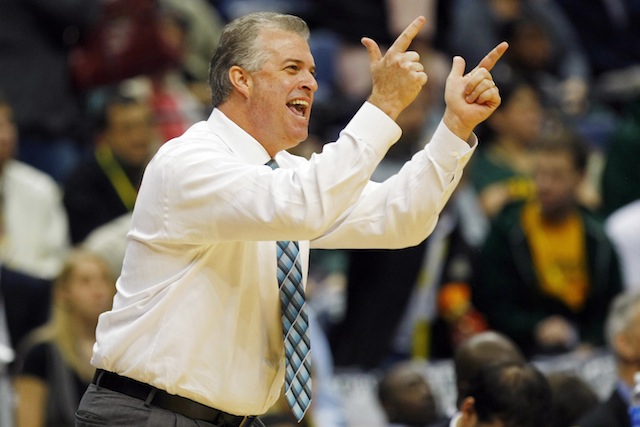 The coaching carousel will kick into high gear soon and, in advance of that event, Eye on College Basketball will prepare you with a league-by-league Hot Seat Index, corresponding with conference tourney play. With assistance and input from Jeff Borzello, I'll talk to coaches in the league and then rate each head coach from 1 to 10.
If you get a 1, you are as safe as it gets. If you're a 10, you might want to start looking for a new gig.
Next up is the CAA, which will crown its champion on Monday night. Remember, 10 is the hottest of the hot seats, and 1 is the coolest:
Delaware: Monte Ross -- After struggling for his first five seasons (53-103) with the Blue Hens, Ross has won 37 games in his past two years in Newark. This season, they finished tied for second in the conference before bowing out in the semis. He hasn't been to an NCAA tournament yet, though. HOT SEAT INDEX: 4
Drexel: Bruiser Flint -- The Dragons went 29-7 last season and came into this season with high expectations. They didn't live up to the hype, though, going just 13-18 overall and finishing in seventh place in the CAA. He hasn't been to an NCAA tournament yet, with a record of 212-158 in 12 seasons. HOT SEAT INDEX: 4
George Mason: Paul Hewitt -- In his second year after coming over from Georgia Tech, Hewitt and the Patriots finished in fifth place with a 10-8 league record. Last season, they went 24-9. With very few seniors on the team, Hewitt could have a big campaign next season. HOT SEAT INDEX: 3
Georgia State: Ron Hunter -- Hunter and Georgia State picked up some nice wins this season, but it wasn't eligible for the conference tournament and will move to the Sun Belt next year. The Panthers have finished in sixth place in back-to-back years, but Hunter is 37-28 since coming over from IUPUI. HOT SEAT INDEX: 3
Hofstra: Mo Cassara -- Cassara entered Hofstra with a bang in 2010-11, winning 21 games and having Charles Jenkins get drafted. Since then, though, the Pride are just 17-47 in two seasons, and endured losing two starters to season-ending knee injuries and the suspensions of four players earlier this season. He is attracting good young talent, though, and has three years on his deal. Athletic director Jeff Hathaway will likely give him a chance to see his six recruits take the court. HOT SEAT INDEX: 6
James Madison: Matt Brady -- The Dukes' run to the CAA title game might have earned Brady a couple more years in Harrisonburg. He was exactly 67-67 in his first four seasons at James Madison, and finished the regular season with a 17-14 record. Moreover, he had never finished higher than fourth in the league. One more win, though, and JMU is in the tournament. HOT SEAT INDEX: 4
Northeastern: Bill Coen -- This could be the last time we see Coen's name next to Northeastern. He has transformed the program, guiding the Huskies to their first conference title this season. He was 91-99 in his first six seasons, but Northeastern is 20-11 and on the verge of an NCAA tournament appearance. Coen could be a hot name this spring. HOT SEAT INDEX: 2
Old Dominion: Jim Corrigan -- Corrigan took over for Blaine Taylor in early February, and the Monarchs actually turned their season around somewhat under Corrigan. They went 3-5 down the stretch, including wins at Drexel and Northeastern. It's unclear what's next for Corrigan. HOT SEAT INDEX: N/A
Towson: Pat Skerry -- Skerry might be the safest coach in the CAA -- and considering he won one game last season, that's quite an accomplishment. He helped lead the Tigers to the biggest single-season turnaround in NCAA history this year, improving Towson's record by 17 games and finishing in second place in the league. He also has tons of talent coming back. HOT SEAT INDEX: 1
UNC-Wilmington: Buzz Peterson -- Peterson's name carries weight among the fan base down in Wilmington, but he has struggled since taking over the Seahawks. He went just 23-39 in his first two seasons, and finished 10-20 this season, good enough for eighth place in the league. His AD said that they are "thoroughly evaluating every phase" of the program. HOT SEAT INDEX: 6
William & Mary: Tony Shaver -- Shaver was 103-172 in his first nine seasons with the Tribe, and finished 13-17 this year. He hasn't been to an NCAA tournament yet and has had just two seasons with an above-.500 record. The fact remains, though, that the school might not be too keen on making a change. HOT SEAT INDEX: 5
Northern Colorado will be on probation through 2020 due to academic and recruiting violati...

You might not see a projected NCAA Tournament bracket quite like this one anytime soon

The Wildcats, once written off after a three game skid, appear poised to enter Pac-12 play...
The Ducks are riding a three game winning streak yet are slight underdogs against the Bulldogs...

The Hurricanes are one of only a handful of unbeaten teams left in college hoops

The Bearcats are fresh off a convincing win over previous unbeaten Mississippi State