Hot Seat Index: Conference USA
Rice's Ben Braun could have the hottest seat of any coach in Conference USA.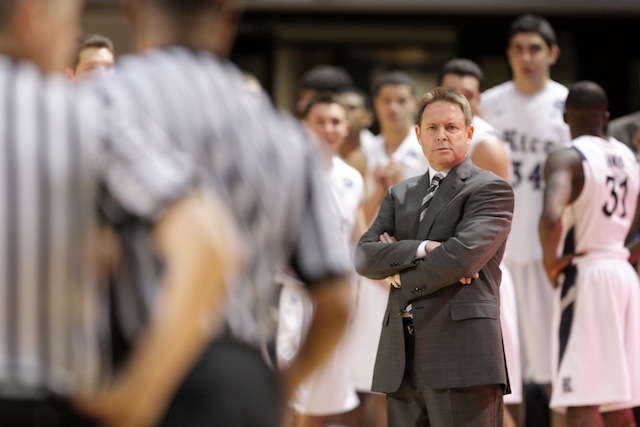 The coaching carousel will kick into high gear soon and, in advance of that event, Eye on College Basketball will prepare you with a league-by-league Hot Seat Index, corresponding with conference tourney play. With assistance and input from Jeff Borzello, I'll talk to coaches in the league and then rate each head coach from 1 to 10.
If you get a 1, you are as safe as it gets. If you're a 10, you might want to start looking for a new gig.
Next up is Conference USA, which began its conference tournament on Wednesday. Remember, 10 is the hottest of the hot seats, and 1 is the coolest:
(For all of our Hot Seat Index posts, click here.)
East Carolina Pirates : Jeff Lebo -- Came over from Auburn Tigers three years ago and has won 18 games in two of his three seasons at the school. The Pirates were 18-11 in the regular-season this year and finished tied for fourth in the league with a 9-7 mark. Lebo is also under contract through 2019. HOT SEAT INDEX: 2
Houston Cougars  James Dickey -- Went 15-15 and tied for eighth place in the league his first season with a 7-9 mark. Was 18-11 this season and tied for seventh this year and again finished 7-9 in league play. HOT SEAT INDEX: 3
Marshall Thundering Herd  Tom Herrion -- Won 22 games his first season, 21 a year ago and struggled to a 13-18 overall mark this season. Herrion is 24-24 in three seasons in league play. He can't have another season like this year, but does have three years remaining on his contract. HOT SEAT INDEX: 5
Memphis Tigers  Josh Pastner -- He took over for John Calipari and has continued to keep the program relevant. Does he need to win an NCAA tournament game? Absolutely. However, it could be much worse in Memphis. Tigers are 102-33 in his tenure and 52-12 in C-USA action. He also got a new 5-year deal after the 2011 season that pays him about $1.7 million per season. HOT SEAT INDEX: 3
Rice Owls  Ben Braun -- For a while there, it looked as though Braun had the program headed in the right direction. The Owls won 17 games last season and were 8-8 in league play, but a mass exodus of transfers decimated Braun's team and Rice won just five games all of this season and also came out on top in just one league contest. His one saving grace may be the support from athletic director Rick Greenspan, who gave him an extension through 2015-16. HOT SEAT INDEX: 7
SMU Mustangs Larry Brown -- He's well-traveled and is 72 years old, and he didn't inherit much from Matt Doherty. Brown finished 15-16 and 5-11 in the league in his first season with the Mustangs. We'll see how much longer he goes. HOT SEAT INDEX: 2
Southern Miss Golden Eagles Donnie Tyndall -- Was hired to replace Larry Eustachy in the offseason and won 23 games and finished in second in the league with a 12-4 mark. Did a terrific job this season after coming from Morehead State Eagles , where he went to a pair of NCAA tourneys. HOT SEAT INDEX: 2
Tulane Green Wave  Ed Conroy -- The Green Wave won three league games and finished in 12th place in each of his first two seasons but went 18-13 overall and 6-10 in conference play this season. Tulane is not an easy job, and Conroy has made progress. HOT SEAT INDEX: 4
Tulsa Golden Hurricane  Danny Manning -- Went 16-14 and 8-8 in league play in his rookie season with the Hurricanes. It's going to take time for Manning, since Tulsa's two best players transferred out after the departure of Doug Wojcik. HOT SEAT INDEX: 2
UAB Blazers  Jerod Haase -- The former Kansas Jayhawks guard and UNC assistant was 15-16 and 7-8 in league play in his first season with the Blazers. Much like Manning, didn't inherit a whole lot when he took over. HOT SEAT INDEX: 2
UCF Knights  Donnie Jones -- Has won at least 20 games in each of his three seasons with the Knights. Now that he's cleared the recent NCAA hurdle and won 20 games this past season and finished fourth in the league, Jones should be in good shape moving forward. HOT SEAT INDEX: 3
Texas-El Paso Miners  Tim Floyd -- Has won 57 games in his three seasons in El Paso. Finished with 25 wins his first season with the Miners, then suffered through a 15-17 campaign before winning 17 this season and finishing third in the league with a 10-6 mark. HOT SEAT INDEX: 2
Arizona, for no good reason, doesn't have to play at USC or UCLA this season

We look at the 'Major 7' leagues and give you the best of what's to come in conference play...

Louisville's coach predicts a change is coming to the NBA's one-and-done rule by 2019
Multiple former players of Lonergan's alleged verbal abuse and inappropriate remarks

When Miller left for Indiana, there was cause for concern in Flyerland; a top-100 signee says...

The Hoyas will spend their non-league schedule playing mostly nobodies -- as will most big...