Hot Seat Index: Great West coaches safe in tough league to succeed
Jim Engles has completely turned around NJIT and should be ready to move up the coaching ladder, while Dick Hunsaker took a step back this season.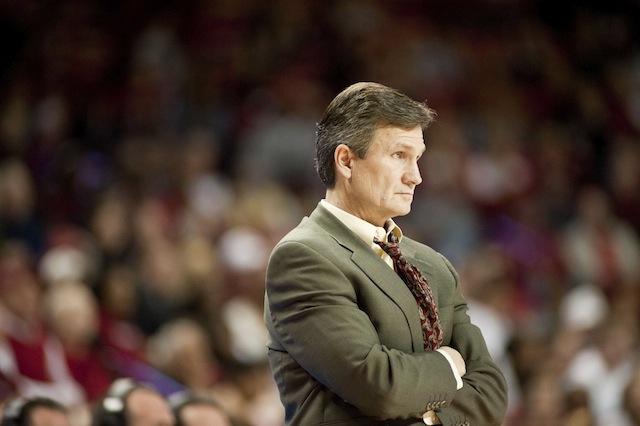 The coaching carousel will kick into high gear soon and, in advance of that event, Eye on College Basketball will prepare you with a league-by-league Hot Seat Index, corresponding with conference tourney play. With assistance and input from Jeff Borzello, I'll talk to coaches in the league and then rate each head coach from 1 to 10.
If you get a 1, you are as safe as it gets. If you're a 10, you might want to start looking for a new gig.
Next up is the Great West. Remember, 10 is the hottest of the hot seats, and 1 is the coolest:
Chicago State: Tracy Dildy -- The former DePaul and UIC assistant just finished his third season at the helm and went 9-21 and 3-5 in league play. It doesn't sound like much, but this is a tough job. They all are in this league. HOT SEAT INDEX: 4
Houston Baptist : Ron Cottrell -- He's been with the Huskies for more than two decades and took them back into the D-1 ranks from NAIA a few years ago. The team has struggled the last few years, but again, this is far from an easy job -- and Cottrell's stability is still OK. The program is headed into the Southland next season. HOT SEAT INDEX: 4
NJIT: Jim Engles -- Took over a program that endured a 51-game losing streak and just won the Great West conference after a 16-12 campaign and a 6-2 league mark. Won 15 games in each of the two previous seasons and could be in line to move up the coaching ladder. No, should be in line to move up the coaching ladder. HOT SEAT INDEX: 1
UT-Pan American: Ryan Marks -- Talk about a difficult job. This is certainly one of those. Marks has done a terrific job and gone from six wins in each of his first two seasons to 11 a year ago and a 16-15 overall record and a second-place finish in the league this season. This is just the fourth time in the past 22 years that the program has finished over the .500 mark. With a couple of Texas mid-major jobs likely to open, these guys would be smart to lock Marks up with a long-term deal heading into the WAC. HOT SEAT INDEX: 2
Utah Valley: Dick Hunsaker -- The former Utah and Ball State coach has been with the Wolverines for more than a decade and had it rolling the last couple of years. They won 19 games two years ago, 20 last year -- and struggled this season due to injuries and attrition with a 14-17 overall record and a fifth-place finish in the conference. He's a heck of an X's and O's guy and is on solid ground heading into the WAC. HOT SEAT INDEX: 2
Calipari threw major shade at Duke and the coaching staff's recruiting pitch

Brown is the No. 2 center in the Class of 2018 and a big get for the Bruins

The Sooners are on a two-game losing streak but still rising on one AP ballot
Vegas legend Kenny White has nailed 3 straight UNC picks and just made a play for Monday's...

Josh Nagel has almost two decades of handicapping experience and locked in a play for Monday's...

The Wildcats stumbled to an 0-2 record this week and fell out of the top 25