Hot Seat Index: Heat on Jason James in Ohio Valley Conference
The Ohio Valley Conference could see some turnover in the offseason, with Tennessee-Martin's Jason James in trouble.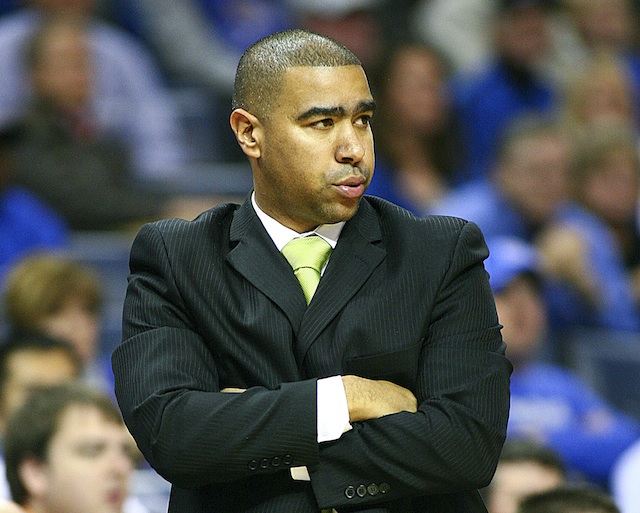 The coaching carousel will kick into high gear soon and, in advance of that event, Eye on College Basketball will prepare you with a league-by-league Hot Seat Index, corresponding with conference tourney play. With assistance and input from Jeff Borzello, I'll talk to coaches in the league and then rate each head coach from 1 to 10.
If you get a 1, you are as safe as it gets. If you're a 10, you might want to start looking for a new gig.
Next up is the Ohio Valley, whose tournament started on Wednesday. Remember, 10 is the hottest of the hot seats, and 1 is the coolest:
Austin Peay: Dave Loos -- In his first 22 seasons at Peay, he went 363-310 with three NCAA tournament appearances and four OVC Coach of the Year honors. This year, though, the Govs went just 8-23 and they haven't made the big dance since 2008. Important note: Loos is also the school's AD. HOT SEAT INDEX: 6
Belmont: Rick Byrd -- Byrd is arguably the safest coach in the league. He has been with the Bruins since 1986, rolling off at least 20 wins in seven of the last eight seasons, including NCAA tournament appearances the past two years. They moved to the Ohio Valley before this season, and went 24-6 this year, winning the regular-season title. HOT SEAT INDEX: 1
Eastern Illinois: Jay Spoonhour -- In his first season at the helm, Spoonhour went 11-20, although the Panthers played much better down the stretch. They won their final three regular-season games and went 8-4 in their final 12 games. He returns several solid young pieces for next year and is expected to get an extension in the offseason. HOT SEAT INDEX: 2
Eastern Kentucky: Jeff Neubauer -- Neubauer needed a good year this season in order to feel safe, and that's exactly what happened. The Colonels went 23-8, setting a school record for wins in a season. Neubauer was 118-102 in seven years before this one, and he has two years left on his deal. HOT SEAT INDEX: 3
Jacksonville State: James Green -- Green hasn't been to the NCAA tournament yet during his time with the Gamecocks, but they did go 17-11 this season, including an 8-8 record in conference play. He was only 42-79 in his previous four seasons as head coach, and he has two seasons left on his contract. HOT SEAT INDEX: 4
Morehead State: Sean Woods -- After leading Mississippi Valley State to the NCAA tournament last season, Woods made the leap to Morehead State. He went 14-17 during the regular season, but he did have a highly publicized incident with a player in the fall. Woods has three more years on his contract. HOT SEAT INDEX: 4
Murray State: Steve Prohm -- Prohm could have gone to a number of jobs after going 31-2 last season, but he stuck around with the Racers for a second year. They won the West Division but finished with the fourth-best record in the league at 10-6 (20-9 overall). Could he be a hot name again? HOT SEAT INDEX: 2
Southeast Missouri: Dickey Nutt -- Nutt has had the talent to be a contender in the OVC the past couple of years, but SEMO has fallen short of expectations. The Redhawks went 16-15 in the regular season this year, after going 32-61 during Nutt's first three seasons in town. Next year will be the final year of his deal. HOT SEAT INDEX: 5
SIU-Edwardsville: Lennox Forrester -- Forrester is in his fifth season with SIU-Edwardsville, with only two of them coming in the Ohio Valley. During those two years, he has gone 19-35 and needed to dismiss the team's leading scorer toward the end of this season. HOT SEAT INDEX: 6
Tennessee Tech : Steve Payne -- After taking over for Mike Sutton before last season, Payne went 19-14 in his first year as the head coach. This season, though, the Golden Eagles couldn't overcome the loss of Kevin Murphy and went 12-17, missing the conference tournament. Before this season, Tech had advanced to the semifinals or further three years in a row. HOT SEAT INDEX: 3
Tennessee-Martin: Jason James -- James has now been at UT-Martin for four seasons, going just 29-94 in that span. He has never won more than 12 games, and he has lost at least 20 games each season. The win over Murray State in late February was key, but James could be in trouble. HOT SEAT INDEX: 9
Tennessee State: Travis Williams -- Williams is in his first year as the head coach after taking over for John Cooper after last season. He went 17-13 this year, finishing third in the league with an 11-5 record. The Tigers lose several key pieces next season, though. HOT SEAT INDEX: 2
Oklahoma and Arkansas are new additions to Sunday's Top 25 (and one)

Gary Parrish and Matt Norlander discuss a wild Saturday of college basketball

Ball left the program earlier this month and has since signed with a Lithuania professional...
Sooners beat third-ranked Shockers while Florida and FSU lost in upset fashion to unranked...

The Hoosiers grow up before our eyes, and Miller has his first signature victory as Indiana...

Trae Young, a freshman and the nation's top player, has a 21-point first half at Wichita S...