Hot Seat Index: Horizon
Milwaukee's Rob Jeter and Youngstown State's Jerry Slocum could sweat a bit once the season ends.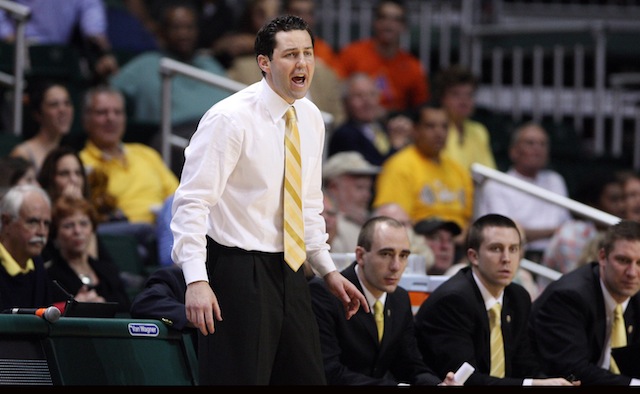 The coaching carousel will kick into high gear soon and, in advance of that event, Eye on College Basketball will prepare you with a league-by-league Hot Seat Index, corresponding with conference tourney play. With assistance and input from Jeff Borzello, I'll talk to coaches in the league and then rate each head coach from 1 to 10.
If you get a 1, you are as safe as it gets. If you're a 10, you might want to start looking for a new gig.
Next up is the Horizon, which tipped off its conference tournament on Tuesday. Remember, 10 is the hottest of the hot seats, and 1 is the coolest:
Cleveland State: Gary Waters -- The Vikings went to the NCAA tournament in 2009 and also made a pair of NIT appearances in 2011 and 2012. But Cleveland State had a rough time this season, finishing 14-18 overall and 5-11 in league play. However, Waters is about as safe as it gets. He signed a seven-year extension before the season that takes him through 2018-19. HOT SEAT INDEX: 2
Detroit: Ray McCallum -- Entered the season 66-67 overall, and the Titans won 20 games and went 12-4 in league play. They also went to the NCAA tourney last season after winning the conference tournament. The only issue has really been off the court, with former staff members. HOT SEAT INDEX: 3
Green Bay: Brian Wardle -- The Phoenix were 29-33 in his first two seasons and finished 16-14 overall and 10-6 in league play this year. Wardle is a well-liked Marquette grad who returns most of his team next season -- including 7-footer Alec Brown. He's in good shape. HOT SEAT INDEX: 3
Loyola: Porter Moser -- Went 7-23 overall last season, his first with the Ramblers. This year, the team finished 15-15 and went 5-11 in league play for a significant improvement. He enters the offseason as safe as just about anyone not named Bryce Drew or Gary Waters. HOT SEAT INDEX: 2
Milwaukee: Rob Jeter -- He has been there for eight years and had a 121-103 mark entering the season, but the team struggled this season and finished 8-24 overall and 3-13 in league play. He does have an NCAA and an NIT appearance on his resume and was a fairly hot name not all that long ago. But now his name has cooled off -- especially with new athletic director Amanda Braun coming on board in the last few days. HOT SEAT INDEX: 4
UIC: Howard Moore -- The Flames have made progress, winning seven games during Moore's first season, eight last season and 16 thus far this season. I'm told that will likely get him a three-year extension this offseason. The question, though, becomes whether he can sustain this year's success, since he'll lose the bulk of his starters. HOT SEAT INDEX: 3
Valparaiso: Bryce Drew -- Took over the program when his dad retired and has gone 46-19 in the two years. The Crusaders went to the NIT in his rookie season and finished first in the league this year with a 13-3 mark. When you talk about coaches who are safe in the Horizon, you start with Drew. HOT SEAT INDEX: 1
Wright State: Billy Donlon -- It appeared Donlon could be in trouble, especially after senior Julius Mays bolted for Kentucky in the offseason. But he has done a terrific job and won 19 games this season -- including a 10-6 mark in conference play. Donlon was 32-33 entering his third season but has turned the corner and has just about everyone back next year. HOT SEAT INDEX: 3
Youngstown State: Jerry Slocum -- He entered the season with a 74-136 overall mark. While the team finished the regular season 16-14 and 7-9 in the league, Slocum's contract is such that the university could terminate after this season or next. That doesn't bode well for the 61-year-old. HOT SEAT INDEX: 6
Was there contact? 'Everybody saw it,' UK coach John Calipari said

After losing its second game this week, a deep NCAA Tournament run looks far-fetched for U...

Coach K shows he is on on top of his game by landing the best three prospects in the Class...
The Buckeyes and Boilermakers continue to assert their dominance in the Big Ten

The 5-star phenom was thought to be headed to Clemson, but was swayed to the Blue Devils

The nation's No. 3 player will commit Saturday and here's his impact on each of his finali...