Hot Seat Index: MAAC
Siena's Mitch Buonaguro and Marist's Chuck Martin could be in trouble after another sub-par season.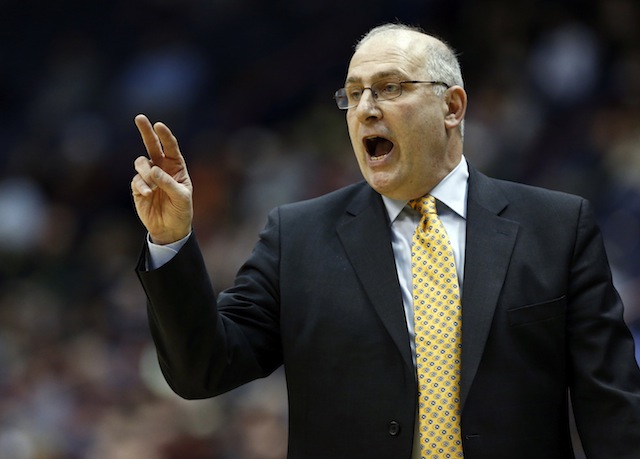 The coaching carousel will kick into high gear soon and, in advance of that event, Eye on College Basketball will prepare you with a league-by-league Hot Seat Index, corresponding with conference tourney play. With assistance and input from Jeff Borzello, I'll talk to coaches in the league and then rate each head coach from 1 to 10.
If you get a 1, you are as safe as it gets. If you're a 10, you might want to start looking for a new gig.
Next up is the MAAC, which tips off its conference tournament on Friday. Remember, 10 is the hottest of the hot seats, and 1 is the coolest:
Canisius Golden Griffins : Jim Baron -- Took over after he was let go by Rhode Island Rams , brought his son with him and has quickly turned things around. After a five-win season a year ago under Tom Parrotta, the Golden Griffs are 18-12 overall, 11-7 in league play and tied for fourth in the league. HOT SEAT INDEX: 2
Fairfield Stags : Sydney Johnson -- The Stags won 22 games last season, but were supposed to challenge for the league title and finished in a tie for third. This season, his second since replacing Ed Cooley, they are 17-14 and 9-9 in the league -- good for sixth. Expectations are high. HOT SEAT INDEX: 4
Iona Gaels : Tim Cluess -- The program took a step back this season, which makes sense without Scott Machado. However, he's still won 67 games in three seasons. The Gaels won 25 last year and make the NCAA tourney and are 17-13 and 11-7 in the league this season. HOT SEAT INDEX: 2 
Loyola-Maryland Greyhounds : Jimmy Patsos -- Was on the hot seat a couple of years ago, but now he's cooled off after an NCAA tourney appearance last season and 21 wins and a second-place finish again this season. He's extremely well-liked, has four more years on his contract and is plenty safe. HOT SEAT INDEX: 2
Manhattan Jaspers : Steve Masiello -- Won 21 games in his rookie season, but this season was disappointing after his best player missed nearly the entire season. He has strong bloodlines (assistant under Rick Pitino at Louisville Cardinals ) and the Jaspers should challenge for the league title next season with George Beamon back teaming with Rhamel Brown and Ashton Pankey eligible. HOT SEAT INDEX: 2
Marist Red Foxes : Chuck Martin -- He's well-liked, but just hasn't done enough in five seasons at the helm. He's won just 41 games in five years and went 10-20 and 6-12 in league play this season. Has never finished higher than eighth in the league, but does return most of his team for next season. HOT SEAT INDEX: 6
Niagara Purple Eagles : Joe Mihalich -- He's been the face of the Purple Eagles program for 15 seasons and has had plenty of success, going to a pair of NCAA tournaments. However, the program struggled in 2010 and 2011, winning just 23 total games. This year, Mihalich is back on track and finished first in the league with 18 overall wins and a 13-5 conference mark. HOT SEAT INDEX: 2
Rider Broncs : Kevin Baggett -- Finished 18-13 and 12-6 in the league in his rookie season after being promoted to take over for Tommy Dempsey. That's a quality first go-around as a D-1 head coach. HOT SEAT INDEX: 2
St. Peter's Peacocks : John Dunne -- It's an extremely difficult job, and Dunne led the Peacocks to the NCAA tourney for the first time in 16 years in 2011. The program has struggled the past two seasons, winning five total games a year ago and nine this season, but Dunne has built up equity with that tourney appearance just a few years ago. HOT SEAT INDEX: 4
Siena Saints : Mitch Buonaguro -- Took over when Fran McCaffery left for Iowa Hawkeyes three years ago and has been unable to get the Saints going. Won 13 games his first season, 14 last year and are just 7-23 this season. Siena has had a track record of success, and the Saints have yet to crack the top five in the league under Buonaguro. He also only has one year left on his deal. HOT SEAT INDEX: 8 (UPDATE: Buonaguro was fired March 12.)
FBI investigation suggests Quinerly received improper benefits from a Wildcats assistant c...

Meet the mid-major coach who refused to vote for the teams involved in the recruiting scan...
The player, now at the University of Portland, says he was injured during a workout which broke...

Please don't start with the 'Being preseason No. 1 didn't work out so well for Duke last season!'...

A look at some of the biggest name coaches in new places in 2017