Hot Seat Index: Mid-American Conference
Bowling Green's Louis Orr could be the only MAC coach even close to the hot seat.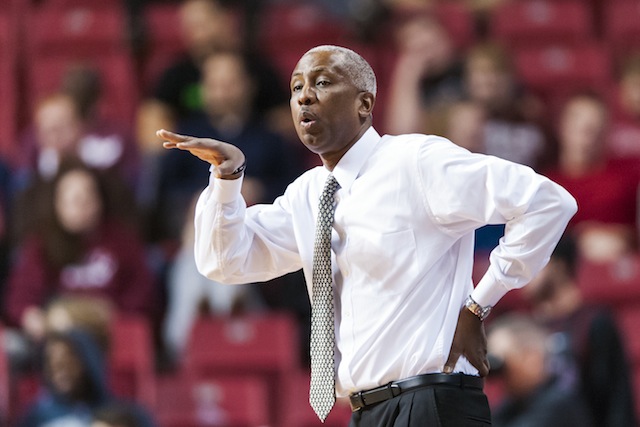 The coaching carousel will kick into high gear soon and, in advance of that event, Eye on College Basketball will prepare you with a league-by-league Hot Seat Index, corresponding with conference tourney play. With assistance and input from Jeff Borzello, I'll talk to coaches in the league and then rate each head coach from 1 to 10.
If you get a 1, you are as safe as it gets. If you're a 10, you might want to start looking for a new gig.
Next up is the Mid-American Conference, whose tournament got underway on Monday. Remember, 10 is the hottest of the hot seats, and 1 is the coolest: 
Akron: Keith Dambrot -- It hasn't been a great couple of weeks for the Zips, but Dambrot still was able to lead them to a share of the conference title. They were 24-6 overall and 14-2 in league play. Dambrot has won 22 or more games in each season since 2004-05, getting to two NCAA tournaments. He was 184-87 heading into this season. HOT SEAT INDEX: 2 
Ball State: Billy Taylor -- Since leaving Lehigh to take over at Ball State, Taylor was 69-84 in five seasons -- and went 15-14 this year with a .500 record in the MAC and a third-place finish. The Cardinals haven't finished below .500 since 2009. HOT SEAT INDEX: 4
Bowling Green: Louis Orr -- Orr has had just one season above .500 since taking over, going 76-82 in his first five seasons and finishing 13-18 this season. He has finished higher than fifth in the division once in his six seasons. The school doesn't seem too keen on making a change, though. HOT SEAT INDEX: 4
Buffalo: Reggie Witherspoon -- While Buffalo stumbled this season to a 12-19 overall record, it was the first down season in a while for the Bulls. Witherspoon was 79-49 in his last four seasons, and was 184-208 in his first 13 years with the school. HOT SEAT INDEX: 3
Central Michigan: Keno Davis -- It's only his first season at the helm, and it wasn't great for the Chippewas. They finished 11-19 in the regular season, good enough for fifth place in the West division. Moreover, they went on a 10-game losing streak at one point. Davis will get time, though -- and is better-suited to this level than his previous stop in the Big East. HOT SEAT INDEX: 2 
Eastern Michigan: Rob Murphy -- The former Syracuse assistant is in his second year as the head coach, going 28-35 in those first two seasons. Eastern Michigan won the division last season, but stepped back to fourth-place this year. HOT SEAT INDEX: 3
Kent State: Rob Senderoff -- Another second-year coach, Senderoff went 21-12 last year and 19-12 this season -- finishing fourth place a year ago, and moving up to third this season. The Golden Flashes are a perennial contender, and Senderoff needs to keep them there because the expectations are high due to past success. HOT SEAT INDEX: 3
Miami (Ohio): John Cooper -- Since coming over from Tennessee State after last season, Cooper has struggled, going 8-21 this season and 3-13 in the conference. The RedHawks lost their final nine games to finish last in the division, but it was just Year One and it'll take some time to see if he can get the program back to competing for the league title. HOT SEAT INDEX: 2
Northern Illinois: Mark Montgomery -- Northern Illinois isn't the easiest of jobs, and Montgomery has certainly found that out during his first two years with the Huskies. He is a combined 10-50 in two seasons, finishing in last place both times. The program was in complete disarray when he arrived and this rebuilding task will take time.HOT SEAT INDEX: 3
Ohio: Jim Christian -- Christian left TCU after last seasons for the Bobcats, who were coming off a Sweet 16 appearance. After a slow start, Ohio ended up getting a share of the league title and finished 23-8. Several seniors do leave after this season, though -- including star D.J. Cooper. HOT SEAT INDEX: 2
Toledo: Tod Kowalczyk -- It's hard not to be impressed with what Kowalczyk has done since taking over the Rockets before the 2010-11 season. After winning just four games in his first year, he had a 15-win improvement and went 19-17 last a season ago. Mired by APR sanctions this year, Toledo still went 15-13 and shared the division title. HOT SEAT INDEX: 2
Western Michigan: Steve Hawkins – Hawkins has been with the Broncos for 10 seasons, going 159-132 prior to this one. Western Michigan finished 19-11 this year, sharing the division title. Hawkins has won at least 18 games on six separate occasions, reaching the NCAA tournament back in 2004. HOT SEAT INDEX: 2
Gary Parrish and Matt Norlander spend some time on the SEC, too

Having shocked Kansas at Allen Fieldhouse, Duke legend Bobby Hurley is coaching the Sun Devils...

Jay Wright's undefeated Wildcats are now No. 1 in the Top 25 (and one)
Coach K's Blue Devils are the fourth preseason top-10 team to lose to a sub-75 KenPom team

TCU, which downed Nevada late Friday, continues to flourish under second-year coach Jamie...

The fans rushed the floor and celebrated after Taylor University scored its 10th point of the...