Hot Seat Index: Pac-12
Stanford's Johnny Dawkins leads a handful of coaches who could be in trouble in the Pac-12.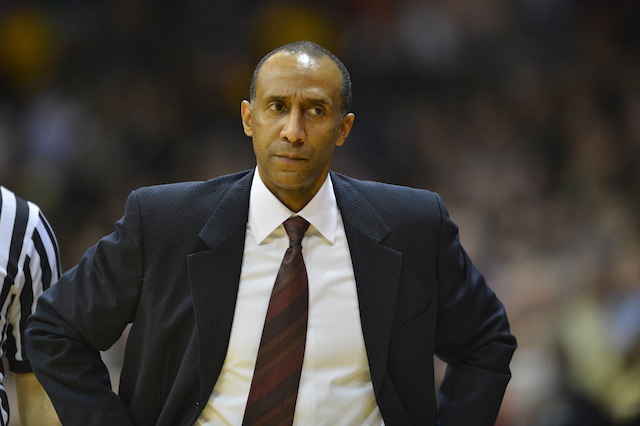 The coaching carousel will kick into high gear soon and, in advance of that event, Eye on College Basketball will prepare you with a league-by-league Hot Seat Index, corresponding with conference tourney play. With assistance and input from Jeff Borzello, I'll talk to coaches in the league and then rate each head coach from 1 to 10.
If you get a 1, you are as safe as it gets. If you're a 10, you might want to start looking for a new gig.
Next up is the Pac-12, which began its conference tournament on Wednesday. Remember, 10 is the hottest of the hot seats, and 1 is the coolest:
(For all of our Hot Seat Index posts, click here.)
Arizona: Sean Miller -- Took over a program in disarray and has done a tremendous job in Tucson. Went to the Elite Eight two seasons ago and finished tied for second this season in the league with a 24-6 overall mark and a 12-6 conference record. Athletic director Greg Byrne has Miller inked through 2017. HOT SEAT INDEX: 2
Arizona State: Herb Sendek -- Ever since James Harden left, life in Tempe hasn't quite been the same. The Sun Devils have really struggled the past two seasons, finishing in 10th and winning a total of 22 games over that span. However, ASU is 21-11 and tied for sixth this season with a 9-9 league mark. HOT SEAT INDEX: 6
California: Mike Montgomery -- The Bears have won more games over the past five years under Montgomery than any other program in the league. Montgomery is on track to make his fourth NCAA appearances in his five seasons at the helm and has no shortage of job security: HOT SEAT INDEX: 2
Colorado: Tad Boyle -- Has won at least 20 games in each of his three seasons at the helm and is on the verge of going to the NCAA tourney for the second time in his three years. Is one of the most underrated coaches in the country and has a five-year deal through 2017. HOT SEAT INDEX: 2
Oregon: Dana Altman -- Was a surprise pick to lead the Ducks three years ago, has done a terrific job this season and will make his first NCAA appearance. Has won nearly 70 games in three years and has consecutive second-place finishes in the Pac-12. Signed a seven-year, $12.6 million contract when he came on board. HOT SEAT INDEX: 2
Oregon State: Craig Robinson -- He is the President-in-Law, so you've got to figure that adds to his job security. However, Robinson has yet to go to any postseason that isn't named the CBI. The Beavers were 14-18 this season and tied for last in the league with a 4-14 mark. He is under contract through 2017, so he should be OK for at least another year. HOT SEAT INDEX: 6
Stanford: Johnny Dawkins -- Just hasn't done enough in his five years in Palo Alto. Has yet to finish in the top five of the league, and it's not as if this was a strong period for the conference. The Cardinal had talent this season and went 18-14, tied for sixth in the league at 9-9. The former Duke star has three years left on his deal but could still be in trouble. HOT SEAT INDEX: 7
UCLA: Ben Howland -- This might be the most difficult situation to figure throughout the entire country, and his future might depends on how the Bruins do in the NCAA tournament. After going to three straight Final Fours, much of the fan base is ready for a change after failing to make the NCAA tourney in two of the past three seasons. However, UCLA did win the Pac-12 regular-season title. Again, this should depend on his success or failure in March. HOT SEAT INDEX: 6
USC: Bob Cantu -- Took over early in league play this season and did a nice job but doesn't have a shot in landing the full-time gig with names such as Jamie Dixon being tossed around. HOT SEAT INDEX: N/A
Utah: Larry Krystkowiak -- Has made progress in his second season, is well-liked and obviously has a strong pedigree. Won five games his first season but 15 this year and advanced to the Pac-12 semifinals. The former NBA big man is in terrific shape. HOT SEAT INDEX: 2
Washington: Lorenzo Romar -- Has been in Seattle for more than a decade. While the program took a dip this year, the Huskies had gone to the NCAA tournament in three of the past four years. That's pretty impressive. Romar inked a 10-year deal in 2010 that goes through 2020. HOT SEAT INDEX: 3
Washington State: Ken Bone -- Took over a tough situation, but the Cougars have struggled in his four seasons. They won 22 games his second season but haven't cracked the top seven in the other three years. His contract expires at the end of 2015-16, and he needs to turn things next season. HOT SEAT INDEX: 6
Calipari threw major shade at Duke and the coaching staff's recruiting pitch

Brown is the No. 2 center in the Class of 2018 and a big get for the Bruins

The Sooners are on a two-game losing streak but still rising on one AP ballot
Vegas legend Kenny White has nailed 3 straight UNC picks and just made a play for Monday's...

Josh Nagel has almost two decades of handicapping experience and locked in a play for Monday's...

The Wildcats stumbled to an 0-2 record this week and fell out of the top 25