Hot Seat Index: Patriot League
Most of the Patriot League is safe, but Milan Brown of Holy Cross could feel his seat heat up.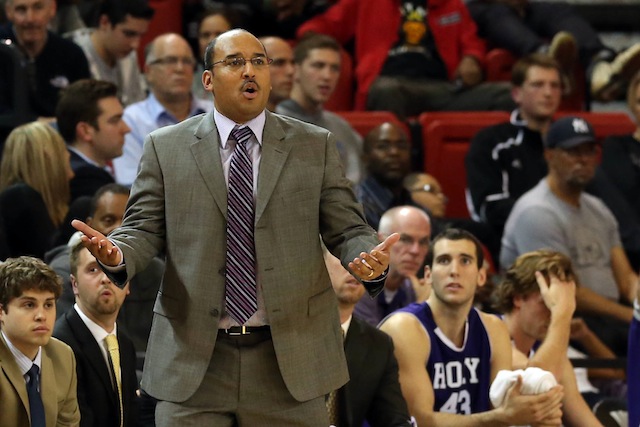 The coaching carousel will kick into high gear soon and, in advance of that event, Eye on College Basketball will prepare you with a league-by-league Hot Seat Index, corresponding with conference tourney play. With assistance and input from Jeff Borzello, I'll talk to coaches in the league and then rate each head coach from 1 to 10.
If you get a 1, you are as safe as it gets. If you're a 10, you might want to start looking for a new gig.
Next up is the Patriot, which gets its conference tournament started on Wednesday. Remember, 10 is the hottest of the hot seats, and 1 is the coolest:
American: Jeff Jones -- Led the Eagles to back-to-back NCAA tournament appearances in 2008 and 2009 and won at least 20 games in four of the past five seasons entering 2012-13. However, this season has been a down one for Jones -- whose team is just 10-19 and 5-9 in the league -- tied for fifth place. HOT SEAT INDEX: 3
Army: Zach Spiker -- It's one of the most difficult jobs in America, and the 36-year-old Spiker, a former Cornell assistant, has made progress. He finished in eighth place in his first two seasons, sixth last season and fourth this year with a 15-14 overall mark and a 8-6 record in league play. HOT SEAT INDEX: 3
Bucknell: Dave Paulsen -- The former Williams College head man has now won three consecutive regular-season titles with the Bison. The team is 25-5 this season and 12-2 in league play -- and a higher-level program would be smart to grab Paulsen. HOT SEAT INDEX: 1
Colgate: Matt Langel -- The former Fran Dunphy assistant went 11-20 in his second season with the program and finished in a tie for fifth in the league with a 5-9 mark. It was a step forward from last year's 8-22 and 4-10 marks. Langel isn't in danger, but needs to take another step in the next year or two. HOT SEAT INDEX: 4
Holy Cross: Milan Brown -- After seven seasons at Mount St. Mary's, Brown made the move to Holy Cross -- and has won 35 games in three seasons. The Crusaders won 15 games and finished fourth in the league a year ago, but won just a dozen this season and finished seventh this season. Athletic director Dick Regan pulled the plug on Sean Kearney after just one season, so it'll be interesting to see how long Brown has to get the program back fighting for conference titles. He still has three years left on his contract. HOT SEAT INDEX: 6
Lafayette: Fran O'Hanlon -- I wrote that O'Hanlon was on the hot seat a few years ago and got plenty of backlash from former O'Hanlon assistants and Philly guys, so I'm going to be more careful this time. He's 238-261 entering the season in 17 years and was 17-14 this season and tied for second with Lehigh at 10-4 in league play. I know he's only made a couple of NCAA tourneys, but he's well-liked and will likely leave on his own terms. HOT SEAT INDEX: 4
Lehigh: Brett Reed -- Has put himself on Paulsen level after a pair of NCAA tourney appearances in 2010 and 2012. The Mountain Hawks head coach has been without star C.J. McCollum, and still managed to win 20 games and finish 10-4 and in second place in the league. He and Paulsen are as safe as it gets. HOT SEAT INDEX: 1
Navy: Ed DeChellis -- He got out of Penn State just in time, but it's been rough in his first two seasons at Navy. He was 3-26 in his first season, and finished 8-22 and 2-12 and in the cellar again this season. DeChellis made progress, but he'll need to make more. HOT SEAT INDEX: 4
The university also maintains that Pitino was appropriately fired

Price only made it nine games into his third season

The Wildcats won't play another currently ranked team until Jan. 10
The BC fan has a ton of apparel and gear headed his way after this putt

Durant's made a habit of making sure his alma mater is set with the latest customized gear

Ball says UCLA told him to thank Trump for getting him back to the states after shoplifting...