Hot Seat Index: Southland Conference
No one is too hot in the Southland, although a couple of coaches need to improve next season to feel truly safe.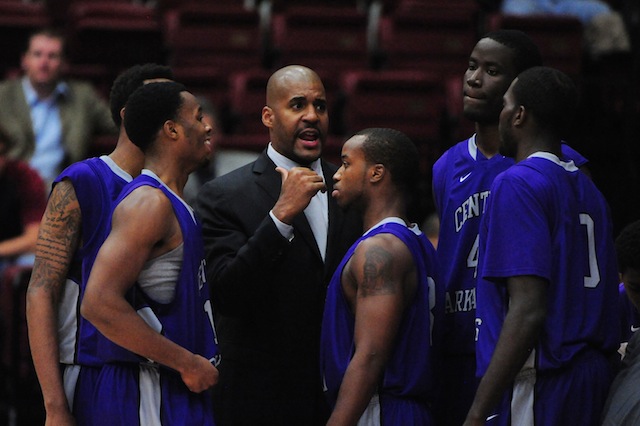 The coaching carousel will kick into high gear soon and, in advance of that event, Eye on College Basketball will prepare you with a league-by-league Hot Seat Index, corresponding with conference tourney play. With assistance and input from Jeff Borzello, I'll talk to coaches in the league and then rate each head coach from 1 to 10.
If you get a 1, you are as safe as it gets. If you're a 10, you might want to start looking for a new gig.
Next up is the Southland, which tips off its conference tournament on Wednesday. Remember, 10 is the hottest of the hot seats, and 1 is the coolest:
Central Arkansas: Corliss Williamson -- Heading into the year, Williamson was feeling a little pressure -- but the Bears reached the conference tournament and finished in a tie for seventh place, Williamson's best finish in three seasons. He is 26-61 in three seasons, but his status within the state helps recruiting. HOT SEAT INDEX: 4
Lamar: Pat Knight -- After reaching the NCAA tournament last year, the Cardinals took a major step back this season, going just 3-28 and finishing at the bottom of the standings. They lost essentially everyone from last year, but should do better next season. He is 26-40 in two seasons. HOT SEAT INDEX: 3
McNeese State: Dave Simmons -- The Cowboys have struggled this season after reaching the title game in back-to-back seasons and winning the league in 2011. After going 13-16 this season and finishing in a tie for seventh, Simmons is 100-115 in seven seasons. HOT SEAT INDEX: 4
Nicholls State: J.P. Piper -- The record isn't great -- just 88-146 in eight seasons prior to this one -- but Piper is doing a better job with the Colonels than most think. They finished tied for fifth this season, going 8-10 in the league, which is an accomplishment given the mediocre facilities and lack of resources of Nicholls State. HOT SEAT INDEX: 4
Northwestern State: Mike McConathy -- After leading the Demons to two NCAA tournament appearances -- including a win over Iowa back in 2006 -- McConathy is basically a legend at Northwestern State. The team went 21-8 this season, finishing in second place. He also had the Demons playing the fastest tempo in the country. At 221-212 in 14 seasons, he's fine. HOT SEAT INDEX: 3
Oral Roberts: Scott Sutton -- Sutton has finished above .500 every season since 2001-02, and this year was no different. The Golden Eagles finished third in the standings, going 18-13 overall in their first year after moving from the Summit. Sutton has been to three NCAA tournament and is 268-175 in 14 seasons. HOT SEAT INDEX: 2
Sam Houston State: Jason Hooten -- This is Hooten's third season with the Bearkats, and he still has them near the top of the standings in defense. However, he is just 46-48 in three years. They won the division in his first season at the helm but dropped to a tie for fifth this year. HOT SEAT INDEX: 3
Southeastern Louisiana: Jim Yarbrough -- After a down year last year, the Lions bounced back to finish fourth in the conference -- the third time in the last four years they have finished in the top four. Yarbrough hasn't been to an NCAA tournament yet, but he's 120-116 in eight seasons. HOT SEAT INDEX: 4
Stephen F. Austin: Danny Kaspar -- The safest coach in the league, Kaspar has done a tremendous job with the Lumberjacks. He was 219-136 in 12 seasons before this year, and they went 26-3 and won the league. That's now eight straight seasons above .500, with one NCAA tournament appearance. HOT SEAT INDEX: 1
Texas A&M-Corpus Christi: Willis Wilson -- The former Rice head coach inherited an APR nightmare when he took over prior to last season, and he has the Islanders playing better, despite their record. They are just 12-47 in two seasons, but on the way back. HOT SEAT INDEX: 3
Gary Parrish and Matt Norlander discuss a wild Saturday of college basketball

Ball left the program earlier this month and has since signed with a Lithuania professional...

Sooners beat third-ranked Shockers while Florida and FSU lost in upset fashion to unranked...
The Hoosiers grow up before our eyes, and Miller has his first signature victory as Indiana...

Trae Young, a freshman and the nation's top player, has a 21-point first half at Wichita S...

Michigan State is probably going to have company atop the Big Ten standings