Hot Seat Index: UMKC's Brown most vulnerable Summit League coach
UMKC's Matt Brown could be out of a job within a few weeks.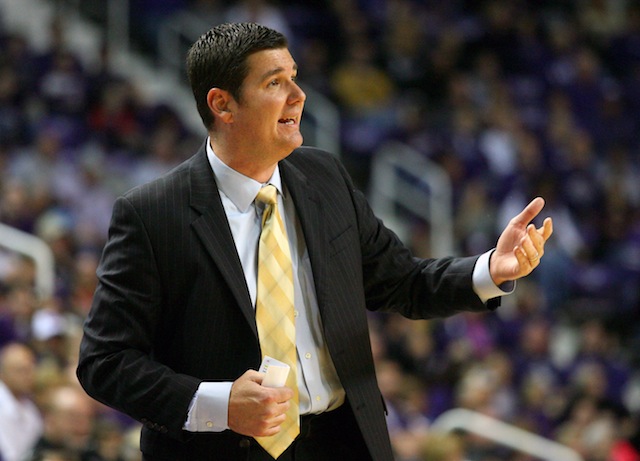 The coaching carousel will kick into high gear soon and, in advance of that event, Eye on College Basketball will prepare you with a league-by-league Hot Seat Index, corresponding with conference tourney play. With assistance and input from Jeff Borzello, I'll talk to coaches in the league and then rate each head coach from 1 to 10.
If you get a 1, you are as safe as it gets. If you're a 10, you might want to start looking for a new gig.
Next up is the Summit League, which tipped off its conference tournament over the weekend. Remember, 10 is the hottest of the hot seats, and 1 is the coolest:
IPFW: Tony Jasick -- Was 11-19 and 5-13 in his rookie campaign, and made strides this season, winning 15 overall games and going 7-9 in the league -- which put the Mastadons in fifth place. HOT SEAT INDEX: 3
IUPUI: Todd Howard -- Took over for Ron Hunter and went 14-18 and 7-11 in the league a year ago, but the program has been ravaged by injuries this season -- and should be given a mulligan. Howard returns a bunch next year and should have the Jaguars competitive again. HOT SEAT INDEX: 4
UMKC: Matt Brown -- Has had four 20-loss seasons in six years and the team is 8-23 and 5-11 in league play this season. A year ago, UMKC finished 10-21 and last in the league with a 4-14 mark. It would be a shock if Brown is back next season. He has one more year left on his deal. HOT SEAT INDEX: 9
North Dakota State: Saul Phillips -- Got to the NCAA tourney in 2009 and then had a couple of sub-.500 seasons. Last season the Bison were 17-14 and 9-9 in the league, and this year they finished 22-8 and 12-4 in conference play. Phillips is in good shape going forward -- especially with five years left on his deal. HOT SEAT INDEX: 2
Oakland: Greg Kampe -- Won the league and went to the NCAA tourney in 2010 and 2011, and the Golden Grizzlies won 20 games last season and 16 this year. Kampe has won more than 500 games in 29 years at the school and will likely decide when he leaves. Contract currently runs until 2017. HOT SEAT INDEX: 2
Nebraska-Omaha: Darrin Hansen -- Last year was the Mavericks first in the D-1 ranks and they went 11-18. This season Hansen led UNO to a 11-20 mark and a 6-10 record in league play -- which was sixth in the conference. It takes time to adjust from the Division II to the D-1 ranks. HOT SEAT INDEX: 3
South Dakota: Dave Boots -- This is his 25th season at the helm of the Coyotes, and the first that the program is eligible for the Summit league tourney. They went into the league a year ago and were 10-18 and 5-13 in conference play. This season a similar result: 10-19 and 5-11, seventh in the league. HOT SEAT INDEX: 3
South Dakota State: Scott Nagy -- Nate Wolters has given Nagy plenty of job security. The Jackrabbits have won 50 games over the past two seasons, and claimed the regular-season title this year. Nagy also made the NCAA tourney last season, and has no shortage of job security these days. HOT SEAT INDEX: 2
Western Illinois: Jim Molinari -- Struggled in his first three seasons at the helm, winning a total of 29 games, but has turned it over the past two. The Leathernecks were 18-15 last season and tied for fourth in the league with a 9-9 record, and went 21-7 and 13-3 this season, tying for first place in the regular season. Has four more years left on his deal. HOT SEAT INDEX: 3
Coach Shaka Smart doesn't expect him to be out for an extended period of time

Jackson isn't showing the Sun Devils much respect after beating KU

One AP voter must not know ASU is undefeated with wins over the Jayhawks and Musketeers
Duke and Kansas take a hit in the coaches poll

The top 10 gets a major shakeup after a wild week of upsets

The Sun Devils make a big jump and the Jayhawks slide after ASU pulls the big upset