Hot Seat Index: WAC
San Jose State's George Nessman leads the coaches on the hot seat in the WAC.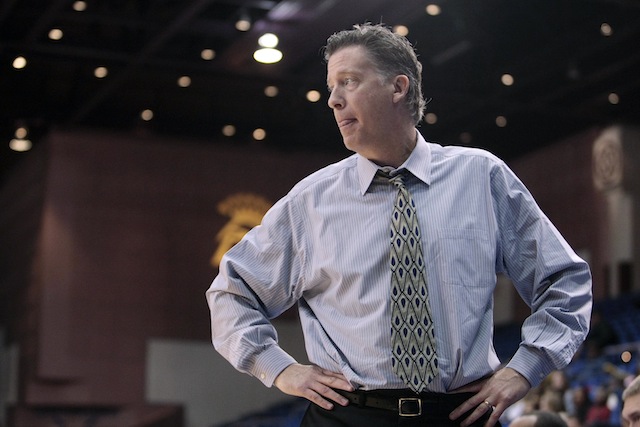 The coaching carousel will kick into high gear soon and, in advance of that event, Eye on College Basketball will prepare you with a league-by-league Hot Seat Index, corresponding with conference tourney play. With assistance and input from Jeff Borzello, I'll talk to coaches in the league and then rate each head coach from 1 to 10.
If you get a 1, you are as safe as it gets. If you're a 10, you might want to start looking for a new gig.
Next up is the WAC, which tips its conference tournament off on Tuesday. Remember, 10 is the hottest of the hot seats, and 1 is the coolest:
Denver: Joe Scott -- In its first season in the WAC, Scott has led Denver to a share of the conference title, knocking off Louisiana Tech on the final day of the regular season. He was 80-74 in five seasons before this one, but went 22-9 last year and 21-8 this season. He has the Pioneers on the way up. HOT SEAT INDEX: 2
Idaho: Don Verlin -- Verlin and the Vandals had a few good seasons before this year, finishing fourth and third the past two campaigns. This year they have struggled, going just 7-11 in conference play and 12-17 overall. He was 69-60 in his first four seasons. HOT SEAT INDEX: 3
Louisiana Tech: Michael White -- Despite losing two in a row to end the season, Louisiana Tech still won a share of the regular-season title. The Bulldogs have now had back-to-back winning seasons since dropping to 12-20 the year before White took over. The bigger question could be is whether White will leave for a bigger job. HOT SEAT INDEX: 2
New Mexico State: Marvin Menzies -- The Aggies have had some off-court issues, but Menzies continues to get it done on the court. This year marked the fourth time in six seasons that Menzies has led his club to at least 20 wins. He was 102-68 in five seasons before this year, including two NCAA tournament appearances. They finished in third this year. HOT SEAT INDEX: 3
San Jose State: George Nessman -- Nessman was 77-141 in seven seasons heading into 2012-13, and San Jose State is wrapping up a 9-19 (3-14 in WAC) season. He's never finished better than seventh during his time with the Spartans, and has had just one above .500 year. However, this is one of the more difficult jobs in the league -- and maybe in the entire country. HOT SEAT INDEX: 5
Seattle: Cameron Dollar -- It's Seattle's first year in the WAC, and while the Redhawks are likely to finish in last place, Dollar has the program on the rise. They have been an independent the past three seasons, a stretch during which Dollar went 40-49 and helped put Seattle back on the map. HOT SEAT INDEX: 3
Texas-Arlington:  Scott Cross -- Another first-year member of the WAC, Cross was 103-82 in six seasons in the Southland, and is tied for fourth with a 17-12 record this season. He went to the NCAA tournament in 2008 and won the Southland last year. HOT SEAT INDEX: 2
Texas-San Antonio: Brooks Thompson -- In six seasons with UTSA in the Southland, Thompson went 96-91 with an NCAA tournament appearance in 2011. Moreover, prior to this season, Thompson had won at least 18 games in four straight seasons. This year, they are just 8-21 and 3-14 in the WAC. Just one down season, and nothing to get concerned about. HOT SEAT INDEX: 3
Texas State:  Doug Davalos -- Davalos has brought a high-octane, up-tempo system that gets attention -- but hasn't won games. He has never finished above .500 during his seven seasons with the Bobcats, the last six of which were spent in the Southland. They are just 10-21 this season. HOT SEAT INDEX: 5
Utah State: Stew Morrill -- Morrill has the longest tenure of any coach in the WAC, going 345-119 in the past 14 seasons, reaching the NCAA tournament eight times – and winning at least 20 games every year since 1999-2000. That streak continued this season, as the Aggies overcame injuries to finish 20-9. HOT SEAT INDEX: 1
Coach Shaka Smart doesn't expect him to be out for an extended period of time

Jackson isn't showing the Sun Devils much respect after beating KU

One AP voter must not know ASU is undefeated with wins over the Jayhawks and Musketeers
Duke and Kansas take a hit in the coaches poll

The top 10 gets a major shakeup after a wild week of upsets

The Sun Devils make a big jump and the Jayhawks slide after ASU pulls the big upset