Hot Seat Index: West Coast Conference
Loyola Marymount's Max Good and San Diego's Bill Grier are among the warmest coaches in the WCC.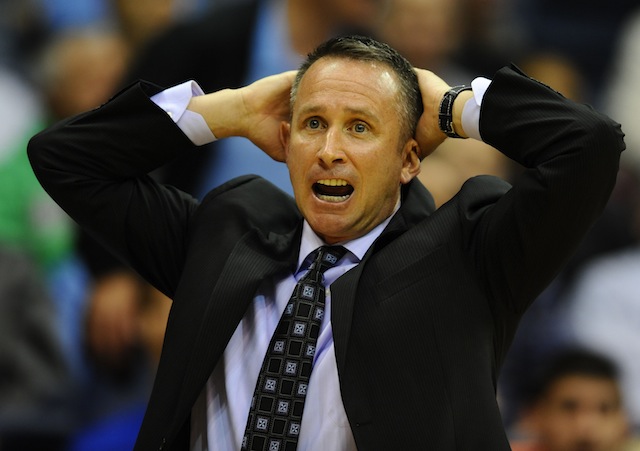 The coaching carousel will kick into high gear soon and, in advance of that event, Eye on College Basketball will prepare you with a league-by-league Hot Seat Index, corresponding with conference tourney play. With assistance and input from Jeff Borzello, I'll talk to coaches in the league and then rate each head coach from 1 to 10.
If you get a 1, you are as safe as it gets. If you're a 10, you might want to start looking for a new gig.
Next up is the West Coast Conference, which kicked off its tournament on Wednesday. Remember, 10 is the hottest of the hot seats, and 1 is the coolest:
BYU: Dave Rose -- He's led the Cougars to six consecutive NCAA tournament appearances, including one last season in the program's first year in the WCC. BYU is 21-10 this season and 10-6 in league play -- which is third in the conference. He's as safe as anyone except for Mark Few. HOT SEAT INDEX: 1
Gonzaga: Mark Few -- There may be no one whose seat is cooler in the entire country. The Zags are 29-2 and ran the table in league play. He's won at least 23 games every season he's been at the helm, has gone to the tournament in all 13 of his seasons and has also finished either first or second in the league every single year. That's the definition of being safe. HOT SEAT INDEX: 1
Loyola Marymount: Max Good -- Took over early in 2008 when Bill Bayno stepped down for health reasons and had a 53-75 mark entering this season. He was the WCC Coach of the Year last year after the Lions finished in fourth place, won 21 overall and was 11-5 in conference play. However, this season has been a disappointment as LMU is 9-22 overall and 1-15 in the league. HOT SEAT INDEX: 5
Pepperdine: Marty Wilson -- Took over for Tom Asbury two years ago and has compiled a 22-36 overall mark in Malibu. Was 10-19 in his first season, including a seventh-place finish in the league. Pepperdine finished in seventh again this past season and won a dozen overall contests. He'll need to make a jump next season or else his seat will heat up. HOT SEAT INDEX: 4
Portland: Eric Reveno -- The former Stanford assistant had it going for a three-year span, winning 60 games from 2008-11. However, he's won a total of 18 over the past two seasons -- including a 11-21 mark this year with a 4-12 record in league play. The Pilots lost to LMU in the 8-9 game on Wednesday night, which didn't help matters. HOT SEAT INDEX: 4
Saint Mary's: Randy Bennett -- He'd be on par with Few and Rose if not for the recent NCAA sanctions levied against him. Bennett has led the Gaels to 25-plus wins for the sixth consecutive season and has eight years left on his current contract. Saint Mary's is 26-5 this season, 14-2 in league play and finished second behind the Zags. But he and the program were hit fairly hard by the NCAA and that certainly affects his job security a bit. HOT SEAT INDEX: 3
San Diego: Bill Grier -- He has made it through a six-win campaign in 2010-11 and also a point-shaving scandal, and now Grier has won 27 games over the past two seasons. Grier has a terrific backcourt back next season and is extremely well-liked, so he should be OK as the Toreros don't take a step backwards. HOT SEAT INDEX: 5
San Francisco: Rex Walters -- He had a ton of defections and turnover, but the former Kansas guard has managed to go 14-15 overall and finish in fifth place in the league. San Fran won 20 last season and earned a spot in the CBI. HOT SEAT INDEX: 4
Santa Clara: Kerry Keating -- Suffered through a miserable season a year ago, but has 21 wins and won nine league games now that Kevin Foster and Marc Trasolini returned to the team. Keating is in his sixth season and has finished fourth in the conference two of the past three years. HOT SEAT INDEX: 3
SportsLine's advanced computer model simulated Wednesday's Villanova vs. Temple game 10,000...

Will any of these six teams make it to 2018 without their first loss?

Temple could be a big problem for undefeated Villanova, the No. 1 team in the Top 25 (and...
It appears he's more than happy to pay up, given the circumstances

Lithuania seems ready for the Ball era to begin

The Sun Devils make a big jump and the Jayhawks slide after ASU pulls the big upset