How Tarik Black went from a reserve to the nation's most desirable big
Tarik Black was disappointing through three years at Memphis. Now he's the most desirable big in the nation, which should serve as a lesson in supply and demand.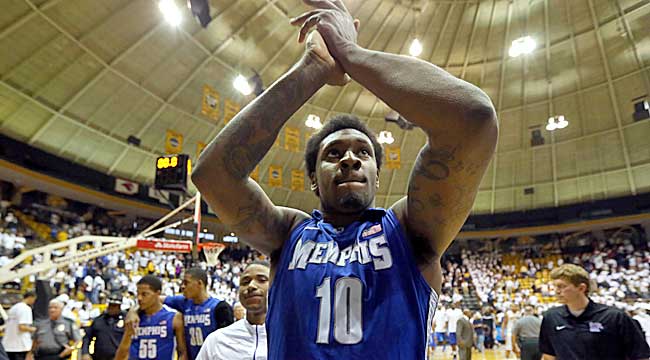 It makes little sense, on the surface, that a player who averaged 8.1 points and 4.8 rebounds coming off the bench for a fringe Top 25 team this season could, within hours of announcing a transfer, become the most desirable recruit in the country not named Andrew Wiggins. But that's what Tarik Black has done.
Duke coach Mike Krzyzewski and two assistants were in his home Tuesday.
Kansas coach Bill Self visited Wednesday night.
Other schools that have either tried or are trying to get involved with Black range from Ohio State to Oregon to Miami to Minnesota to Florida State and Vanderbilt -- plus about 20 others -- and it hardly matters that the 6-foot-9, 260-pound forward from Memphis spent his sophomore season being out-rebounded by a teammate who was four inches shorter and 100 pounds lighter (Will Barton), and his junior season being out-rebounded by a teammate who was four inches shorter and 70 pounds lighter (D.J. Stephens). All that matters is that Black is large and athletic, and that he'll be eligible to play next season once he earns an undergraduate degree from Memphis this semester.
More on college basketball
Columns

Related links
More college hoops coverage
It's a simple lesson in supply and demand, college-basketball style. There's demand for rotation bigs each and every April. And, this April, Tarik Black -- along with Tulane's Josh Davis and UNLV's Mike Moser -- essentially accounts for all of the relevant supply.
"All of the big boys," was the response I received when I asked a coach I know to be deeply involved with Black for a list of the schools he considers his biggest competion to land the prospect with one year of eligibility remaining, and isn't that something?
All. Of. The. Big. Boys.
Duke, Kansas and Ohio State -- three of the sport's best and most consistent programs coached by one Hall of Famer and two others who figure to be viable candidates someday -- are working every angle imaginable in an attempt to land a player who's been remarkably disappointing relative to expectations, and not only because he walked out of a practice, basically just quit, on Josh Pastner in November. Black finished his career at Memphis with an all-too-familar six-point, two-rebound, four-foul effort in a loss to Michigan State in the Round of 32 of the NCAA Tournament. The 32 minutes played in that game were representative of his junior year in general and Exhibit A of why this prospect once projected as a first-round pick in the NBA Draft would now go unselected even if the draft were stretched to three rounds.
I'm not saying Black isn't very good or that he can't be very good.
I'm just saying he wasn't very good at Memphis.
But that doesn't matter now because, even at his worst, Black has shown he's at least capable of playing rotation minutes at the high-major level, and who couldn't, at this point, use a big who can play rotation minutes at the high-major level? Answer: Almost nobody. So Duke, Kansas, Ohio State and at least 20 other high-major programs are all lined up and working like they're the last 25 dudes in a bar with just one moderately attractive girl. Closing time is in 15 minutes. Somebody just yelled last call.
We've all seen that scenario, right?
Bunch of guys badly in need, or at least they think, of somebody to take home from an establishment where the demand far outweighs the supply. Suddenly, an OK girl -- i.e., somebody almost nobody would've noticed six hours ago when the supply was better and the demand was lower -- is the center of attention.
That's precisely what's happening here.
An OK center has become the center of attention.
Mike Krzyzewski and Bill Self are battling over Tarik Black.
The idea that that sentence could've ever been typed would've seemed laughable at pretty much any point during Black's high school career or first three seasons of college. But it's a factual sentence now because supply is low, demand is high and there are games that must be won in seven months.
Gary Parrish and Matt Norlander discuss a wild Saturday of college basketball

Ball left the program earlier this month and has since signed with a Lithuania professional...

Sooners beat third-ranked Shockers while Florida and FSU lost in upset fashion to unranked...
The Hoosiers grow up before our eyes, and Miller has his first signature victory as Indiana...

Trae Young, a freshman and the nation's top player, has a 21-point first half at Wichita S...

Michigan State is probably going to have company atop the Big Ten standings