In the middle of Iowa State-Kansas hatefest, a new star emerges
Kansas freshman Perry Ellis scored a career high 23 points in the Jayhawks' impassioned win over Iowa State on Friday night in the Big 12 semifinals.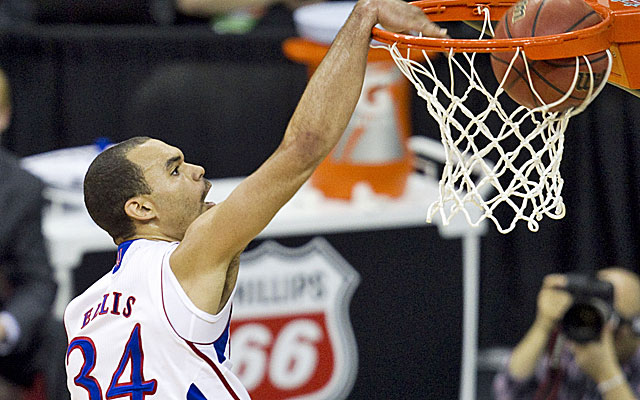 KANSAS CITY, Mo. – Let's get this out of the way right way for a league threatening to replace what was the Big East with the best conference tournament around.
Big 12 game officials -- subject of much discussion in the last Kansas-Iowa State game -- got it absolutely right this time in the third installment of what is becoming a tasty hatefest. In a moment of knuckleheadedness in a Big 12 semifinal on Friday night, Kansas' Ben McLemore absolutely taunted the Cyclones' bench as he ran past following a first-half 3. An absolutely enraged Bill Self followed with his own technical two minutes later.
Good calls, absolutely. Important because the conference supervisor (Curtis Shaw), as well as a packed Sprint Center, was watching for more than the winner to get to the Big 12 championship game on Saturday. The last time that these teams met, the conference acknowledged "officiating errors" in KU's win at Ames.
By the end of Kansas' 88-73 win on Friday, most of that didn't matter. Iowa State -- bitter overtime losers in the first two meetings -- were put in their place, and the reconfigured Big 12 tournament looked like it just might survive on the basketball end.
"If the players are going to play with emotion, the coach might as well have some emotion, too," said Self, who was T'd up for the second consecutive game against the Cyclones.
But if you checked Twitter on Friday night, Kansas freshman Perry Ellis was trending. That showed both the power of Jayhawk Nation and Ellis in the paint. It was there the confused young kid from Wichita, Kan., did most of his damage, scoring a career-high 23 points in only 28 minutes.  
Ellis was key in sending KU to its third Big 12 title game in four years but also helped diffuse the rancor. Iowa State wanted payback. We know this because leading scorer Will Clyburn said, "I want some payback."
The Cyclones lost the first meeting in Lawrence after McLemore tied it late in regulation with a 3. They felt jobbed in Ames by the officials last month in the second meeting. The zebras missed calling anything on a block/charge at the end of regulation.
Meanwhile, Ellis had maintained his state of confusion, basketball-wise. He had trouble distinguishing himself from the fashion designer of the same name. Neither saw the court much for Kansas. But the 6-foot-8 true freshman has slowly moved himself from project to prodigy. Slowly, in that the 23 points were the most since a season-opening 15 against Southeast Missouri.
That slow pace of progress means a lot when you're a four-time Kansas high school player of the year and the language of the game starts with the words "one-and-done."
"This isn't the end of it," post Jeff Withey said of Perry. "This is the beginning."
A beginning that comes at exactly the right time. Throwing a 225-pound power forward X factor into the mix this time of year makes Kansas a more dangerous No. 1 seed. It's easy to see Ellis is stronger than senior starter Kevin Young, who played only 10 minutes and is a nice compliment for Withey, the 7-foot shot blocking Big 12 player of the year (Kansas City Star).
"It means a lot," senior Travis Releford said of the trend-setting teammate, not the fashion designer. "If we get a scoring presence, scoring threat in the four [power forward] behind Kevin with all the energy he brings, then you can't just focus on Jeff in the post."
Ellis' problem wasn't so much work ethic; it was decision making. With his body, he shouldn't be hesitating about going to the basket. The kid lacked aggressiveness disproportionate to his scowl.
"Early on, he was uncomfortable with the whole system and how we wanted to do things," Releford said. "So Coach just stayed on him in practice, and they put him in situations.
"On any top D-I team in the country, especially Kansas, it's tough being a freshman. Him coming in and being a McDonald's All-American and not playing as much as expected, it will take a toll on you."
As for Ellis, he talks but he doesn't say much, which is the perfect stance for a true freshman anywhere. Based on one breakout game, Self was reluctant to name the kid "the next star," a label applied by a reporter.
"He could be," Self said. "We've had a pretty good recruiting class, too."
That's the perfect thing to say at Kansas about an emerging freshman in mid-March. This thing could head a different way for Ellis in a heartbeat. For now, Kansas has all but clinched that No. 1 seed here next weekend at Sprint for the NCAA tournament.
If that happens, might as well pencil the Jayhawks in for the Sweet 16. The building is 40 miles from the Kansas campus. The Jayhawks' level of support, the Big 12 tournament's level of support, will have risen to a new level.
It's hard to notice that Missouri -- Kansas' most hated rival -- is gone. Kansas and Kansas State will play for the third time this season in the championship game. A record 19,160 packed the five-year-old arena on Friday. Outside, the Power & Light entertainment district was rocking on an 80-degree day. Jayhawks, Cyclones (and Wildcats) shared taunts and beers. 
They came to see if Iowa State could back up the emerging dislike that these teams have for each other. "I can't wait for the opportunity," Clyburn added on Thursday.
They got some early fireworks. McLemore said he merely flashed his customary "3" sign with his fingers after hitting an early shot. The technical got Self riled enough to get his own T.
"I acted like an idiot," Self said.
An idiot who knew exactly what he was doing. Kansas went on a run shortly thereafter, a run that Ellis participated in instead of watching.
"I'm trying to learn every day," he said.
At just the right time.
Marvin Bagley, if eligible at Duke this season, projects as the country's top power forwar...

The Big Ten Tournament is a week earlier than usual, so the regular-season schedule may look...

Arizona, Grand Canyon and Tulane are also in Barcelona and have reported to be accounted for...
The Kansas forward is no longer accused of walking out on an $88 tab

Cavaliers basketball coach tapes statement on behalf of his university and his city

Gary Parrish and Matt Norlander discuss all things Marvin Bagley and his immediate future