Indiana among schools making strong push for five-star Leron Black
Five-star forward Leron Black has bounced back from injury and is drawing heavy interest from Indiana, Illinois, UConn and Florida.
• 2 min read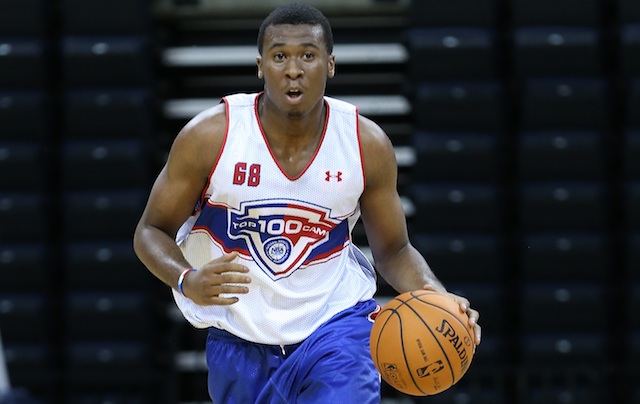 Leron Black was one of the more intriguing prospects heading into the spring period, as he had cemented himself as a top-25 recruit and was headed for a big couple of months.
However, he injured his ankle in early April and was forced to the bench for several events. Now that he's somewhat healthy, Black is back to being a matchup problem for most opponents.
"I've been playing pretty good, trying to get back to 100 percent. Playing how I know I can," Black said. "I'm just trying to play as hard as I can, help my team win."
The 6-foot-7 forward from White Station (Tenn.) is ranked No. 22 in the 247 Sports Composite. His absence didn't slow down his recruitment one bit during the spring period.
Indiana, Florida, Ohio State, Illinois, Baylor, Connecticut, North Carolina State, Tennessee and others have all made a move in his process.
The Hoosiers were the most recent offer, extending it in early June.
"We've been talking like, every day since," Black said. "I like the coaching staff, I like the program they've got, I like the way they play."
Assistant coach Kenny Johnson is doing most of the recruiting for Tom Crean's staff.
"He's a nice guy," Black said. "I'm big on my faith. I can talk to him about my faith all the time, and I love that. He's a nice person."
Black is no rookie to the recruiting circuit, as he was once committed to Baylor for 3 1/2 months before reopening the process.
"I just feel like I did it too early," he said. "Baylor, they're still going to be one of my top schools. I just wanted to take my time and analyze the whole process."
Black said Illinois, Florida and Connecticut -- along with Indiana -- are the ones coming at him the hardest.
"I love all the schools that are talking to me," he said. "I'm big on my faith, so they're basically talking to me about my faith and trying to get me to have a good feeling with the coaches."
Black will wait until the fall to take his official visits, and he's not sure which schools he wants to take a closer look at.
"I'm still taking my time, letting the recruiting process take place."
School officials expect the five-star freshman to miss the rest of the season

Cincinnati and Iowa highlight an impressive inaugural field for the Cayman lslands Classic

The Bluejays are 4-0 with some impressive victories, including a win vs. the Bruins on Mon...
The world's most prominent Basketball Dad responded to Donald Trump calling him 'very ungr...

LaVar argued with the CNN host over why he came off as ungrateful and why he didn't thank Mr....

The voter has Northwestern seven spots ahead of undefeated Texas Tech, which just blasted the...