Indiana breaks trend, usurps Kentucky for James Blackmon
Kentucky looked like a lock for James Blackmon at the start of the day -- by the time Blackmon made his announcement, it was clear he was heading to Indiana.
• 2 min read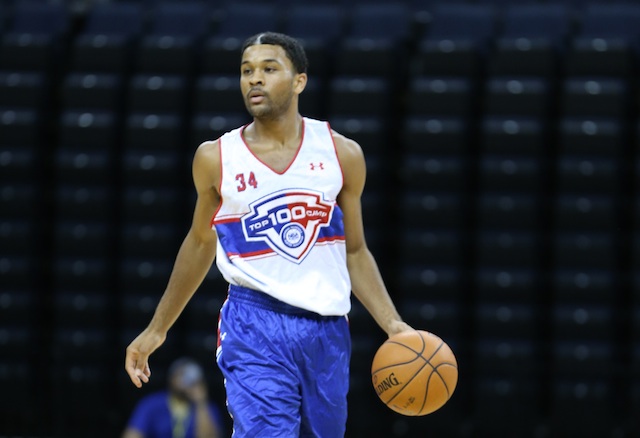 It's been an extremely weird year in recruiting for Indiana. The Hoosiers were supposedly leading for Theo Pinson – he went to North Carolina. They were supposedly leading for Goodluck Okonoboh – he went to UNLV. Indiana was the favorite for Devin Robinson – before Florida overtook them down the stretch.
And then there's the opposite. North Carolina had the edge for four-star guard Robert Johnson – until the Virginia native announced he was heading to Bloomington to play for Indiana.
To put it simply, the final days before a commitment have been a roller coaster for Tom Crean and the Hoosiers in the class of 2014.
It was no different the past week.
James Blackmon, a former Indiana commit who reopened his recruitment in early August, set a decision date of Halloween. Most signs pointed to him choosing Kentucky, which offered him the day after he decommitted from the Hoosiers. Blackmon's father played in Lexington and the Wildcats had a need for another wing scorer. If not Kentucky, Michigan seemed like a decent second option – especially since the Wolverines were also in the running for four-star shooting guard Devin Booker.
Indiana didn't seem like too much of a legitimate option – even after the Hoosiers convinced Blackmon to visit Bloomington last weekend.
On Thursday morning, Kentucky was still the overwhelming favorite. In fact, the 247Sports Crystal Ball was 100 percent for the Wildcats. As the morning progressed, though, things began to shift. Talk behind the scenes heated up about Indiana, and those rumors clearly had some legs. Did Blackmon not want to go to the same school as Booker? Did he simply feel most comfortable at Indiana? Was Kentucky not in as strong a position as everyone thought?
Fact is, it doesn't really matter. In the final 12 hours before his announcement, Blackmon went from a lock for Kentucky to a lock for Indiana. It was the exact opposite situation of what has happened so many times for Indiana in this recruiting cycle.
Now that Blackmon is back in the fold, what does he bring to the table for Crean and the Hoosiers? Of course, Johnson is already committed for the class of 2014 – and he's one of the best scoring guards in the country. Blackmon plays the same position, but is a different player. He's arguably the best shooter in the country, and will knock down shots consistently if he gets open. The 6-foot-3 Marion (Ind.) product is also a fairly good ball-handler and passer. He's ranked No. 31 in the 247Sports Composite.
It's undoubtedly been a weird recruiting class for Indiana in 2014, as the Hoosiers missed out on some key targets – but still ended up with two four-star shooting guards in Blackmon and Johnson, as well as a sharpshooting forward in Max Hoetzel.
It remains to be seen whether Indiana will continue its pursuit of Jaquan Lyle (or anyone else, for that matter) – but I'm guessing Crean can't wait to get this 2014 class finished.
Some familiar names dot the No. 1 and No. 2 seeds as Jerry Palm fills out his NCAA Tournament...

Here's how the top teams are trying to stay elite as recruiting heats up

There's never been anything like Wednesday night's LaMelo Ball-Zion Williamson showdown
The best basketball player in the world showed up too late to the biggest game in Las Vega...

Thousands of fans were turned away (even LeBron!) from the LaMelo Ball-Zion Williamson sho...

"Four Sides of the Story" also takes a look at Tiger Woods' first PGA tournament and the role...