Indiana takes outright Big Ten title with dramatic win at Michigan
The Big Ten season just had to end this way, didn't it? With a great game. With a wild and tremendous finish.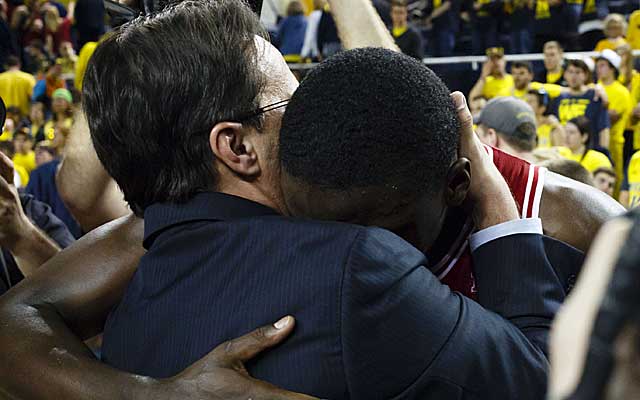 ANN ARBOR, Mich. -- The Big Ten season just had to end this way, didn't it?
With a great game.
With a wild and tremendous finish.
More on Indiana-Michigan
Related links
More college hoops coverage
With a ball hanging on the rim in the final seconds Sunday -- along with the fates of four schools. Fall in, and Michigan, Indiana, Ohio State and Michigan State would all be Big Ten champs, free to hang banners stating exactly that, if they desired. Fall out, and the Hoosiers would finish with a 14-4 league record that would be good enough for the outright Big Ten title, ease the sting of their Senior Day loss and probably secure a No. 1 seed in the NCAA Tournament.
So the stakes were high.
And that ball was just hanging on that rim.
"[It felt like it was on the rim] for about two-and-a-half or three [hours]," Indiana's Victor Oladipo said afterward, and I don't think he was joking.
Oladipo had gotten caught on a high ballscreen that allowed Trey Burke to drive on Cody Zeller with eight seconds remaining and Indiana ahead by a single point, which was crazy considering the Hoosiers were down five 44 ticks earlier. But Burke and Tim Hardaway Jr. had both missed the front ends of one-and-ones in the final 40 seconds, and Zeller had scored six straight points in a span of 27 seconds. So IU's five-point deficit was suddenly a one-point lead, and now it was Oladipo's job to keep Burke from the basket.
But Oladipo got caught on that ballscreen.
So Burke drove straight to the rim for a layup attempt that was ... awkward and off mark. Jordan Morgan was there, though; he caught the miss with his left hand, immediately pushed the ball back at the rim with 4.2 seconds left. And then it just hung there, seemingly forever or for at least two or three hours. It bounced once. Then a second time. Then a third time. Then a fourth time. Then a fifth time. And then it rolled on the rim a little while a sellout crowd of 12,693 inside the Crisler Center watched the fates of four schools be decided.
Would it fall in?
Would it fall out?
"It just hung there," Burke said.
Even Oladipo couldn't tell which way things would go, and he was right in the paint. He said he was as uncertain as the rest of us for a while, then equal parts ecstatic and relieved by the outcome. Yes, the ball fell out. Then Oladipo fell down. He collapsed on the court -- a smile on his face, tears in his eyes, a 72-71 final on the scoreboard above indicating the visitors had won in a dramatic and improbable way.
"It was just a variety of emotions," Oladipo said. "It all just kind of came out. I apologize."
No apology necessary, Victor.
And the Big Ten season just had to end this way, didn't it?
With a great game.
With a wild and tremendous finish.
It's fitting, I guess, that the preseason No. 1 and pick to win the league ended up actually winning the league, and it's a testament to the strength of the league that Michigan is ranked seventh nationally but will be just the No. 5 seed in the Big Ten Tournament. Six different Big Ten schools have been ranked in the top 10 at one point or another, and five are currently in the top 25 of the RPI. At least three and maybe five have looked like the Big Ten's best at different times, in my opinion. But the most reliable outfit with the highest ceiling has usually seemed like Indiana, which is why it was surprising last Tuesday when the Hoosiers fell at home (to an Ohio State team they'd already beaten by double-digits in Columbus) and put themselves in this must-win situation at Michigan.
A loss Sunday would've been bad for real and perceptional reasons. It would've forced the Hoosiers to share a title that looked like theirs five days earlier, would've sent them to Chicago as the losers of three of four games and thus with more questions than answers.
But the ball fell out.
So now everything is fine.
Indiana is your Big Ten champion.
That's one goal accomplished with more goals to meet.
"It's a huge win for us," said IU senior Jordan Hulls. "But we're not done yet."
Thomas will be just the third player to have his number retired at the University of Washi...

The 47,000 square foot facility on Nike's world headquarters looks awesome

Gary Parrish and Matt Norlander discuss the latest in college basketball
The university also maintains that Pitino was appropriately fired

Price only made it nine games into his third season

The Wildcats won't play another currently ranked team until Jan. 10