Indiana's frosh duo of Noah Vonleh, Troy Williams come up big
Indiana's freshman class holds the key to the Hoosiers' success this season -- mainly Noah Vonleh and Troy Williams.
• 3 min read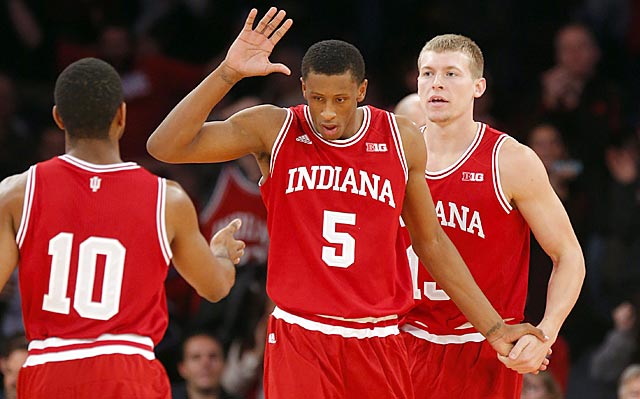 NEW YORK -- It's not as deep as Kentucky's group of Julius Randle, the Harrison twins and James Young. And it's not as talented as Kansas' trio of Andrew Wiggins, Wayne Selden and Joel Embiid.
But make no mistake -- Indiana's freshman class might be as important to the Hoosiers' success as any newcomer group in the country.
That's high praise, considering what they're compared to, but after Thursday's 100-84 victory against Washington, it's clear the baby-faced Hoosiers are further along than expected.
Freshman big man Noah Vonleh snapped his four-game double-double streak, but he still managed to finish with 18 points and nine rebounds. Freshman wing Troy Williams should have had his own highlight reel, going for 22 points and eight rebounds, and always finding a way to make a play. Returnees Yogi Ferrell and Will Sheehey were also very good, combining for 36 points and 10 assists.
As a team, the Hoosiers simply manhandled Washington around the basket. They had 20 offensive rebounds, finishing with 21 more boards than the Huskies. Indiana got 27 second-chance points and 54 points in the paint.
"They have what I call sneaky length," Washington head coach Lorenzo Romar said. "There's not a 7-footer that starts in their lineup, but across the board, they have those 6-foot-7 guys."
"You really stand out on this team if you don't rebound," Indiana head coach Tom Crean said.
And the dominance started with Vonleh on Thursday night. With Washington down two power forwards in Jernard Jarreau (out for season) and Desmond Simmons (out six-to-eight weeks), Vonleh went to work on Perris Blackwell and the Huskies' backups. He got position easily around the rim, and even displayed the ability to finish with both hands. He also controlled the glass at both ends of the floor.
Despite being a top-10 recruit in the class of 2013, Vonleh hasn't been in the conversation with Randle, Wiggins, Jabari Parker and Aaron Gordon. Yet.
"I can't answer why he's not getting the attention," Crean said. "None of us focus on that. He knows he has to get better. He has a great desire to win, to compete, to get better. He's one of the hardest-working young men I've ever been around."
Against Washington, though, it was Williams who stole the show. At one time a five-star recruit, Williams faded in the rankings a bit toward the end of his high school career. On Thursday, he reminded everyone why he was so highly-touted. Williams was everywhere, cutting to the basket without the ball, finishing in transition, making plays around the rim.
With all his athleticism and above-the-rim ability, it might have reminded some Hoosier fans of one of last year's stars.
"He's a similar player to like Victor [Oladipo] was last year," Sheehey said. "At the right place at the right time.
"When you're active on defense, it translates to offense. And I think that helped him."
Indiana looked impressive on Thursday night, but the Hoosiers have had their ups and downs so far through five games. They probably won't round into form until the middle of Big Ten play -- but they're going to be a tough out when everything comes together.
And the two keys to Indiana reaching its potential will be Vonleh and Williams. Ferrell is a terrific point guard, and Sheehey is a high-motor player, while sophomore Jeremy Hollowell is developing into a solid option on the wing. But Vonleh gives them a presence inside that no one else on the roster is capable of providing, and Williams is the high-flying wing that complements Sheehey well. Also, this doesn't count fellow freshmen Stanford Robinson, Devin Davis and Luke Fischer, all of whom made contributions on Thursday.
And the scary thing is that Vonleh and Williams are only five games into their career.
"It's fun to watch the chemistry develop," Crean said.
Opponents probably won't say the same thing.
SportsLine's advanced computer model simulated Wednesday's Villanova vs. Temple game 10,000...

Will any of these six teams make it to 2018 without their first loss?

Temple could be a big problem for undefeated Villanova, the No. 1 team in the Top 25 (and...
It appears he's more than happy to pay up, given the circumstances

Lithuania seems ready for the Ball era to begin

The Sun Devils make a big jump and the Jayhawks slide after ASU pulls the big upset