INFOGRAPHICS: Double-digit seeds in Sweet 16 a near-guarantee
We've got at least one (Dayton) and could well have two by the end of Sunday. Why this is no shock.
• 1 min read
More NCAA hoops: Tournament bracket | Complete coverage of NCAAs | Latest news
With No. 11 Dayton's 55-53 win over No. 3 Syracuse Saturday night, one of the lesser-recognized trends in the NCAA Tournament continued.
In 28 of the past 30 seasons, when the NCAA Tournament's been at 64 or more teams, at least one double-digit seed has busted through the seed ceiling and reached the second weekend. In fact, in most years, it's at least two 10-plus seeds that break on through to the other side.
The Sweet 16 has hosted a 10 seed or worse in every year except 2007 and 1995. The most second-weekend chaos we ever saw? Back in '99, when the likes of Miami University, Southwest Missouri State and a then-unknown, plucky little program named Gonzaga made a name for itself with an Elite Eight run.
There are other teams playing Sunday who could give us multiple double-digit seeds in the regional semifinals. We're guaranteed a second team, because No. 11 Tennessee plays No. 14 Mercer. And No. 12 Stephen F. Austin, as well as No. 10 Stanford, also can up the quotient.
We've got two infographs for you. The first is the basic data. The one below it has the specific teams in each year, dating back to 1985.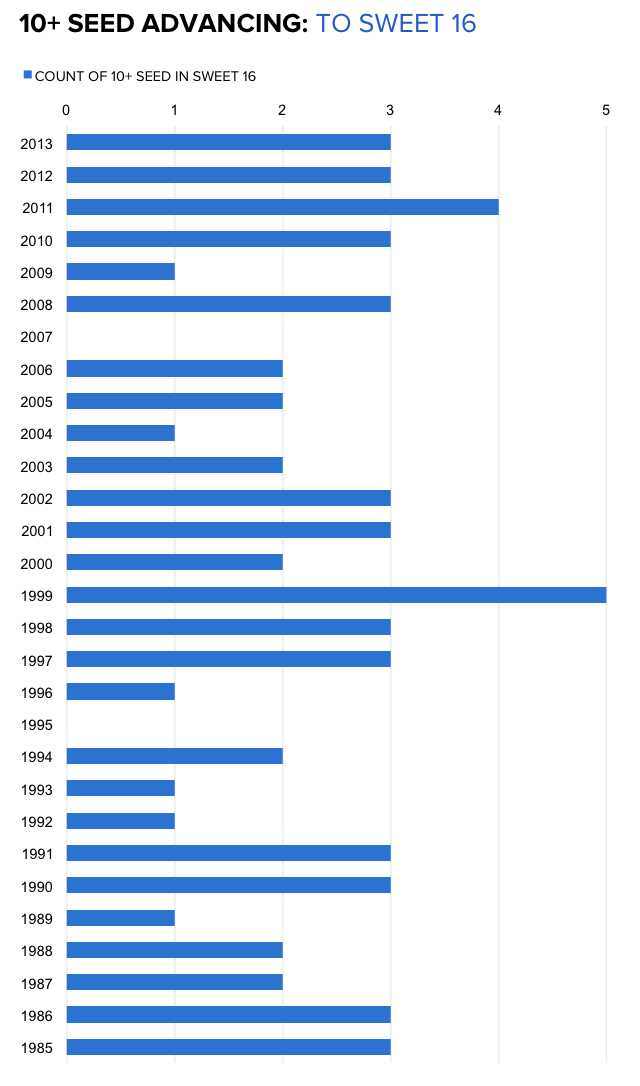 Who did what and when. Specific seeds included.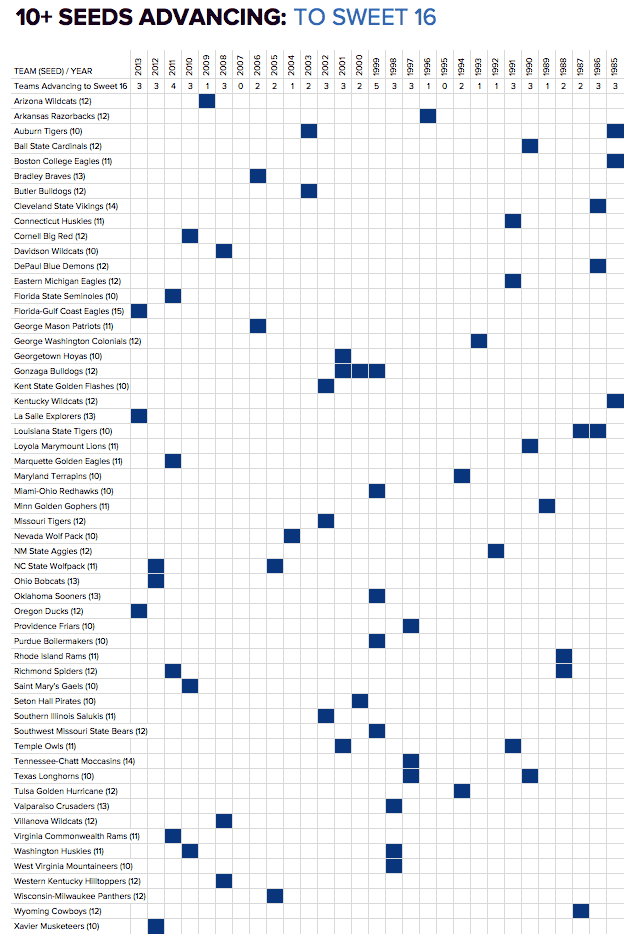 The Sooners' freshman, pilloried for his recent performances, showed a different side Tues...

Young is leading the NCAA in both scoring and assists per game

Our advanced computer model simulated Tuesday's UNLV vs. Fresno State game 10,000 times
Our advanced computer model simulated Tuesday's Kansas-Oklahoma game 10,000 times

Our advanced computer model simulated Tuesday's Virginia vs. Clemson game 10,000 times

The Sooners and freshman Trae Young try to snap a two-game skid when they face the Jayhawk...