INFOGRAPHICS: March Madness, conferences, and you
A look at how conferences have fared in various rounds of the NCAA Tournament, 1985 to present.
by

Eye on Col Basket staff

• 1 min read
With just a couple of days left until the 2014 NCAA Tournament bracket is unveiled, you might find yourself in a state of panic. You're currently flipping the channel from conference tournament to conference tournament, sizing up the teams and players, trying to figure out what it all means before you fill out your first of, let's say 17 brackets starting Sunday night.
We're here to help. The landscape of conferences has changed in the 29 years since the bracket expanded to 64 teams in 1985, and the tournament strength of the so-called power conferences has fluxuated as well. The ACC and Big East come out looking like the historical winners, with the Big Ten not far behind. (The Big 12 suffers from being a newer conference relative to the others, but remember that the Big 12 took on the entire  Big Eight, plus four more schools, when that conference dissolved in 1996. The Big 12 does not recognize the Big Eight years as part of its official history).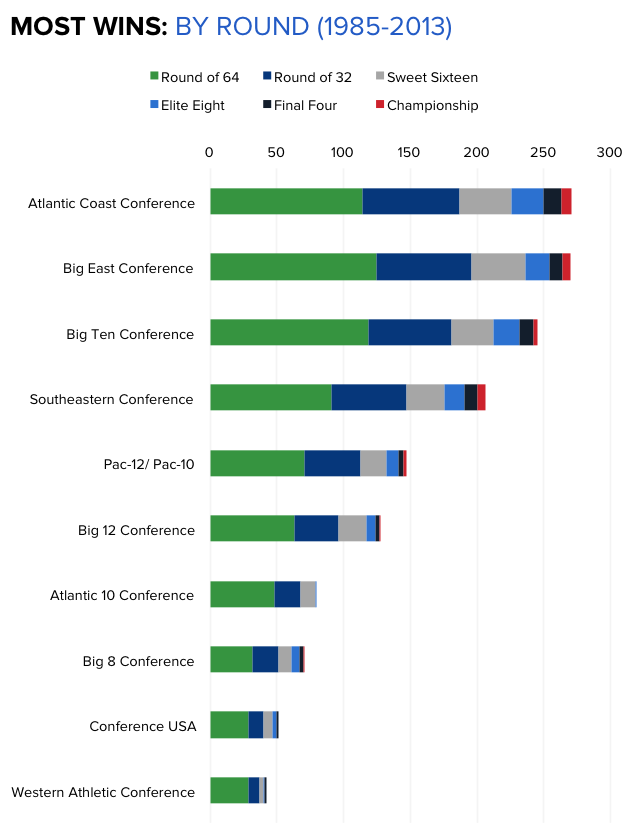 Another indicator of the ebbs and swells of the top leagues is below. Note that there's a direct relationship between tournament victories and tournament revenue distribution to the leagues, so the bigger the numbers in the boxes below, the happier folks at the league offices were in those years: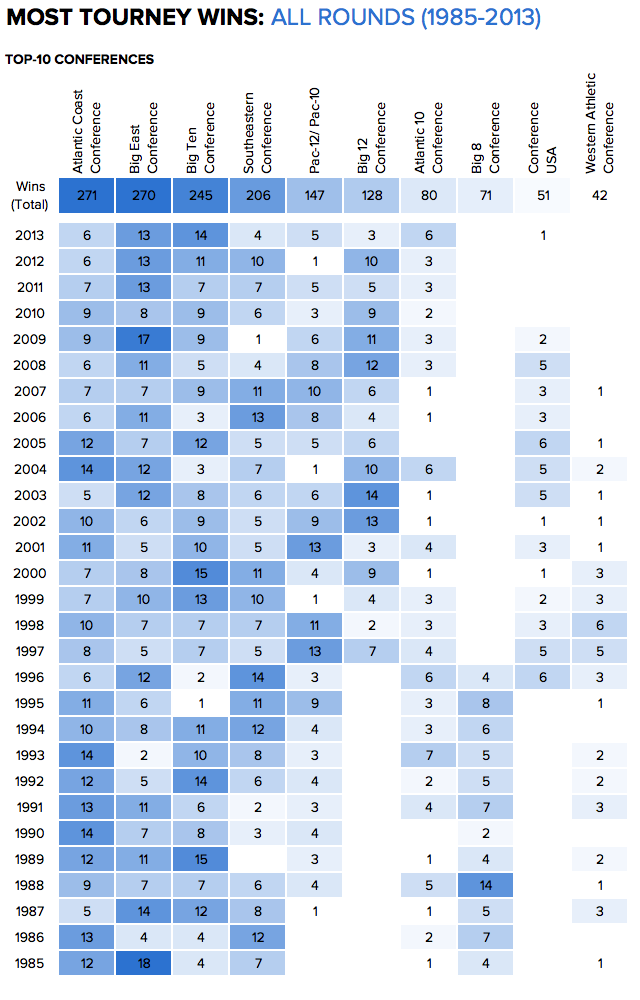 Keep it right here at CBSSports.com throughout the tournament, as we give you up-to-the-minute bracket stats on how your favorite teams, leagues, and fellow bracket-fillers are faring in this year's event.
The 2017-18 NCAA Tournament has concluded, but coaches are still being hired in new places

Why Kentucky and Memphis' pursuit of James Wiseman is the most fascinating recruiting fight...

Things could be getting ugly for the former Huskies star and coach, who was fired in March
Of the national champions' core six players, two are gone, two are on the fence and two are...

The UL signee caught up in the FBI scandal hopes the NCAA clears him to play for the Gamec...

After a full recruiting cycle, which schools got it right - and wrong - four years ago