Injured Illinois player arrested for allegedly pulling a knife on a bouncer
Leron Black faces a felony charge for aggravated assault after allegedly pulling a knife on a bouncer.
• 1 min read
Illinois sophomore Leron Black, currently sidelined by a season-ending knee injury, landed himself in hot water with the law after allegedly pulling a knife on a bouncer outside a club late Thursday in Urbana, according to police.
Black and his group had been kicked out of the bar and became confrontational with the security staff, according to University of Illinois Police Lt. Tom Geis. 
"(Black) yelled 'I don't have a strap but I'm not afraid to cut somebody,'" Geis said, via The News-Gazette. "Then the security guard said he pulled the knife, opened it and put it within 1 to 2 inches of his nose."
Black is expected to face a charge of aggravated assault, a Class 4 felony "based on the fact that he had a knife and that the victim was a private security officer." The sophomore from Memphis was a bench contributor last season (14.8 minutes per game), but only saw action in seven games before lingering issues in his surgically-repaired knee knocked him out of the lineup.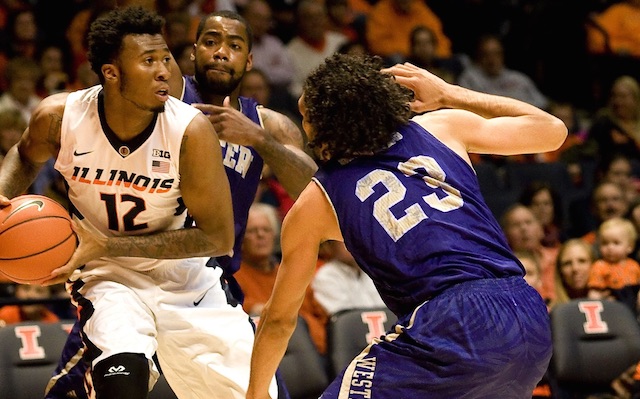 Kansas won the rivalry renewed and helped raise money for hurricane relief

Larranaga still claims he is innocent in the FBI's investigation into corruption within college...

The Tar Heels join Arizona, Kentucky and Wichita State with key players on the sideline
It's difficult to figure out how these teams will perform this season

The reigning Final Four Most Outstanding Player will miss the start of the season

These teams went to The Big Dance in March, but could take a step back this season