Intra-Florida rivalry revived: Gators and Canes agree to series
It's been a half-century since these two played a home-and-home.
• 1 min read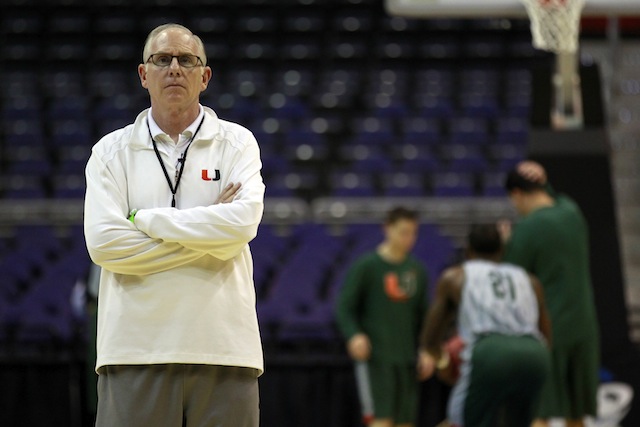 It's not even one-tenth of the rivalry it is in football, but it's nice to see the Florida Gators and Miami Hurricanes have agreed to a home-and-home in hoops.
The schools released the news Tuesday afternoon. It's been five years since the two programs played each other. Florida gets hosting duties first; the Gators will play the Canes this upcoming season on Nov. 17. In 2015-16, Miami will welcome in Billy Donovan's team at a to-be-determined date.
They've met plenty over the ages; Florida leads the all-time series 45-22. The most previous meeting was a 74-60 Gators win on March 20, 2009, which was an NIT game.
By the time these teams play, it will be neary 10 years to the day since Miami's beaten Florida. And given next year's rosters and the site of the game, it's looking like it'll be 11 years at minimum before the Hurricanes walk away with a Gator W.
Fall is being shut down after dealing with shoulder injuries and will undergo surgery soon

The Wildcats' resume doesn't seem too impressive right now

Was there contact? 'Everybody saw it,' UK coach John Calipari said
After losing its second game this week, a deep NCAA Tournament run looks far-fetched for U...

Coach K shows he is on on top of his game by landing the best three prospects in the Class...

The Buckeyes and Boilermakers continue to assert their dominance in the Big Ten