Iona's historic collapse owns the first night
No one thought Western Kentucky's comeback could be topped in the NCAA tournament, let alone on the same night. Then came BYU's 25-point turnaround against Iona.
• 3 min read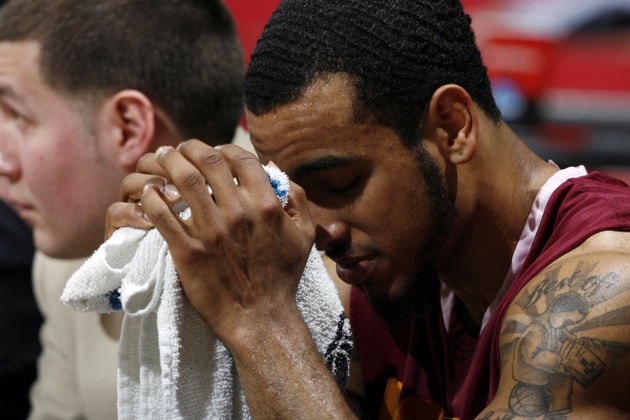 Iona scored 55 points in the first 15:26, led by as many as 25 points, and lost to BYU in an all-time collapse. (US Presswire)
DAYTON, Ohio – The first game of the "First Four" couldn't be topped. A 16-point comeback in the final five minutes? What could possibly beat that?
Well, two hours later, we found our answer.
BYU erased a 25-point deficit in the final 25 minutes of the game to beat Iona, 78-72. It was the great comeback in NCAA tournament history – and it might have topped the stunning ending to Western Kentucky vs. Mississippi Valley State.
"It's part of that March Madness," BYU senior forward Noah Hartsock said.
There's no other explanation for what happened.
Iona was all over the Cougars from the opening tip, with point guard Scott Machado dishing out nine assists without a turnover in the first half. The Gaels were hitting on all cylinders, forcing turnovers and knocking 3-pointers. At one point, they had scored on six straight possessions. A Ra'Shad James 3-point play gave Iona a 49-24 lead with 6:12 remaining in the first half.
When Iona reached 55 points with 4:34 left, people started wondering if the Gaels could reach 70 by halftime. They did reach 70 – with 5:08 left, and only scored two points after that.
Fifty-five points in the first 15:26. Seventeen points in the final 24:34.
"We went 1-of-15 from 3 in the second half," Iona head coach Tim Cluess said. "You're not going to beat anyone that way. When we don't make shots, we're not the same team. We weren't good enough in the second half."
After trying to run with Iona for the opening part of the game, BYU switched to a zone defense and completely changed the complexion of the game. Iona was no longer getting easy transition layups and wide-open 3-pointers; instead, the Gaels were struggling to move the ball inside the Cougars' zone.
Machado had one assists and five turnovers in the second stanza, unable to create shots for himself or his teammates. The change in pace was alarming, and it clearly affected the Gaels.
"Our pressure hurt them in the first half," Cluess said. "We didn't have that many opportunities to get into it, and we allowed them to get into their halfcourt sets. When we're not making shots, they're starting to get a comfort zone."
"We were doing to them what they were doing to us in the first half," BYU junior swingman Brock Zylstra said.
As the lead got smaller and Iona tightened up, it was hard not to think about the massive blown leads the Gaels suffered earlier this season to Siena and Manhattan. It was a feeling of déjà vu as the Cougars began to mount a comeback.
That sentiment wasn't lost on Iona, either.
"I feel like we did overcome that, and we haven't had that happen in awhile," Machado said. "We probably forgot how that was.
"When we're trying to win a game like this, we have to make the little things happens. We're missing layups and wide-open shots. We have to make them go down."
Within the span of two hours, Mississippi Valley State went from the biggest collapse in years to the second-biggest unraveling of the night. Barack Obama went from the only story of the night to an afterthought.
All because of BYU's comeback – and Iona's historic breakdown.
"It's one we'll have to live with the rest of our lives," Cluess said.
And on a night of headlines, it's the one we'll never forget.
Arizona, for no good reason, doesn't have to play at USC or UCLA this season

We look at the 'Major 7' leagues and give you the best of what's to come in conference play...

Louisville's coach predicts a change is coming to the NBA's one-and-done rule by 2019
Multiple former players of Lonergan's alleged verbal abuse and inappropriate remarks

When Miller left for Indiana, there was cause for concern in Flyerland; a top-100 signee says...

The Hoyas will spend their non-league schedule playing mostly nobodies -- as will most big...