Iowa State's Steve Prohm won a big game, then won over some ISU fans
Iowa State coach Steve Prohm was staring at a possible 1-5 Big 12 record. Now he's on a two-game winning streak that features a victory over top-ranked Oklahoma. And that's exactly the type of two-game stretch he needed to quiet the number of critics who were growing and getting loud.
The inbounds play was not designed to draw a technical foul.
Steve Prohm told me that Tuesday morning.
But it was still something he works on in practice, something he called in a late-game situation, and something that -- thanks to Oklahoma's Isaiah Cousins reaching over the baseline, at which point the officials called a technical foul -- helped Iowa State secure an 82-77 win over the top-ranked Sooners late Monday inside Hilton Coliseum. So it was still a great "coaching" moment that registered with Iowa State fans, and that means it was an important moment for Prohm, who, frankly, needed a moment like that.
Because the last few weeks have been hard.
****
Steve Prohm, as you know, I'm sure, inherited a great situation when he left Murray State to replace Fred Hoiberg, and by great situation I mean a roster so talented and experienced that the Cyclones were ranked seventh in the preseason Associated Press poll.
That was the good news.
The bad news, of course, is that unlike other new-job coaches like, say, Bobby Hurley at Arizona State, Ben Howland at Mississippi State and Chris Mullin at St. John's, Prohm was replacing a campus icon who had achieved unprecedented levels of success and left a full cupboard, meaning there was pressure to win a lot and big and quickly.
Iowa State started 9-0 under Prohm.
So that was cool.
But then Iowa State lost a neutral-court game to Northern Iowa. And a road game at Oklahoma. And a home game to Baylor. And then a road game at Texas.
Suddenly, Prohm was 12-4 overall and 1-3 in the Big 12 with a road game against Kansas State, and a home game against Oklahoma, on tap. So a 1-5 start in the Big 12 was a realistic possibility. And Iowa State's fans were going wild.
How wild?
The criticism got so bad that Prohm deleted Twitter and Facebook off of his phone.
"I deleted it now so I don't have to see it," Prohm explained after the loss at Texas. "I came here to do a great job, and I love this place. I love this school and the fans. I don't want to let anybody down. So yeah, [the criticism] bothers you, and it hurts you as a human."
That was a remarkably candid admission.
So often, coaches pretend they either don't hear the online chatter or don't care about it one way or another. They don't read papers. They don't see message boards. They don't listen to talk radio. They don't check their mentions on Twitter. Blah. Blah. Blah.
Most times, it's all a bunch of lies.
So I give Prohm credit for shooting straight publicly and acknowledging that, yes, he feels the pressure of replacing Hoiberg, and that he's terrified of failing, and that it hurts when people suggest he's not doing a good job. I give him credit for being honest. And that's why it was nice to see him win at KSU over the weekend and then defeat OU late Monday, because that's the type of two-game stretch that can change a narrative.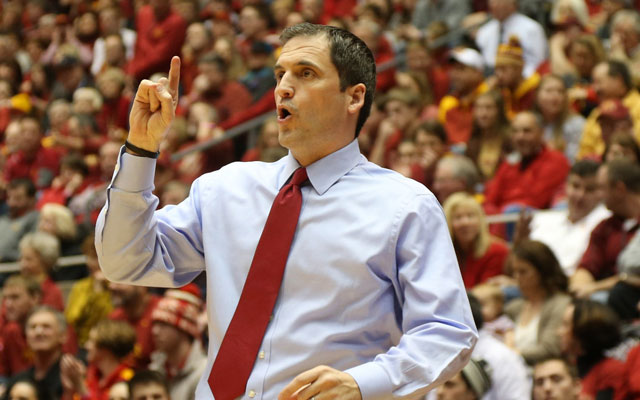 I asked Prohm how much more comfortable he is today than he was a week ago. "A little more comfortable," he answered. "But I still have to continue to challenge and grow this team. It's a process."
Indeed, it is a process -- especially in the Big 12, where it's rare to go even a week without playing a ranked team or two. In other words, the schedule is difficult to navigate, and losses can stack in a hurry, so you're never really safe even when things are going well.
That said, things are going well at Iowa State right now.
And that's better than how things were going at Iowa State a week ago.
And that's worth something, if only because it creates kinder Twitter mentions.
Bottom line, Steve Prohm will never be nicknamed The Mayor and have a backstory that details how he was raised on Iowa State games before becoming an Iowa State legend and marrying a local girl whose father was an Iowa State professor. So he'll never be Fred Hoiberg but will forever be the guy who followed Fred Hoiberg, and that's a tough deal.
But Prohm did enough at Murray State to prove he's a capable coach and developer of talent. And, if nothing else, the win over Oklahoma served as a reminder of that.
Steve Prohm won a big game Monday night, obviously.
But he also won over some Iowa Sate fans.
And that's worth something, too.
CBS Sports HQ Daily Newsletter
Get the best highlights and stories - yeah, just the good stuff handpicked by our team to start your day.
Please check the opt-in box to acknowledge that you would like to subscribe.
Thanks for signing up!
Keep an eye on your inbox for the latest sports news.
Sorry!
There was an error processing your subscription.
The Blue Devils' biggest stars showed out Friday night to give Duke a 2-0 record on their Canadian...

The Tar Heels get a big man for the future, likely a piece in the post who will stay in Chapel...

R.J. Barrett and Zion Williamson combined for 64 points in Duke's first exhibition
O'Connell was one of five Duke starters that helped build an early lead before suffering an...

The potential one-and-done stars combined for 63 points in an easy win in Duke's Canadian tour...

Pitino had claimed that Adidas deliberately defamed his name after he lost his job at Loui...