Is Arizona's Sean Miller the best recruiter not named John Calipari?
Arizona got a commitment from a 10th five-star prospect in the past five years on Sunday. That number ranks second only to Kentucky.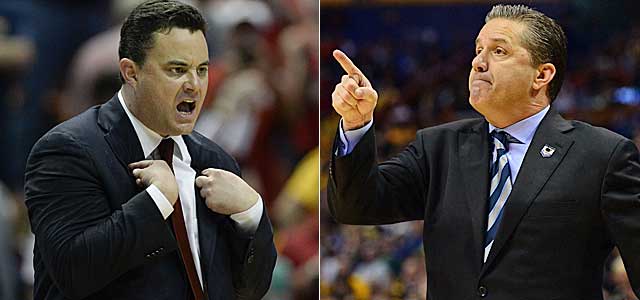 At some point Sunday night, while most sports fans were presumably winding down after watching Germany win the World Cup, a basketball player named Ray Smith became the fourth 247Sports five-star prospect from the Class of 2015 to verbally commit to a school.
My high school has a saying once a wildcat always a wildcat. I guess it's true. I have committed to UofA #beardown pic.twitter.com/WRWjPMlNcg

— Rekwon Smith (@raysmith2297) July 14, 2014
Now I'm not sure how many of you fancy yourselves as recruiting experts. But even casual followers of player-grabs must realize that what Arizona is doing is some kind of impressive. Still, I bet most don't realize just how impressive. So I did the math early this morning, and the following list is something you might find interesting.
FIVE-STAR PROSPECTS COMMITTED IN PAST FIVE CLASSES
Kentucky: 16
Arizona: 10
Duke: 7
Kansas: 5
North Carolina: 5
UCLA: 5
What those numbers show, I think, are two things:
Traditional powers still have an inherent advantage with elite prospects.
Sean Miller might really go down as the winningest coach in Arizona history.
I know that second statement probably sounds a little crazy considering Arizona legend Lute Olson is a Hall of Famer who won 11 league titles, made five Final Fours and cut down nets at the end of the 1997 NCAA Tournament. And, in fairness, perhaps that is a crazy statement; maybe that bar is too high. But the truth is no bar seems too high for a 45-year-old talent at a traditional power who recruits the way Miller recruits, and the way Miller has been recruiting top-shelf prospects in the past five years at Arizona is literally better than anybody not named John Calipari.
Did you realize that?
Granted, Kentucky has been operating on another level with at least six more five-star commitments from the Classes of 2011, 2012, 2013, 2014 and 2015 than any other Division I program. But Arizona has gained at least three more commitments from five-star prospects during that time than everybody besides Kentucky, which means Arizona is comfortably in front of Duke, Kansas, North Carolina and even Pac-12 rival UCLA.
All this thanks to a man who had never previously worked west of the Mississippi.
And let that be a lesson for every athletic director who will someday be asked to hire a new coach. Often, there's pressure to employ somebody with connections to a certain school or, at least, a certain region. But Miller's success at Arizona proves a coaching star will flourish no matter how his past relates to his present.
Sean Miller?
I think he'd kill it anywhere.
Which is why I was never bothered by the fact that he was an east-coast guy who had zero notable west-coast ties when Arizona hired him after missing on two men with strong connections to the Pacific Time Zone -- specifically California native Jamie Dixon and West Coast Conference icon Mark Few. In the spirit of honesty, I also think Dixon and Few would've been spendid at Arizona because I have high opinions of both. But I remember thinking, when Arizona stumbled into Miller, that the school would someday be glad that it did, and that day has certainly arrived.
Again, Sean Miller just lured his 10th five-star prospect in his past five classes.
John Calipari's been better than that, sure.
But nobody else is keeping pace.
The disgraced former Louisville coach really wanted those Yeezys with the zebra stripes

It's difficult to imagine an athletic director giving the Hall of Famer another chance

The recruiting scandal has cost Rick Pitino his job as coach of the Cardinals
Pitino's lawyer fought for his client's job Monday

These teams who have the potential to pull some upsets should they make it to the Big Danc...

Gary Parrish and Matt Norlander explain how and why UNC escaped penalty