Is Cal being overlooked in Pac-12?
Cal head coach Mike Montgomery isn't sure why the Golden Bears can't elicit preseason respect around the Pac-12, but expects his team to compete for a league title again.
• 3 min read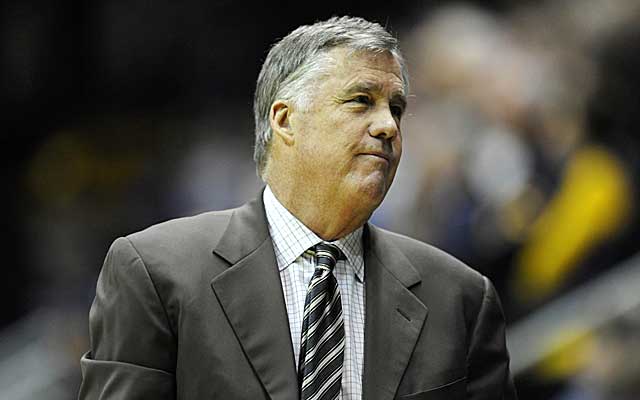 Is it an oversight. Or an insult?
Over the past five years, Cal has had the best winning percentage in the Pac-12 under Mike Montgomery. During that time, the Bears have been to four NCAA Tournaments and one NIT. They also return four starters from last year's team that lost to Syracuse in the Round of 32.
Yet when people discuss top contenders in the Pac-12 for the upcoming season, most don't mention Cal.
Why?
No one really knows.
"I guess we're not sexy," Montgomery said with a chuckle earlier this week. "For whatever reason, what we've done here doesn't get a lot of buzz. It's been overlooked. We've been one win away in each of the past two years from winning three consecutive Pac-12 titles. We've screwed it up though. We've lost some games we shouldn't have. We've got to eliminate that moving forward."
The Bears should again be right in the mix for a league title.
Cal returns four starters -- Justin Cobbs, Tyrone Wallace, David Kravish, and Richard Solomon -- from last year's team that won 21 games. This team will miss last season's Pac-12 Player of the Year Allen Crabbe (now with the NBA Portland Trail Blazers), but there are plenty of options to replace him at shooting guard. Freshmen Jabari Bird and Jordan Mathews both come to Berkeley with a strong scoring pedigree, and 6-6 veteran Ricky Kreklow will play a key a role after being injured for most of last season.
"To be honest, the guy we're really going to miss is Robert Thurman who was our third post last year," Montgomery said. "We've got two solid big guys now in David and Richard but we don't have a third guy on the block that we can substitute. I'm just not sure what we do if one of those two get into foul trouble. Ricky Kreklow could slide down to the four just so we could put one of our best players on the floor. Our perimeter is fine. We've six guys out there that can really play."
Bird is the newcomer that comes in with the most sizzle. The 6-6 freshman was a McDonald's All-American and should have the best chance at immediately stepping in for Crabbe. Montgomery is also bullish on the 6-4 Mathews.
"There's been times in practice where Jordan Mathews has been our most productive scorer," Montgomery said. "And Jabari Bird is very talented. He can really shoot the ball. We just need to get him more fundamentally sound."
Montgomery praised the IQ of 6-4 freshman Sam Singer and said fellow first-year players Roger Moute a Bidias and Kameron Rooks have a chance to contribute. The 6-7 Moute a Bidias is a little "green" but could have an opportunity due to this team's lack of front court depth. The 7-foot Rooks (the son of former Arizona star Sean Rooks) meanwhile, is a legitimate low post option if he eventually develops.
"Other than not having a third big, I really like our depth," Montgomery said. "We've got a lot of options and a lot of different ways we can play. We've got eight new guys that we're practicing with and they've never played, but we've also got four guys back who have been through almost everything."
One of those guys is Cobbs, an underrated floor general who always seems to have his imprints all over the box score. The unsung Cobbs averaged 15.1 points, 4.8 assists, and 3.5 rebounds per game last year and should be one of the better point guards nationally as a fifth-year senior.
With him steering the Bears ship, Cal should again be in contention for another Pac-12 title as well as trip back to the NCAA Tournament.
But will anyone take notice?
Montgomery isn't counting on it.
"It's a real phenomenon," Montgomery said of the lack of buzz surrounding Cal. "When I was at Stanford, we were ranked in the Top 10 the last six, seven, eight years I was there. We earned a reputation. For whatever reason, it's harder to do here. It's not easy to break through the ceiling, but we'll keep pushing. And we'll be good again."
No one should expect anything else.
The 10th-ranked Jayhawks end a four-game Morgantown losing streak with a big second half

Gary Parrish, after being questioned, explains why he writes the Poll Attacks each Monday

The Blue Devils looked like a team in need of a reboot against Miami, then they morphed into...
Providence's Ed Cooley suggests to the refs that vampires, not contact, made his player bl...

The Big 12 reprimanded WVU player Wesley Harris for hitting a Texas Tech fan who rushed the...

'History in the Astrodome: UCLA vs Houston 1968' looks at the game that changed college ba...