Is Cliff Alexander No. 1 in 2014 ? How do other elites fit in college?
Cliff Alexander made his statement for No. 1 in the senior class over the weekend, plus how top-25 recruits fit into their respective colleges.
• 6 min read
The Hoop Hall Classic is annually one of the most loaded events of the high school basketball season, and with dozens of coaches, scouts and media in attendance, it's one of the final chances players have to make statements.
And coming out of this past weekend's event, the biggest talking point was about Cliff Alexander. As in, is the Chicago big man the No. 1 player in the country?
Alexander is ranked No. 3 in the 247Sports Composite, but after putting up 30 points, 12 rebounds and five blocks to lead Curie (Ill.) to a win over then-No. 1 Montverde Academy (Fla.), he made his case for No. 1 loud and clear.
Headed to Kansas, the 6-foot-9 power forward is simply an overpowering presence in the paint. When he gets the ball around the rim, he is too strong for most defenders to stop. Alexander is a terrific rebounder at both ends of the floor, and he contests shots. Moreover, he showed good touch from the free-throw line against Montverde. His strength and ability to finish should fit perfectly into Kansas' high-low offense next season.
But it's certainly not a clear-cut case for the top of the rankings. Jahlil Okafor entered the weekend as the favorite to finish at No. 1, and he finished with 14 points and six boards. He was in foul trouble, though, and had trouble getting open inside against Rokas Gustys and the Oak Hill Academy (Va.) zone. He's the most advanced post scorer in the class, given his terrific hands and touch around the rim. Okafor has also developed a face-up game. Given the perimeter talent he will have around him at Duke, Okafor should step into a starting spot and make an immediate impact with the Blue Devils.
Myles Turner is another candidate for the top spot, and he might have the highest ceiling of the group. He's a dominant defensive player, with his 7-foot height and long wingspan enabling him to block shots and contest finishes around the rim. He needs to add some strength to his frame, but Turner can finish at the rim and also showed touch from the perimeter during the summer AAU season. He's uncommitted right now.
Turner wasn't at the Hoop Hall Classic, but guard Emmanuel Mudiay's Prime Prep (Texas) squad lost to Huntington Prep (W.Va.). Mudiay is the best guard in the country, though, and he is the prototypical lead guard in today's game. He's got 6-foot-5 size and his strength and ability to go off the dribble make him nearly impossible to keep out of the lane. He loves to attack the rim, and finishes effectively through contact. He might be the most NBA-ready prospect in the country.
Who is No. 1 right now? Okafor is atop the 247Sports Composite and Mudiay and Turner certainly have cases, but Alexander seriously closed the gap over the weekend. You can make a case for any of the quartet.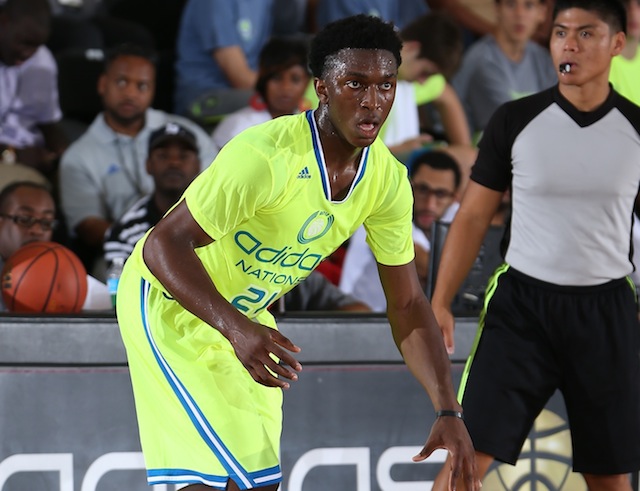 Because most of the top players at the event were committed already, let's quickly look at the top-25 will fit into their respective college programs next season:
Stanley Johnson, Arizona (No. 6 in 247Sports Composite): He's one of the more powerful wing scorers in the country, and with Aaron Gordon likely going pro, Johnson should slide in effectively at the small forward position. His athleticism and attacking mindset will make him a huge asset in transition as well. He and Rondae Hollis-Jefferson would be tough matchups.
Karl Towns, Kentucky (No. 7): We're going to assume Julius Randle and Willie Cauley-Stein are going pro, so the Wildcats are going to need Towns off the bat (along with fellow 2014 recruit Trey Lyles). His ability score inside and outside will stretch the defense and create matchup problems. Not too many teams would have skill inside like Towns and Lyles.
Kelly Oubre, Kansas (No. 8): He was terrific over the weekend, and continues to rise in the rankings. He can score in different ways, with shooting range and athleticism at the rim. Moreover, he has versatility on the defensive end, which Bill Self can use to his advantage with switches. He could step in for Andrew Wiggins at the three, and will form a tough defensive duo with Wayne Selden.
Isaiah Whitehead, Seton Hall (No. 15): Whitehead will essentially be the go-to-guy on the offensive end from day one. He's one of the best pure scorers in the country, and the Pirates need that in a major way. Sterling Gibbs and Jaren Sina are both back, but Kevin Willard will certainly find ways to get the ball in his hands.
Daniel Hamilton, Connecticut (No. 16): Another elite-level scorer, Hamilton might have an issue with shot selection, but there are few players in the country more dangerous when they going. Sharing the ball on the perimeter with the Huskies next season could be interesting, though, with Rodney Purvis, Ryan Boatright and Omar Calhoun all vying for shots.
D'Angelo Russell, Ohio State (No. 18): The Buckeyes could use Russell immediately. He's a smooth scorer with a great stroke that can also act as a secondary ball-handler. Lenzelle Smith and Aaron Craft are both seniors, and Russell could fight for a starting job next to Shannon Scott. His ability to make shots will be a huge boost for Thad Matta.
Theo Pinson, North Carolina (No. 19): Pinson's first quarter effort against Findlay Prep was one of the most impressive we've seen from this class, as he showed improved playmaking and scoring ability, as well as the tools to be a lockdown defender. The Tar Heels have a major need for scoring on the perimeter, and he'll combine with fellow recruits Joel Berry and Justin Jackson to completely revamp the backcourt.
Dwayne Morgan, UNLV (No. 20): Morgan can be a pro if he gets a consistent jumper from the perimeter. He has a great frame, and his length and athleticism enable him to guard multiple positions. He fits into the Runnin' Rebels perfectly, given his ability to get out in transition and score at the rim. He will also add a major piece if UNLV decides to speed things up defensively.
Shaqquan Aaron, Louisville (No. 23): The up-tempo system of Rainier Beach (Wash.) helped Aaron, but he looked very good over the weekend. He has good size at 6-foot-8, but he showed good vision, shooting range, and ball-handling ability. At Louisville, his versatility on the perimeter will be a plus for Rick Pitino, and his ability to stretch a defense is ideal. Think something like Francisco Garcia.
Goodluck Okonoboh, UNLV (No. 24): The Runnin' Rebels have one of the best shot-blockers in the country this season in Khem Birch, and a tandem of Birch and Okonoboh would be borderline dominant. And if Birch leaves, Dave Rice is in good hands with Okonoboh. He's a tremendous shot-blocker, and his mean streak can only help a UNLV team that hasn't lived up to expectations the past couple years.
Brandone Francis, Florida (No. 25): Francis saw his stock rise over the spring and summer, and he has very good size (6-foot-6) for both guard positions. He doesn't need to play on the ball, as Kasey Hill returns and Chris Chiozza enters, but Francis brings confidence on the offensive end. He will provide another option for Billy Donovan in the backcourt.  
BONUS: Jonah Bolden, UCLA (No. 50): This was my first time seeing Bolden, who came over from Australia this season. And he was very impressive. The 6-foot-8 power forward outplayed Okonoboh, overcoming his strength deficiency. He has excellent skills for someone his size, knocking down perimeter shots, finishing at the rim, and finding teammates. With David and Travis Wear leaving, it wouldn't be a shock to see Bolden start off the bat. He's perfect for UCLA's up-tempo, spread-the-floor offense.
CBS Sports HQ Daily Newsletter
Get the best highlights and stories - yeah, just the good stuff handpicked by our team to start your day.
Please check the opt-in box to acknowledge that you would like to subscribe.
Thanks for signing up!
Keep an eye on your inbox for the latest sports news.
Sorry!
There was an error processing your subscription.
Duke, UNC, Kansas, Nevada and Wisconsin all placed players on the preseason All-America first...

The CBS Sports Classic and Champions Classic are among the best events in 2018

The Cavaliers got some good news for the upcoming season
Calipari believes only a small portion of elite HS prospects will take the G League route

No. 3 Gonzaga and No. 4 Duke are behind the Jayhawks and Wildcats to start the season

Porter returned for a sophomore season with hopes of developing into a lottery pick for the...