Is John Beilein the best at turning lowly recruits into lottery picks?
John Calipari has more former players in the NBA. So does Roy Williams, Mike Kryzewski and Bill Self, just to name a few. But who is better than John Beilein at taking unheralded recruits and turning them into lottery picks? Answer: Probably nobody.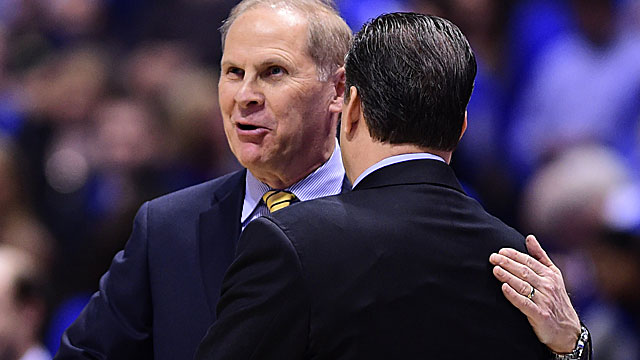 John Calipari, Bill Self, Mike Krzyzewski and Roy Williams get a lot of credit for helping transition prospects from high school to the pros, as well they should. I mean, the numbers don't lie. And the numbers are impressive. Because there are dozens and dozens of players now in the NBA who once trained under one of those four men.
So tip of the hat to them.
But can we talk about John Beilein for a moment?
Because he's the college coach who's suddenly grabbed my attention.
No, Beilein doesn't have a national title like each of those coaches do, and he hasn't put as many players in the NBA, either. But what he's done is arguably more impressive, because what he's done is help turn borderline top-80 high school prospects into top-10 picks in consecutive NBA Drafts, and he just might do it again next year, which is pretty bananas.
Trey Burke and Nik Stauskas, obviously, were Michigan's past two top-10 picks.
Burke was ranked 93rd in the Class of 2011, then picked ninth in the 2013 NBA Draft.
Stauskas was ranked 82nd in the Class of 2012, then picked eighth in the 2014 NBA Draft.
Now you don't have to be a recruiting analyst or draft expert to recognize that prospects ranked that way in high school don't typically develop into players who can leave college early and become top-10 picks, but I'll give you the numbers anyway because the numbers provide context, and context is important. Of the 20 players selected in the top 10 of the past two NBA Drafts, 18 were former top 75 prospects and/or players who spent at least three seasons in college. The only exceptions? Burke and Stauskas -- both of whom enrolled at Michigan as unheralded recruits, earned Big Ten Player of the Year honors as sophomores, turned pro and were selected in the top 10 of the subsequent NBA Draft.
Like I said, pretty bananas, right?
And making it even more bananas is the idea that Michigan guard Caris LeVert could theoretically leave school next year, after his junior season, and also be a top-10 pick despite the fact that he was -- ready for this? -- ranked 215th nationally in the Class of 2012.
(That's 215th nationally!)
Armed with this information, I got Beilein on the phone earlier in the week and tried to make sense of what could reasonably be called a phenomenal trend. My first question was simple: When you recruited Burke, Stauskas and LeVert, did you see future lottery picks?
"No," Beilein answered without hesitation, at which point he explained that he's never actually looking for future lottery picks or even eventual pros. What he looks for, rather, are versatile players who haven't yet peaked, and that's why recruiting rankings rarely matter to Michigan, because what Beilein cares about isn't always what analysts value.
"We try to project whether a player is on the rise or if he's already where he's gonna be," Beilein said. "A lot of the [analysts'] early projections on players, I think, are made because the players' bodies are ahead of everybody else's bodies. And if you saw Nik or Caris, back when they were 16 years old, their bodies weren't ahead of anybody else's bodies."
True.
Consider this and this as proof.
So, clearly, Stauskas and LeVert had room to grow, which Beilein and his staff recognized. Another factor in Michigan deciding to take them -- specifically LeVert, who, again, was ranked 215th nationally in his class -- was, well, I'll let Beilein tell you himself.
"We watched Caris, and the biggest thing is that he has an August birthday," Beilein said. "We don't care about what year a player is. We want to know his birthday. When was he born? And Caris has an August birthday. He came to college at 17. … So we looked at Caris [when he was a senior] and said, 'What would he be like if he were a junior right now? Would we be recruiting him? Absolutely.' ... So that was a no-brainer for us, actually."
And it's worked out brilliantly -- in part because LeVert has, as projected, gone from a 6-4 guard to a 6-6 guard, and he's also become a high-level shooter, which is why he might go in the lottery of the 2015 NBA Draft, because 6-6 shooters are valuable in the NBA.
LeVert shot 30.2 percent from 3-point range as a freshman, then made 40.9 percent of his attempts this past season as a sophomore. In other words, he improved his shooting, and that's not a unique thing for Michigan players, mostly because of the Michigan coach.
"Lots of coaches work on shooting with players, but Beilein teaches guys how to shoot," an NBA executive told me. "He doesn't just work with them. He actually teaches them."
Except for Stauskas, of course.
"We do sort of have a system [when it comes to shooting], but with Nik our system was, 'Stay the heck away from him. Just let him go,'" Beilein said with a laugh. "Nik came to us that way. But we do, with other players, spend a lot of time looking at body balance and spin. ... As a staff, we study it and, over time, you see what works. Then you try to get the young man to shoot the same way consistently."
Which is where the "Beilein Ball" comes into play.
Yes, there's really a ball named after Beilein. It has a line down the middle -- a Beilein, if you will -- and is designed to ensure players get proper rotation consistently.
"We have 12 on the rack everyday," Beilein said.
And it's among the reasons why Burke, Stauskas and LeVert all improved as shooters during their time on campus even if, again, Stauskas was an elite shooter upon arrival.
"My shooting form didn't really change, but Coach Beilein is the person who gave me confidence to do it in games," Stauskas said. "He'd let me miss a couple of shots, and he wouldn't yell at me or say anything. And that gave me the confidence to keep shooting and do what I do. He just put me in great situations."
Most recently, the green room at the Barclays Center.
So, like I said, tip of the hat to Calipari, Self, Krzyzewski and Williams for the way they've transitioned prospects from high school to the NBA. But keep an eye on LeVert next season and follow his progression. Because if he ends up in that same green room that Burke and Stauskas were in before him, it'll represent the third straight year that Beilein has turned an unheralded recruit into a lottery pick in a way that defies all odds and logic. 
Arizona, for no good reason, doesn't have to play at USC or UCLA this season

We look at the 'Major 7' leagues and give you the best of what's to come in conference play...

Louisville's coach predicts a change is coming to the NBA's one-and-done rule by 2019
Multiple former players of Lonergan's alleged verbal abuse and inappropriate remarks

When Miller left for Indiana, there was cause for concern in Flyerland; a top-100 signee says...

The Hoyas will spend their non-league schedule playing mostly nobodies -- as will most big...