Is Syracuse back? Orange look poised for deep NCAA run
After three wins in New York, Syracuse is playing at a level that could see them go on a deep run.
• 3 min read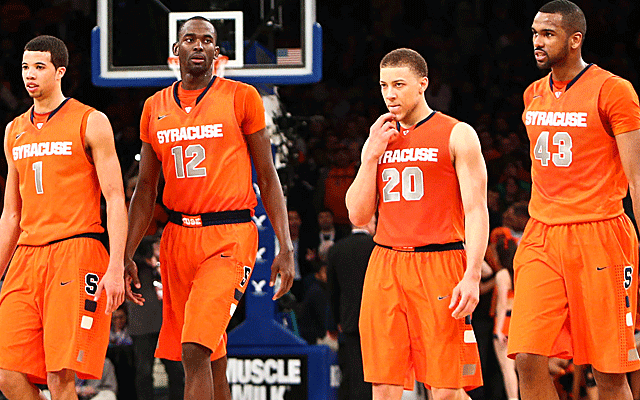 Syracuse is suddenly headed to the Big East title game after defeating No. 5 Georgetown in OT.
(Getty Images)
NEW YORK – During the first half of Syracuse's win over Seton Hall in the second round of the Big East tournament, there were several people on Twitter discussing the Orange's NCAA tournament prospects.
"Syracuse is definitely getting in, right?" was one of the questions I received.
Jim Boeheim's group was down early to Seton Hall, and coming off a stretch in which they had lost four of five to end the regular season – and had gone just 5-7 in their final 12 games.
More on Syracuse-Georgetown
Related links
More college basketball coverage
There was no question that the Orange would make the NCAA tournament, but there was a general feeling that they were bound for a one-and-done type of performance in the dance. Confidence was low, the team couldn't make a shot, and everyone was frustrated.
About 50 hours later, Syracuse is suddenly headed to the Big East tournament after knocking off No. 5 Georgetown in overtime, 58-55.
"This was a monumental tournament for us to get our confidence back," Boeheim said. "And we fully got that back. That's why this tournament is so valuable to us this year. We really needed to have this kind of tournament."
Now, the Orange could be back among the growing list of teams that might have the pieces to reach the Final Four. James Southerland has found his stroke, knocking down 16-of-25 3-pointers through three games; Brandon Triche is averaging 14.0 points; and Michael Carter-Williams has dished out 27 assists in three games.
C.J. Fair struggled against Georgetown, but the Hoyas used Otto Porter on him for most of the game; Fair has become the focus of opponent's game plans, which has opened things up for his teammates.
Considering Boeheim called Porter "the best all-around player I've seen in this league," Fair earning that respect from defenses is impressive.
"Everyone was eager to go out there and prove to everybody what we could do," Southerland said. "Also, we did a great job of not hanging our heads this season. We did an even better job of coming together as a team and just talking and making sure that we trust each other."
Notice we haven't even mentioned the Syracuse defense yet. The vaunted 2-3 zone created a ton of problems for Georgetown, which might have the best passing frontline in the country. Porter shot just 4-for-13 from the field, and the Hoyas made four 3-pointers all game.
On one or two days of preparation and rest, it's a defense that's very difficult for which to prepare.
"Our defense has been good," Boeheim said. "It's been good all year. Nothing has been wrong with our defense."
Regardless of what happens in the title game against Louisville or Notre Dame, Syracuse is back to playing at the caliber that could mean a deep run in March.
I haven't been a believer in Syracuse much of this season, mainly because they had lacked some leadership and inside toughness throughout long stretches. But it seems they're finding that chemistry – at the right time.
Baye Keita came out of nowhere to get 13 points and eight rebounds against Georgetown, and he played 41 minutes. Trevor Cooney came off the bench to provide 10 important first-half points. Players are beginning to buy into their roles, and Syracuse is finding that ability to close games when the clock winds down.
And that's what might be the biggest difference from the stretch run of the regular season until now: attitude. Syracuse is playing with a confidence that we haven't seen from them in several weeks.
"We believe in ourselves now," Carter-Williams said. "We go out there on the court like we're the best team."
After three wins in New York, they're starting to pick up a few more believers, too.
---
For more college basketball news, rumors and analysis, follow @EyeOnCBB on Twitter, subscribe to our RSS Feed and subscribe to our College Basketball Newsletter. You can follow Jeff Borzello on Twitter here: @jeffborzello
The BC fan has a ton of apparel and gear headed his way after this putt

Durant's made a habit of making sure his alma mater is set with the latest customized gear

Ball says UCLA told him to thank Trump for getting him back to the states after shoplifting...
SportsLine's advanced computer model simulated Wednesday's Villanova vs. Temple game 10,000...

Will any of these six teams make it to 2018 without their first loss?

Temple could be a big problem for undefeated Villanova, the No. 1 team in the Top 25 (and...