It didn't start with a bang, but Thursday's NCAA tourney had highlights
You miss anything from Thursday? Don't worry. I've got you covered ...
You miss anything from Thursday's NCAA tournament action?
Don't worry.
We've got you covered ...
Game of the night: Could this year's VCU be … VCU? The No. 12 Rams didn't come into the NCAA tournament with all the hype of a recent Final Four team, mostly because of its round of 64 matchup against Wichita State. After pulling out a 62-59 win over the Shockers, the VCU bandwagon is filling up quickly once again.
The Rams jumped out to a 13-point second half lead, before Wichita State came all the way back to take a one-point lead in the final two minutes on Toure Murry's 3. Darius Theus gave VCU a three-point lead on a runner in the lane with fewer than 30 seconds remaining. Garrett Stutz missed a game-tying 3 at the buzzer.
The final few minutes had everything an NCAA tournament game should have: back-and-forth baskets, mistakes down the stretch (Stutz's missed in the lane), changing leads -- and clutch shots. Too bad it was one of the only games of its type on Thursday.
Game of the afternoon:
Losing Fab Melo for the NCAA tournament is what most believed would keep Syracuse from achieving whatever most previously believed was possible, but it wasn't supposed to get them threatened by UNC-Asheville. I mean, Syracuse is a No. 1 seed and Asheville is a No. 16 seed, and history suggests that's easy stuff.
But it wasn't easy for the Orange.
They trailed at the half and had to rally for a 72-65 victory that was aided by at least one highly questionable -- and by highly questionable, I mean flat-out bad -- call by the officials because THAT BALL WENT OFF BRANDON TRICHE WITH 35 SECONDS REMAINING IN A ONE-POSSESSION GAME!!! How the officials missed this, I'll never know. And neither will Asheville coach Eddie Biedenbach.
"Syracuse is better than Asheville," Biedenbach said. "Tonight... we were better than Syracuse."
The nation agrees, coach. The nation agrees.
NCAA tournament coverage
Related links
More college hoops coverage
Regional coverage

Best win:
Colorado needed to win the Pac-12 tournament to get a bid to the NCAA tournament, but the Buffaloes aren't ready to go home just yet after their 68-64 win over UNLV. They got out to a double-digit lead on the Runnin' Rebels within the first minutes, and pushed the margin to as many as 20 points in the second half. The Runnin' Rebels made a furious 22-4 run late in the game to cut the lead to two, but they couldn't break through. Colorado moves on to play Baylor in the round of 32.
Worst loss:
Jeremy Lamb's missed windmill dunk at the buzzer summed up this game and this season perfectly for the Huskies. Connecticut was absolutely dominated by Iowa State on Thursday night, 77-64, letting the Cyclones hit six 3-pointers early in the game and also control the glass. The Huskies showed signs of life in both halves, but they couldn't make enough plays to get over the top. Selfish and inconsistent play plagued Connecticut yet again, and it's almost fitting this is how the season ended -- enough plays to show potential and make people intrigued, but not enough heart and leadership to get wins and be succeessful. There is no Kemba Walker magic this year, and there will be no miraculous run to the national championship. It's interesting when compared to VCU; the Rams made a crazy run to the Final Four a season ago, and are hitting their stride again at the time. Connecticut never truly got going this season. And Thursday was another example.


Player of the night:
It was against No. 15-seed Loyola (Md.) in a 78-59 win, but the performance by Ohio State's Deshaun Thomas bodes well for the Buckeyes going forward. The lefty sophomore finished with 31 points and 12 rebounds, including seven corrals on the offensive glass. He was effective, shooting 13-of-22 from the field and also knocked down a 3-pointer. Defensively, Thomas blocked two shots. Ohio State needs a consistent scorer outside of Sullinger and Buford, and Thomas is proving to be a threat.


Player of the afternoon:
Rodney McGruder took 17 shots, made 11 and finished with 30 points, four rebounds and four steals in Kansas State's 70-64 victory over Southern Miss that ensured the Golden Eagles won't become the first Conference USA school other than Memphis to win an NCAA tournament game since the league lost Louisville, Marquette, Cincinnati, DePaul and Charlotte after the 2004-05 season. Seriously, no C-USA school other than Memphis has won a game in the past seven Big Dances. That's just … bad.
Scare of the night:
When Baylor beat Kansas in the Big 12 tournament last weekend, it looked like the Bears had finally figured everything out and would be a team to be reckoned with in the NCAA tournament. It didn't start out that way against South Dakota State, as the Jackrabbits got out to a 19-7 lead and stayed within striking distance throughout the game. Even though Baylor left for the final 25-plus minutes, South Dakota State cut the lead to four in the final minutes before the Bears separated for a 68-60 victory. The worst sign for Baylor? Perry Jones had two points on 1-of-6 shooting.
Scare of the afternoon:
Murray State spent roughly three months as one college basketball's best stories, and the Racers were rewarded with a tip time that allowed them to get the Round of 64 underway. That's always a cool thing for a school because you just know everybody's watching at least the beginning of your game. So the nation -- maybe even the world! -- was tuned in early Thursday for the start of Murray State and Colorado State, and the nation -- maybe even the world! -- saw CSU take a 24-23 halftime lead, at which point Rams coach Tim Miles took to Twitter.
"Win the half, we'll win the game."
-- Tim Miles
Then guess what happened?
Colorado State lost the half and the game.
By a bunch.
CBSSports.com First Team All-American Isaiah Canaan had a poor shooting performance but still finished with 15 points and seven rebounds as the Racers outscored CSU 35-17 in the final 20 minutes to win 58-41. So Murray State is now 31-1 overall and still a nice story.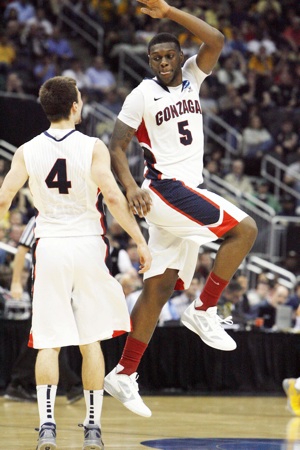 Gonzaga looked mighty impressive in throttling West Virginia by 23, setting up a showdown with Ohio State. (US Presswire)
Blowout of the night
: Everything seemed to be going against Gonzaga heading into its round of 64 matchup against No. 10 seed West Virginia. The Bulldogs had to fly across the country to Pittsburgh, while the Mountaineers needed only an hour-long bus drive from Morgantown. It didn't matter. Gonzaga jumped on West Virginia from the opening tip, breaking out into a 27-10 lead midway through the first half en route to a 77-54 win. The lead ballooned to as many as 26 points. Gonzaga shot 56 percent from the field and actually outrebounded West Virginia.
Blowout of the afternoon:
A decent amount of people -- among them my colleague Matt Norlander -- tried to explain over the past few days why Montana would upset Wisconsin in the Round of 64, but that never made sense to me for two reasons:
Wisconsin is better than Montana.
Bo Ryan doesn't lose NCAA openers.
So I wasn't surprised when the Badgers cruised to a 73-49 victory over Montana, and I'm not surprised that Ryan is now 10-1 in NCAA openers. Yes, he'll lose at some point in this event, but it was never gonna be to Montana, and it's almost never in the Round of 64 against anybody.
The best player who has been eliminated is …
Long Beach State's Casper Ware. His 49ers lost 75-68 to New Mexico. Ware was just 5-of-19 from the field.

Special mention
: It's tough that Kevin Jones ended his career like this, with a 5-of-14 shooting performance in West Virginia's 23-point loss.
The coach who can breath a sigh of relief is …
Louisville's Rick Pitino. His Cardinals' 69-62 win over Davidson prevented Pitino from losing in the Round of 64 for the third straight year, and that's good because a Hall of Famer should never endure such streaks.

Special mention
: Kevin Stallings, Vanderbilt. The Commodores are known for getting upset in its first game of the NCAA tournament, but Harvard couldn't become the latest mid-major to bury Vandy. A late run fromthe Crimson made it close, but Vandy won by nine.
The team that looked most worthy of the Final Four some are predicting for them is …
Marquette. Buzz Williams' Golden Eagles jumped to a big lead early and cruised to an 88-68 victory over BYU. Jae Crowder finished with 25 points and 16 rebounds. That's why he's the CBSSports.com Big East Player of the Year.
Results to know:

- Kentucky didn't start great, but the top-seeded Wildcats started their national championship hunt with an 81-66 win over Western Kentucky. Anthony Davis had 16 points, nine rebounds and seven blocks, while Terrence Jones went for 22 points and 10 boards.
- Some people had thought New Mexico State would give Indiana a game on Thursday, but the Hoosiers made sure that wasn't the case. Jordan Hulls scored 22 points, leading four players in double-figures, en route to a 79-66 win. Freshman Cody Zeller had 14 points, six rebounds, four assists and six steals.
-- Jeff Borzello contributed the update after the night session.
Gary Parrish and Matt Norlander discuss the latest in college basketball

The university also maintains that Pitino was appropriately fired

Price only made it nine games into his third season
The Wildcats won't play another currently ranked team until Jan. 10

The BC fan has a ton of apparel and gear headed his way after this putt

Durant's made a habit of making sure his alma mater is set with the latest customized gear