It's decision day for five-star guard Rashad Vaughn
Where will Rashad Vaughn end up tonight? Jeff Borzello and Gary Parrish make their predictions.
• 3 min read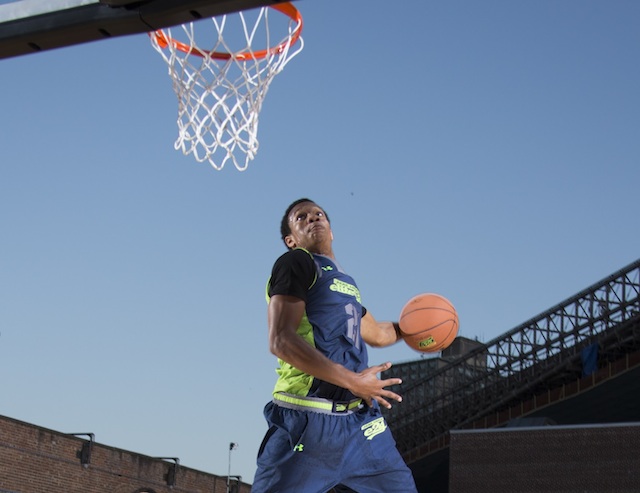 Minnesota doesn't normally produce multiple five-star players in a given high school class, but with Duke-bound point guard Tyus Jones emerging at an early age, everyone else took a back seat.
Rashad Vaughn was one of those players. He received early offers from a handful of high-major schools -- including Minnesota, Baylor, Iowa State and others. But he didn't truly burst onto the national scene until the spring and summer of his sophomore year of high school, playing on the AAU circuit for Net Gain Sports in 2012. He proved himself as one of the premier scorers in the country, and then continued to dominate throughout his junior year -- eventually making the move to under-the-radar scoring guard to elite-level five-star prospect.
As Vaughn continued to rise up the rankings, all the big boys came into the picture. Kansas was interested, Kentucky watched him, North Carolina was heavily involved, Arizona showed interest – along with Iowa State, Baylor and Minnesota. Moreover, when Vaughn left the state of Minnesota to attend Findlay Prep (Nev.), UNLV turned up the heat due to location.
And now we've reached decision day for Vaughn. The 6-foot-5 prospect is the best guard left in the class of 2014, ranked No. 9 overall in the 247Sports Composite.
He will decide on Tuesday evening at around 6:30 p.m. on CBS Sports Network.
There are five schools remaining on his list: Iowa State, UNLV, North Carolina, Kentucky and Kansas.
Let's quickly go through what each school brings to the table.
Iowa State: The Cyclones have been involved longer than any other school on his list, showing interest and offering before most of the powers came into the picture. Head coach Fred Hoiberg gives his players freedom on the offensive end, which fits well into Vaughn's skillset. Moreover, Hoiberg spent time in Minnesota with the Timberwolves, which has helped Iowa State's relationship with Vaughn's family.
UNLV: The Runnin' Rebels turned up their attention once Vaughn made the move to Findlay Prep, given the school's location. They were involved before that – but the high school only helped. Vaughn has had a chance to see the team practices and games, giving him the opportunity to see how he fits. Dave Rice needs shooters for next season – and Vaughn would get the chance immediately to start.
North Carolina: The Tar Heels seemed like one of the early favorites for Vaughn, but commitments from perimeter players Joel Berry, Theo Pinson and Justin Jackson takes away some of the opportunity for immediate playing time.
Kentucky: The Wildcats turned their focus to Vaughn over the past couple of months, but it might be too late. They already have a commitment from Devin Booker at the two-guard position, and while Vaughn likes the idea of playing for Kentucky, they're running behind the top two.
Kansas: The Jayhawks have been seemingly on and off with Vaughn, and the fact freshman Wayne Selden doesn't seem as likely to go pro after this season means Bill Self doesn't need Vaughn right away.
And now, it's prediction time.
I think he ends up at UNLV. I've been going back and forth between Iowa State and UNLV for a couple months now, and the Cyclones were the likely leader back in the fall. UNLV has made up a lot of ground since the move to Findlay Prep, though, and the Runnin' Rebels' relationship with Vaughn and his advisor -- Findlay Prep assistant Pete Kaffey -- could seal the deal. Iowa State will be severely disappointed on Tuesday night, as the Cyclones invested so much time over the past three years. This is a huge get for Dave Rice, as Vaughn will immediately become one of the best scorers in the Mountain West next season.
Gary Parrish: Everything I've been told in recent days suggests Rashad Vaughn will pick UNLV. So go ahead and pencil in another high-level recruit for Dave Rice, who has again made Las Vegas a destination for elite basketball recruits. UNLV had the No. 1 pick of the 2013 NBA Draft (Anthony Bennett) on its roster last season, and the Rebels already have commitments in the Class of 2014 from a pair of top-40 national recruits (Dwayne Morgan and Goodluck Okonoboh), meaning they should have three top-40 prospects committed -- and one of the country's top classes -- by the time the sun sets in the desert this evening.
Thousands of fans were turned away (even LeBron!) from the LaMelo Ball-Zion Williamson sho...

"Four Sides of the Story" also takes a look at Tiger Woods' first PGA tournament and the role...

Indiana's Archie Miller and Mizzou's Cuonzo Martin have been killing it on the recruiting...
Duke's much-anticipated Allen-Duval connection is off to a hot start already

It'll be Miller vs. Miller if the Hoosiers and Wildcats can finalize the proposed series

Wisconsin's Ethan Happ has made only two jumpers in his career, but is adding a long-range...