It's time to appreciate Siva for what he is, not dwell on what he's not
Peyton Siva has weaknesses -- but he's also the perfect point guard for Louisville.
• 4 min read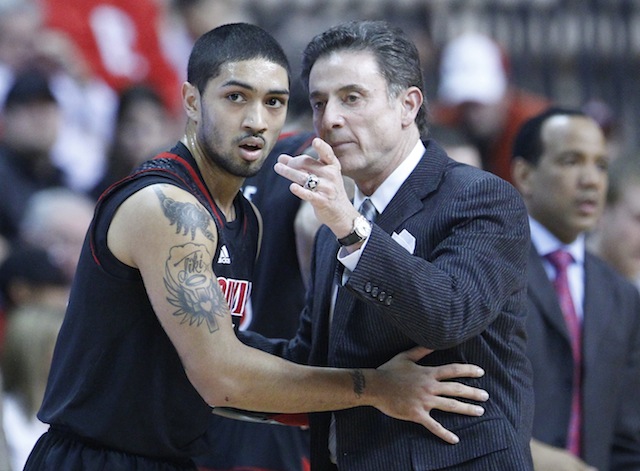 ATLANTA -- Peyton Siva isn't a first-round NBA Draft pick. He's never averaged 10 points per game during his college career. He's not a great shooter. He doesn't make the perfect decision 100 percent of the time. He's not the best point guard in the country.
Great. That's all true.
But that also doesn't change the fact that Siva is the perfect point guard for this Louisville team. There have been bouts of inconsistency throughout his four-year career with the Cardinals, but he has blossomed into a consummate leader and on-the-court coach for Rick Pitino. 
After all, there is a reason Pitino has said over and over that Siva is one of the best people he's ever coached. In fact, there's only one other person Pitino puts in the same breath as Siva.
Pitino: "The two greatest people I coached in my life were Billy Donovan and Peyton Siva."

— Jeff Borzello (@jeffborzello) March 16, 2013
Since coming to Louisville as a McDonald's All-American out of high school, Siva has been maligned for his deficiencies. He didn't make much of an impact as a freshman, having nearly as many turnovers and assists. His sophomore season ended with a three-point, five-turnover performance in a Round of 64 upset loss to Morehead State.
More on NCAA title game
Analysis

---

Related links
Video
More college basketball coverage
There were questions about whether Siva was even the right man to make Louisville a national title contender.
Two years later, Siva is in his second straight Final Four, one step away from ending his career as the starting point guard on a national champion.
"To me, it seems like yesterday, I was a freshman, getting pressed the whole time in practice and turning it over every play," Siva said on Sunday. "For me it's been a great run, long journey, a lot of ups and downs. I wouldn't trade it for the world."
Siva still makes bad decisions -- which most people wouldn't expect from a bright kid, a senior leader. Take the Syracuse game from Jan. 19, for example. Leading by one with under 30 seconds left, Siva made an ill-advised pass to Gorgui Dieng -- but Michael Carter-Williams stepped in front and went the other way for the go-ahead bucket. On the final possession, Siva again made a bad pass to Dieng, which Carter-Williams would snatch to seal the game.
He admittedly played terrible down the stretch of that game, but that doesn't take away from the fact that Siva is the heart-and-soul of Louisville.
It's time to stop focusing on what Siva can't do and looking at his weaknesses. What Siva can do is what makes Louisville the favorite to beat Michigan and win a national championship on Monday night.
He's nearly impossible to keep out of the lane, and his defensive presence at the top of the Louisville press -- alongside Russ Smith -- sparks the Cardinals' ability to force turnovers and get points in transition.
Siva's second-half performance against Duke in the Elite Eight was unbelievable. He almost single-handedly turned that battle from a one-possession game into a blowout within minutes. The Blue Devils couldn't keep Siva out of the lane, allowing him to essentially do whatever he wanted.
If Siva could do that on a consistent basis, he would be the best point guard in the country. But he's not. And for Louisville, that's just fine.
"I've had one of the greatest gifts of all time for having Peyton Siva for four years," Pitino said.
The Louisville head coach needs Siva to be a leader on the floor, an extension of the bench.
"He gives me the reins to call out plays," Siva said. "I know what's going on out there, I see different plays that he doesn't see. He allows me to go out there and be the coach on the floor."
Last season didn't end on a high note for Louisville. The Cardinals made a terrific run to the Final Four, but they were bounced in the national semifinals by rival Kentucky. At the Big East media day in October, Siva told me he didn't just want to get to another Final Four. He wanted to win it.
With only one game separating him from a national title, Siva is starting to realize how close he really is. 
"You start dreaming about winning the national championship when you're little and you watch One Shining Moment on TV," he said Sunday. "Last night I was thinking, 'Man, we're in the national championship.' This year we actually have a chance."
After the aforementioned Syracuse game, Siva didn't really dwell on the tough ending, telling reporters he would "rather have the No. 1 ranking at the end of the year."
He's 40 minutes away from living up to that wish -- and perhaps living up to expectations, too. 
The BC fan has a ton of apparel and gear headed his way after this putt

Durant's made a habit of making sure his alma mater is set with the latest customized gear

Ball says UCLA told him to thank Trump for getting him back to the states after shoplifting...
SportsLine's advanced computer model simulated Wednesday's Villanova vs. Temple game 10,000...

Will any of these six teams make it to 2018 without their first loss?

Temple could be a big problem for undefeated Villanova, the No. 1 team in the Top 25 (and...