Jabari Parker and Duke are a perfect match
Jabari Parker would have made an impact wherever he chose, but Duke is the perfect spot for him.
• 2 min read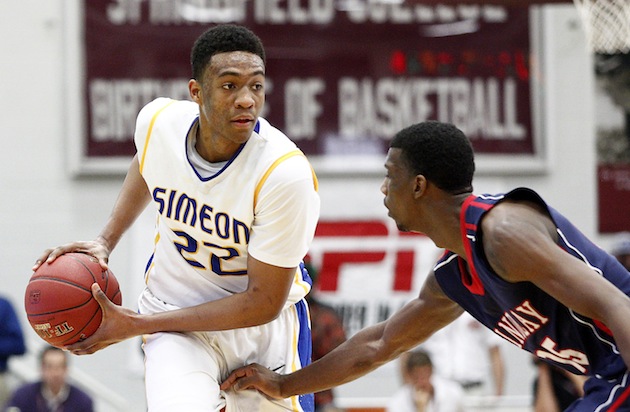 Consensus top-five recruit Jabari Parker will fit in perfectly at Duke. (US Presswire)
Ranked No. 1 in the country, Duke didn't need much more to go right. Nonetheless, the Blue Devils received the best news possible: Consensus top-five basketball recruit Jabari Parker announced Thursday he was headed to Durham next season.
Parker, a 6-foot-8 small forward from Simeon (Ill.), chose Duke over finalists Michigan State, Florida, Stanford and BYU.
Aside from his physical tools, Parker is a flat-out winner. He has won three straight state championships, and was also a member of the USA World Championship basketball team. He's a leader who does not need the spotlight on him constantly; he will have no problem fitting in with a veteran-laden team.
A few years ago, Parker was a very good player -- but not yet elite. He then slimmed down, refined his game, and became arguably the No. 1 prospect in the class of 2013 (before Andrew Wiggins reclassified). His work ethic is second-to-none, and he will continue getting better.
In terms of his skill set, Parker is often compared to players like Paul Pierce and Carmelo Anthony. He's not an explosive athlete who will dunk over defenders, but he simply finds ways to score. Parker can go past his defender off the dribble, and either finish at the rim or pull-up for a jumper. He has a smooth stroke from the 3-point arc, and is also capable of posting up smaller defenders down low. He is a very good passer for someone his size, and can be active on the glass as well.
What separates Parker from most players -- aside from his all-around game -- is his basketball IQ. He knows what the right play is, and how to make it. He has a great feel for the game, and exploits matchup problems better than most players at his position.
Although Parker would have fit in wherever he went, Duke is essentially perfect for him and his skill set. The Blue Devils spread the floor and use a combination of motion offense and screens to get open shots. Parker can handle the ball, pass, shoot and get his own shot off the bounce.
Parker can play multiple positions on the court, and especially in Duke's offense. Expect him to slide into a starting role up front. He will have a chance to make plays.
Bagley is still recovering from a knee injury he suffered during the Blue Devils' loss to...

Izzo was emotional as he coached the seniors on their final home game in East Lansing

The Shockers look to build on their four game winning streak as they return home to face T...
De'Anthony Melton is leaving the Trojans program and will look to jump up to the professional...

Kenny White used to set the lines for the biggest casinos. Now, he's dishing out advice at...

In a heartwarming moment, a team manager got an opportunity to play on the floor