James Dickey out at Houston; Kelvin Sampson prime candidate
James Dickey is stepping down as the head coach of Houston after four seasons.
• 2 min read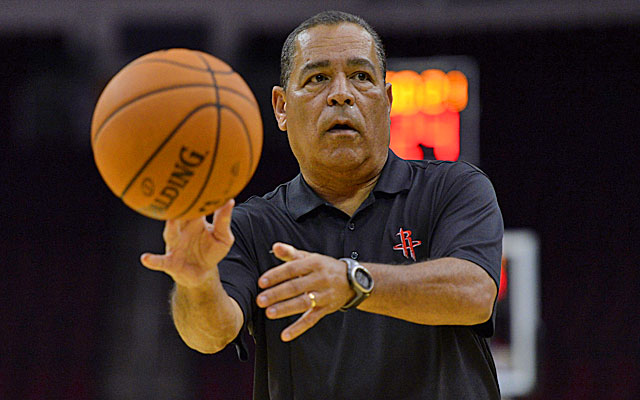 Latest in hoops: NCAA Tournament | Expert Brackets | Coaching Changes
Houston head coach James Dickey is stepping down for personal reasons, the school announced on Monday afternoon.
One of the main replacement candidates at this point is Houston Rockets assistant coach Kelvin Sampson, sources confirmed to CBSSports.com. Yahoo! Sports first reported the development.
Sampson was a college head coach at Oklahoma and Indiana, going to the Final Four in 2002 with Oklahoma. However, he was given a five-year show-cause order by the NCAA in 2008 for impermissible phone calls to recruits during his time at both Oklahoma and Indiana. Sampson then moved to the NBA and was an assistant coach with the Milwaukee Bucks before going to the Rockets.
Dickey had been at the school for four years, going 64-62 during his tenure with the Cougars. They won 20 games in the 2012-13 season, getting an invitation to the CBI. This season, Houston went 17-16 overall and 8-10 in the American Athletic Conference.
"This has been a difficult decision to make. I continually preach to my players about being an everyday guy, and the balance of your personal and professional life is a major part of it. With that being said, I have a family matter that requires my time and energy, and I will regretfully step down from my current position at the University of Houston," Dickey said in a statement.
"I am extremely appreciative of Mack Rhoades for the opportunity and for the value he brings professionally and personally. I cannot thank my coaching staff and our players enough for the experience and memorable moments over the past four years. The system of support set forth by our Athletic Department staff is world class, and I'm appreciative of every member of the Houston Athletics family. I would like to thank the Houston fans for their support through the years and greatly encourage them to continue their support of the program in the future."
Dickey had one year left on his contract.
"I am extremely grateful for coach Dickey's contributions to our basketball program and our athletics department, both on and off the court, and his decision to step down comes with great heartache for all involved," Rhoades said. "Coach Dickey is not only a great person and coach but a great mentor for all of our student-athletes and entire staff. He made so many of us in our department better. No one has worked harder than coach Dickey, and he leaves the Houston men's basketball program in a much better place. He will be missed greatly by the entire Houston family, and we wish him and his family the very best."
You might not see a projected NCAA Tournament bracket quite like this one anytime soon

The Wildcats, once written off after a three game skid, appear poised to enter Pac-12 play...

The Ducks are riding a three game winning streak yet are slight underdogs against the Bulldogs...
The Hurricanes are one of only a handful of unbeaten teams left in college hoops

The Bearcats are fresh off a convincing win over previous unbeaten Mississippi State

The Cuse take on Georgetown in D.C.