JaQuan Lyle adds Oklahoma State, but he's ready to trim his list
JaQuan Lyle, one of the top three prospects remaining in the class of 2014, seems ready to advance the process.
• 2 min read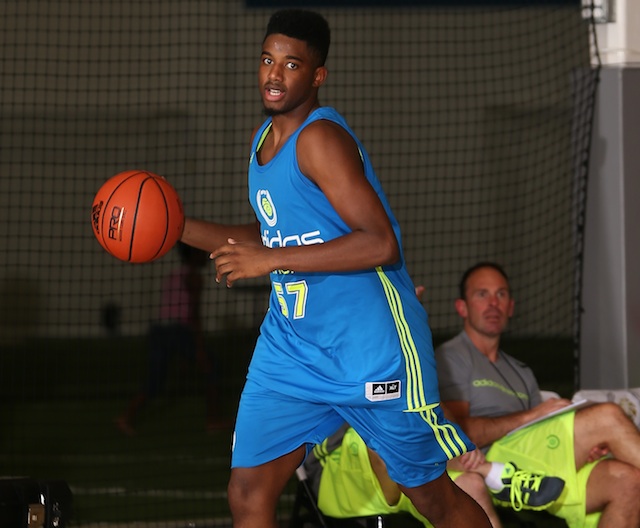 SPRINGFIELD, Mass. -- When a slew of top-50 prospects were flying off the board in the fall, JaQuan Lyle was mostly staying quiet. After all, Lyle made enough news over the summer, committing to Louisville in late June only to reopen his recruitment in early September.
The Indiana native was just taking his time with the process, although he seems ready to dive back in.
"Here in the next week and a half to two weeks, I'll probably narrow [my list] and take my other officials too," Lyle said after Huntington Prep (W.Va.) beat Prime Prep (Texas) at the Hoop Hall Classic on Saturday night.
The latest school to enter the fray for Lyle was Oklahoma State. The Cowboys are expecting to lose Marcus Smart to the NBA draft after this season, and backcourt mate Markel Brown is also a senior.
"There's an opportunity to come in and play right away," Lyle said. "Coach [Travis] Ford told me he liked big guards, like Marcus Smart. He needs someone to come in and play the point guard right away. It's a good opportunity for me."
Oregon, Kansas, Florida State, Providence and West Virginia are also pursuing Lyle, while he has taken trips to Memphis and Connecticut. Both the Tigers and Huskies would offer Lyle the freedom to make plays and create for himself and others – while also giving him the ability to get minutes right off the bat.
"Memphis loses four senior guards after this season," Lyle said. "And coach [Kevin] Ollie, he is what he is. He was a point guard in the league, so he knows what it takes to get there."
Lyle was expected to visit Kansas last weekend, but the birth of his nephew forced him to cancel the trip. That doesn't mean the Jayhawks are off the list by any stretch; he's still very much interested in Bill Self's program.
Moreover, Kansas has two elite players entering the school next season: Kelly Oubre and Cliff Alexander, a player who Lyle has mentioned as someone he would like to play alongside at the next level.
"If he catches the ball, he dunks it," Lyle said of Alexander, a top-five prospect. "As a point guard, that's what you want to see. It's an easy assist. It just makes you look better. Why not want to look good? Cliff makes me look better, and I make him look better."
Lyle is ranked No. 22 nationally in the 247Sports Composite, and is the third-best player still available from the class of 2014. He's a difficult matchup for most opposing guards, given his size and strength. He's added weight, but he uses his body well to overpower players in the lane. Lyle can get into the lane effectively, and he also shows good vision when finding teammates.
Fall is being shut down after dealing with shoulder injuries and will undergo surgery soon

The Wildcats' resume doesn't seem too impressive right now

Was there contact? 'Everybody saw it,' UK coach John Calipari said
After losing its second game this week, a deep NCAA Tournament run looks far-fetched for U...

Coach K shows he is on on top of his game by landing the best three prospects in the Class...

The Buckeyes and Boilermakers continue to assert their dominance in the Big Ten