Jay Wright looks to ease pressure on Ryan Arcidiacono this season
Ryan Arcidiacono was one of the best freshmen point guards in the country last season, but Jay Wright thinks he can be more efficient with less pressure.
• 1 min read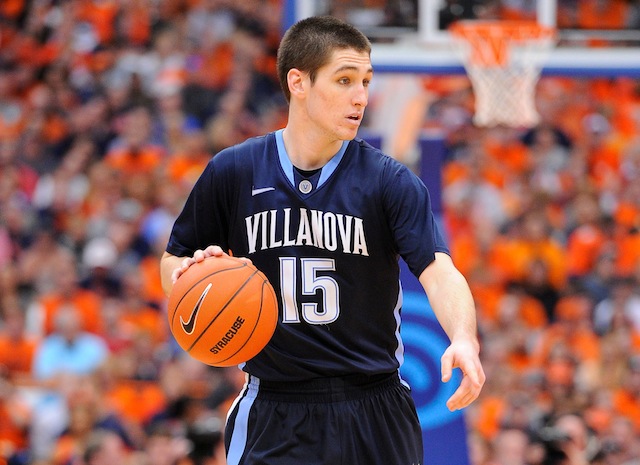 Ryan Arcidiacono was thrown into the fire immediately at the start of last season, taking over starting point guard duties from day one. He handled them just fine, becoming one of the top freshmen in the Big East.
Arcidiacono played 34.0 minutes per game, though, which led the team by a significant amount. He only shot 34.3 percent from the field, and had issues with shot selection and consistency during the season. At times, Arcidiacono was forced to do too much.
Head coach Jay Wright has some ideas on how to ease the responsibilities and fatigue that Arcidiacono dealt with last season.
"I really hope, with [Tony] Chennault getting another year of experience, Darrun Hilliard, Dylan Ellis, we can free him up to be even more effective," Wright said earlier this month. "There was so much pressure for him to handle the ball and score, and he handled it well, but he was the primary ball-handler and leading scorer in the backcourt."
For the early part of the offseason, it looked like Chennault would be transferring from Villanova. However, he had a change of heart and will be back in the Wildcats' backcourt. The addition of Ennis, who sat out last season after transferring from Rice, will be a huge key. He can score, but is also a good defender and can handle the ball.
Both players will help lessen Arcidiacono's workload.
"This year I think we can take some of the ball-handling and scoring pressure off of him," Wright said. "Allow him to really become more efficient."
Arcidiacono has had a busy summer, getting an opportunity to try out for the USA Basketball U-19 World Championship team. He was one of the final cuts, making the group of 16 finalists but not the 12-man roster.
Last year, Arcidiacono tried out for the U-18 national team – despite not playing basketball during his senior year of high school.
"USA Basketball was loyal to him having him come out," Wright said. "He was disappointed he didn't make the team, but he came back very confident and very encouraged that he made up so much ground."
Arcidiacono, a 6-foot-3 sophomore from Langhorne, Pa., averaged 11.9 points and 3.5 assists last season. 
Marvin Bagley, if eligible at Duke this season, projects as the country's top power forwar...

The Big Ten Tournament is a week earlier than usual, so the regular-season schedule may look...

Arizona, Grand Canyon and Tulane are also in Barcelona and have reported to be accounted for...
The Kansas forward is no longer accused of walking out on an $88 tab

Cavaliers basketball coach tapes statement on behalf of his university and his city

Gary Parrish and Matt Norlander discuss all things Marvin Bagley and his immediate future