Jerome Seagears headed back to Rutgers after leaving in April
It's only been two and a half months since Jerome Seagears was still at Rutgers under Mike Rice. After two transfers, Seagears is back.
• 1 min read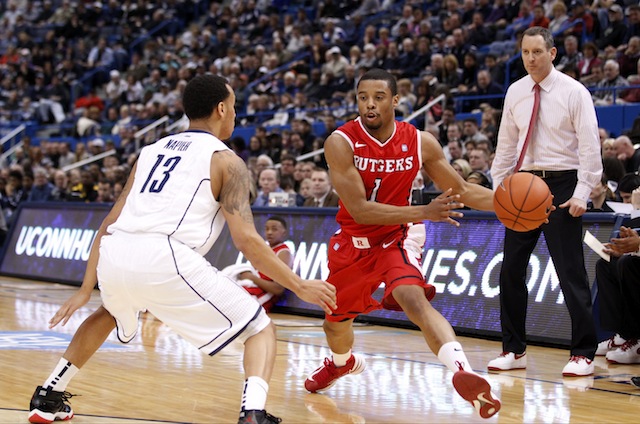 Since the end of March, Jerome Seagears has been in the headlines a handful of times. Here's the rundown:
April 2: Jerome Seagears leaving Rutgers amid Mike Rice scandal
May 1: Jerome Seagears transfers to Auburn
June 10: Jerome Seagears leaving Auburn after one month
And now, the latest (and perhaps strangest) twist: Jerome Seagears has decided to return to Rutgers -- and will be eligible immediately.
"I believe everything happens for a reason and God has a plan for everybody," Seagears said in a press release. "I believe this is his plan for me, to return home to my Scarlet Knights. I have experienced a lot of uncertainty over the last several months and I look forward to continuing my college career where it started."
When Seagears left Auburn, he said he wanted to go somewhere closer to his family's Maryland home. The guard has played two seasons at Rutgers, averaging 6.5 points this past season.
"We are very excited to welcome Jerome back into the program," new Rutgers head coach Eddie Jordan said. "He is a very talented young man from a wonderful family. I look forward to providing Jerome and his teammates an extremely positive Rutgers experience. We are going to work together and build a program that will be a source of pride for the Rutgers community."
There's no question Rutgers is a program in disarray. The firing of Rice and athletic director Tim Pernetti after video surfaced of Rice verbally abusing and throwing balls at players was the start, but the fiasco surrounding Jordan's time as a student at Rutgers didn't help. Neither has the constant stream of news about new athletic director Julie Hermann.
With that said, the basketball team has some optimism about next season. Seagears and Myles Mack form a solid backcourt, while Wally Judge and Kadeem Jack are back in the frontcourt. Pittsburgh transfer J.J. Moore is hoping to get a waiver to play immediately, and recruit Junior Etou could be a factor. Moreover, Jordan has picked up commitments for the 2013-14 season from Iowa State transfer Nkereuwem Okoro and former Miami (Fla.) guard Bishop Daniels.
There could be some much-needed stabilization coming to the Scarlet Knights. 
The Wildcats are 3-2 with two losses to two unranked teams

Trump again says he should have left LiAngelo Ball in China

Cincinnati and Iowa highlight an impressive inaugural field for the Cayman lslands Classic
The president didn't take kindly to not getting a thank-you from LaVar

Southern California, ranked No. 8 in Sunday's Top 25 (and one), travels to face Vanderbilt...

Simons, 18, is a former Louisville pledge who is suddenly eligible for the upcoming draft